Foundations Built at Whitman Helped Equifax CEO Mark Begor Achieve Success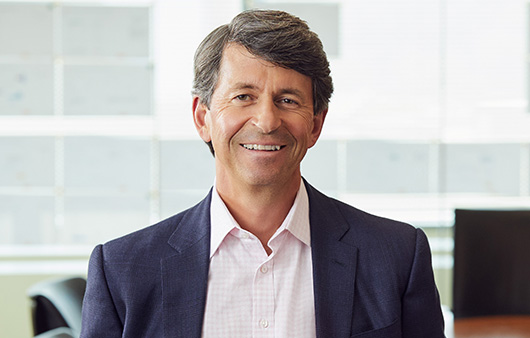 When Mark Begor '80 came to Syracuse University, he had no idea that he would one day be leading 12,000 employees as the CEO of Equifax, a data analytics and technology company operating in 24 countries around the globe. But, looking back, he realizes that working to pay his way through school, while studying both finance and marketing management at Whitman, helped him create a solid foundation for his career that he continues to build on today.
"The diversity of knowledge and the flexibility of the curriculum at Whitman were great assets to me," says Begor of the ability to take many classes outside of his finance major that taught him how businesses operated and how to apply skills that served him throughout his career.
He was recruited by General Electric right out of college. While there, he earned an MBA part-time from Rensselaer Polytechnic Institute. For the next 35 years, he worked around the world in various capacities that encompassed industrial, financial services, media and consumer industries in both CEO and CFO roles. In his last position at GE, he was president and CEO of GE's $8 billion electrical equipment business—GE Energy Management. He later moved on to a private equity firm, Warburg Pincus, before joining Equifax as the CEO and a member of the board of directors in 2018.
The diversity of knowledge and the flexibility of the curriculum at Whitman were great assets to me." — Mark Begor '80
At the time, Equifax had recently gone through a "massive cybersecurity event," he says, but he never shied away from the challenge. Equifax rebounded under his leadership and used the event to transform the company by investing a record $1.5 billion in security, data and technology to become the only cloud-native data analytics company of its kind.
After one crisis came another: the pandemic. "Leading in crisis either invigorates people or scares them," he says. "You want to be invigorated by it and energize your team to take it head on. You need to look at a crisis and see how you can make it advantageous, and that's just what we did."
Equifax has experienced record growth and delivered $4 billion in revenue for the first time in 2020, an accomplishment that helped the Atlanta-based company strengthen itself for the future and more than double its market capitalization to over $33 billion. While driving growth, Equifax has invested close to $3 billion in eight acquisitions in 2021 to broaden and strengthen the company.
"Our success came from the way our teams put customers first and helped them manage during a really challenging time," he says.
Profitability was not his only concern during the pandemic, however. Begor also felt a great responsibility to take care of those who worked at Equifax. "From the very beginning, our priority was to make sure the health of our families and teams was protected. We needed to support our people and quickly learn ways to stay connected at a time when we were all working from home," he says. "I've always believed in putting people first. Your team is your most valuable asset. If you don't have great people who are cared for, energized and focused, it's hard to for a company to be a success—especially in times of crisis."
A member of the Whitman Advisory Council for 25 years, he says his advice to current Whitman students is, "Be a learner. Always be curious and constantly looking for ways you can acquire more knowledge on and off the job. Be aware of not only your own role but the role to the right of you and the role to the left of you. Do the job you're doing really well, and, if you succeed, the next job will take care of itself."
My days at Whitman were so important to building a foundation for my future. You never take something like that for granted. It's a place where you can create your own success and develop the flexibility, agility and organization that will serve you well. That's the power of the Whitman School and Syracuse University: If you have a dream and work hard, you can achieve it." — Mark Begor '80
Begor is eager for his next visit to the Syracuse University campus. He continues to have fond memories of what he learned and the friends he made while studying for his undergraduate degree. Begor keeps in touch with friends and colleagues within the Syracuse University alumni network, as well as several fraternity brothers from Psi Upsilon. He also stays connected with Distinguished Professor of Marketing S.P. Raj, chair of the Department of Marketing and director of the M.S. in marketing program, who "was so energizing and encouraging about business when I was a student that it made a big impact on me."
Closer to home is another Syracuse alum, his wife, Kristen G'85 (A&S), who earned a master's degree from the College of Arts and Sciences. And while none of their three sons attended the University, he says it's not out of the question that the most recent addition to the family, a grandson, may one day "Go Orange."
"My days at Whitman were so important to building a foundation for my future," he says. "You never take something like that for granted. It's a place where you can create your own success and develop the flexibility, agility and organization that will serve you well. That's the power of the Whitman School and Syracuse University: If you have a dream and work hard, you can achieve it."