Whitman Seniors Featured Among Poets & Quants for Undergrad's Best & Brightest Undergraduate Business Majors for 2022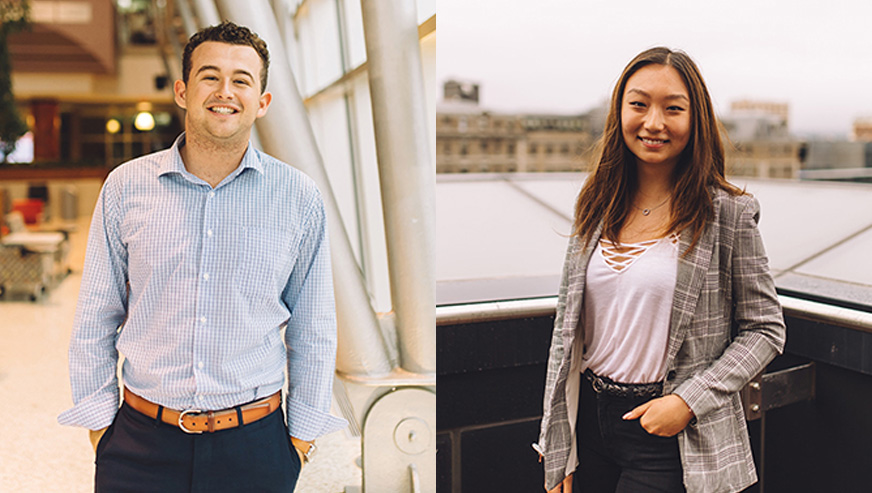 Two Martin J. Whitman School of Management seniors, Bailey Loughnane '22 (WHIT/A&S) and Tiffany Yang '22 (WHIT/iSchool), were selected by Poets&Quants for Undergrads to be highlighted in its annual "best & brightest undergraduate business majors" feature. This is the seventh annual list, which honors 100 of the most accomplished seniors at top business schools across the country.
"What do this year's Best & Brightest have in common? Just ask the faculty. They label these students with terms like 'born leader' and the 'hardest worker I know.' They describe them as tireless workers who lead by example and set the standard for their peers. Some command the room with their contagious energy. Others live by a 'lift as you climb' code that compels them to put others first," says Jeff Schmitt, P&Q senior writer who launched the series in 2016.
Whitman senior Bailey Loughnane, who will be joining Medline Industries after graduation, embraced his business education. He also shares that his greatest accomplishment was being accepted into Syracuse University. "Until I graduate, being accepted will be my greatest achievement. I sacrificed a lot to get here, and it has been great to not take a moment for granted and ensure those sacrifices were worth it."
Whitman senior Tiffany Yang talks about her experiences at the Whitman School stating that the biggest lesson she learned is that business applies to everything. "I learned that business applies to everything. There is not one designated career choice from studying business, rather it opens up possibilities to every industry. Business gives students a more holistic mindset about how a company is run and what it needs. It develops on teamwork and leadership skills along with management and technical skills. Studying business can be so broad but it's about how you apply your knowledge in any given industry."
Poet&Quants has been covering all that matters in the business school world, with in-depth analysis of B-schools rankings and full-time MBA programs. They have been highlighting the top 100 Best & Brightest Undergraduate business majors each year since 2016.