We're a community of connectors here at the Whitman School focused on exposing you to interdisciplinary perspectives, active learning and diversity of thought and experience. Our faculty members are no exception, as they combine academic accomplishment and acclaimed research with the real-world appreciation and proficiency of top practitioners.


Tradition is paramount here. We're proud to be Orange. Since 1919, our faculty has been committed to supporting your journey and helping ensure your success by remaining perpetually curious, discovering and sharing their knowledge, contributing perspective on front-burner issues and building and nurturing meaningful relationships.
Research Articles
Whitman research spans a diverse range of topics and areas of expertise. This is reflected in Whitman publications showcasing our faculty research accomplishments, research labs, centers and institutes, as well as academic journals housed at Whitman.
Jan 19
5 p.m. - 6 p.m.
Flaum Grand Hall
Nov 11
12 p.m. - 1:30 p.m.
Faculty Seminar Room (525)
Centers and Academic Areas
Centers and Institutes
At the Whitman School, we preach experience by doing. As a result, we support various centers and institutes devoted to the practice, expertise, and real-world applications in the study of business. Their shared mission is to advocate business practice in a comprehensive range of areas -- from sustainable enterprise to global commerce. The centers and institutes offer our students thought leadership and hands-on experiences through speakers, practice, forums, conferences, and events.
Academic Areas
We believe a well-rounded education is about more than just business courses — it's about providing dynamic, relevant experiences that ensure you build a competitive edge in the global business marketplace. Our students study under the leadership of exceptional faculty members who are highly esteemed as world-class scholars and researchers. Published in numerous leading journals, they are committed to advancing management theory and practice in accounting, entrepreneurship, finance, management, and marketing.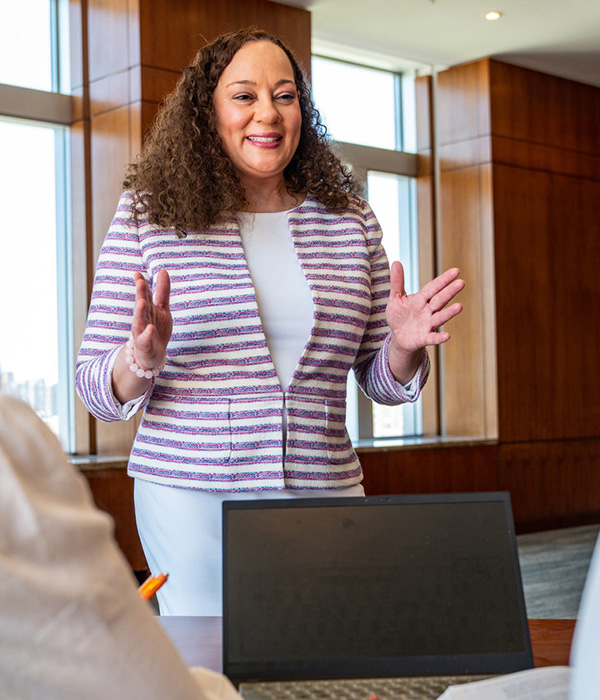 Faculty & Staff
Directory
With nearly 100 faculty serving Whitman students across the undergraduate, graduate and Ph.D. programs, our thought leaders help discover new knowledge, foster industry leadership and create relationships that last well beyond our students' time on campus.
Whitman Professor Draws Out the Entrepreneurial Spirit in Her Students
Elizabeth Wimer
Assistant Teaching Professor
That's the creative problem solving part of entrepreneurship – seeing small community issues and approaching them with an entrepreneurial mindset, and maybe scaling them up to the world.
Adrianna Kocak '19 was, by her own admission, the "smart kid" at her Syracuse high school, and she thrived on that. But, when she chose to attend Syracuse University's Martin J. Whitman School of Management, she quickly realized that there were plenty of smart kids around, and, unlike her, "Everyone seemed to feel like they belonged here," she says.

After a difficult first year, Kocak, who is now a senior account coordinator at Digital Hyve in Rochester, New York, enrolled in Principles of Business and Management taught by someone who would change her entire outlook — Assistant Teaching Professor Elizabeth Wimer G'06 (VPA).

"She drew me in to where I was coming to her office hours for more than class work but also to ask questions about college life and learn soft skills," says Kocak. "She was the first woman business academic mentor I ever had. I didn't grow up in a place where anybody worked in marketing or even in academia, so having someone who was able to say to me, 'This is something that you can work on' or talk about work/life balance was above and beyond what I expected a professor to be. She's one of my favorite humans in the entire world!"

Kocak made quite an impression on Wimer, too. "Adrianna stood out as the one who was going to keep me on my toes," says the professor of their initial encounter. "She was one of the first students I really mentored. Adrianna challenged me and changed how I approached being a professor and taught my classes."

After working in the hospitality industry and several areas of the University, including director of special projects at the College of Engineering and Computer Science, Wimer started as an adjunct instructor in the David B. Falk College of Sports and Human Dynamics's hospitality program and then, in 2012, began teaching entrepreneurial marketing at the Whitman School. For the past 16 semesters, she has continued to share her creative and entrepreneurial nature and passion for marketing, earning the title of associate teaching professor in 2020.

"A common theme at Whitman is approaching problems in an entrepreneurial way and being a creative problem solver," she says. "I love to help students, who may think their majors in, for example, accounting or finance, are fixed skill sets, discover an entrepreneurial mindset and suddenly see their field of study in a very different way."

One class that focuses on developing an entrepreneurial mindset is Imagination, Entrepreneurship and Creative Problem Solving. Lev Rosenzweig-Ziff '17 signed up for the class on the recommendation of his roommate. Rosenzweig-Ziff, a senior customer support representative at BlueConic in Boston, said his favorite assignment was writing a paper about his life and hopes for the future.

"It was the first time I felt like a professor truly cared about my dreams and career goals," he says. "She taught me that business did not have to be a rigid environment and gave me the opportunity to think about what I needed to do to achieve my goal of owning my own business – something I intend to do one day."

Wimer's entrepreneurial goals extend outside of the classroom, too, as an advisor for Syracuse University Enactus, a student-run organization that aims "to create substantial and sustainable impact" on the campus, the community and around the globe.

"Enactus has had such a huge impact on my outlook on life and my desire to help people, but Professor Wimer has had a bigger impact on my work ethic, dedication and outlook. I couldn't think of a better women to be my role model and mentor," says Enactus President Emma Sargent '22, an accounting and finance major at the Whitman School.

Wimer's own experiences have extended around the world. Last year, she traveled to South Sudan to do some consulting and teaching at a school established by a friend. The rural African school educates 1,500 students with only seven teachers and limited resources.

"It was an immensely powerful experience." Wimer says, adding that her then 13-year-old son accompanied her. 'Prior to going, I had some of my classes work on training that the teachers there could use. One student group developed different learning tools and techniques related to soccer – which students here and there could both understand. Whitman students came up with exciting ideas, and it showed them that they can have a great impact on more than just their own community. They can be good global citizen, too."

"That's the creative problem solving part of entrepreneurship – seeing small community issues and approaching them with an entrepreneurial mindset, and maybe scaling them up to the world," she adds.

Wimer clearly enjoys seeing her work create moments of inspiration and knowing her students discover characteristics and strengths they never knew they had.

"Connecting with and mentoring students from timid freshman to confident seniors is so transformational," she says. 'I'm just so excited to be a part of it."
By Caroline Reff
Need An
Expert?
Interested in finding an expert opinion on one of the many topics in which Whitman faculty do extensive research?