We're a community of connectors here at the Whitman School focused on exposing you to interdisciplinary perspectives, active learning and diversity of thought and experience. Our faculty members are no exception, as they combine academic accomplishment and acclaimed research with the real-world appreciation and proficiency of top practitioners.


Tradition is paramount here. We're proud to be Orange. Since 1919, our faculty has been committed to supporting your journey and helping ensure your success by remaining perpetually curious, discovering and sharing their knowledge, contributing perspective on front-burner issues and building and nurturing meaningful relationships.
Research Articles
Whitman research spans a diverse range of topics and areas of expertise. This is reflected in Whitman publications showcasing our faculty research accomplishments, research labs, centers and institutes, as well as academic journals housed at Whitman.
Jan 19
5 p.m. - 6 p.m.
Flaum Grand Hall
Nov 11
12 p.m. - 1:30 p.m.
Faculty Seminar Room (525)
Centers and Academic Areas
Centers and Institutes
At the Whitman School, we preach experience by doing. As a result, we support various centers and institutes devoted to the practice, expertise, and real-world applications in the study of business. Their shared mission is to advocate business practice in a comprehensive range of areas -- from sustainable enterprise to global commerce. The centers and institutes offer our students thought leadership and hands-on experiences through speakers, practice, forums, conferences, and events.
Academic Areas
We believe a well-rounded education is about more than just business courses — it's about providing dynamic, relevant experiences that ensure you build a competitive edge in the global business marketplace. Our students study under the leadership of exceptional faculty members who are highly esteemed as world-class scholars and researchers. Published in numerous leading journals, they are committed to advancing management theory and practice in accounting, entrepreneurship, finance, management, and marketing.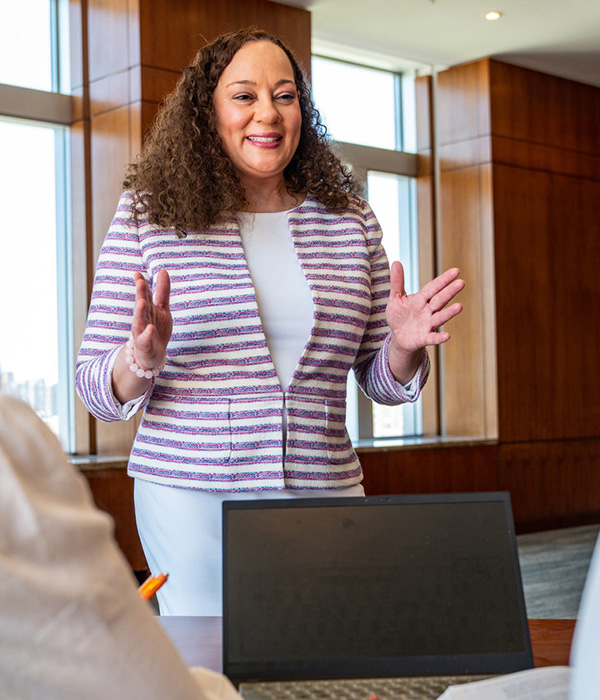 Faculty & Staff
Directory
With nearly 100 faculty serving Whitman students across the undergraduate, graduate and Ph.D. programs, our thought leaders help discover new knowledge, foster industry leadership and create relationships that last well beyond our students' time on campus.
Whitman Professor Firmly Grounded in Syracuse University and the Community
John Petosa
Each of my various career endeavors allows me the chance to use my skills to help others grow, develop, get back on the right path or save money. Helping others is what motivates me.
John Petosa L'95 jokes that he is "a kind of Swiss army knife" of teaching at the Whitman School. Indeed, since 2003 the professor of practice has led classes in business law, banking, entrepreneurship, as well as financial, managerial and tax accounting.

"The only department I haven't taught in yet is marketing, but there is still time," he says.

Petosa's students are benefiting from career experiences he has collected over decades in a variety of jobs and fields. The seeds for these many interests were planted early and rooted him deeply into the local community. Growing up in Camillus—the third generation in the Syracuse area since both sets of grandparents emigrated from Italy—Petosa would often visit his father at his accounting firm and chat with two attorneys—CPA Victor Chini and a local judge—who both had offices in the same building.

"I'd listen to their stories and think that I might like to follow in all of their footsteps," he remembers.

With a dual degree in accounting and economics from Boston College in hand, Petosa returned to Syracuse in 1987 to begin his career path at Coopers and Lybrand (now PwC). "I worked with a lot of great people who taught me how to be a professional," Petosa says.

Three years later, the owner of food distributor Deli-Boy, Lon Frocione, asked him to apply these skills as the company's CFO, the position Petosa's recently deceased father had last held. "I was 24 years old, newly married, and the idea of carrying on my father's legacy was very attractive," Petosa recounts.

Frocione not only agreed to let his new employee attend law school but even paid for the degree, as long as Petosa would stay for five years after graduation.

"That was 32 years ago," says Petosa. Deli-Boy, meanwhile, has increased its annual sales more than six-fold to $190 million. "Lon was an incredible business mentor and, in effect, became my father."

As such, Frocione recognized Petosa's need to stay busy and allowed his mentee to continue his father's tax practice. "As sort of an inheritance, I've been preparing tax returns and representing people in their tax matters since I was admitted to the bar," Petosa says.

Always on the lookout for new challenges, Petosa jumped at the opportunity to teach at Whitman after meeting professor emeritus of accounting practice Bill Walsh at a charity golf tournament. He was immediately hooked by the joy of seeing young people learn and develop, and his contributions to their growth have been recognized in turn with eight teacher-of-the-year awards to date.

Petosa is quick to share credit with his wife, Jennifer, an award-winning, nationally board-certified elementary teacher. "She is the person I look to for comments and critique when it comes to teaching and understanding the learning process," he explains.

In 2011, finally, Petosa fulfilled his other childhood goal by becoming town justice of Camillus, an election he has won three times. "People may not recognize that running for public office and asking others to pass judgment on you as a person is such a vulnerable endeavor," he says. It has also conferred significant responsibility on him. "I do not take it lightly, because the decisions I make can have a lasting impact on someone's life."

To his joy, his duties have included performing marriage ceremonies for three former students.

How does Petosa—professor, judge, CFO, accountant, board member to several organizations, husband and father of five children (several of whom attended Syracuse University)—do it all?

"Yes, I do have free time, and, yes, I do sleep and have fun with family and friends," he laughs. "I have an incredibly supportive wife and very understanding bosses who allow me flexibility." Technology, good organization and transferring skills between jobs also help.

Above all, "Each of my various career endeavors allows me the chance to use my skills to help others grow, develop, get back on the right path or save money," Petosa says. "Helping others is what motivates me."
By Olivia Hall
Need An
Expert?
Interested in finding an expert opinion on one of the many topics in which Whitman faculty do extensive research?