We're a community of connectors here at the Whitman School focused on exposing you to interdisciplinary perspectives, active learning and diversity of thought and experience. Our faculty members are no exception, as they combine academic accomplishment and acclaimed research with the real-world appreciation and proficiency of top practitioners.


Tradition is paramount here. We're proud to be Orange. Since 1919, our faculty has been committed to supporting your journey and helping ensure your success by remaining perpetually curious, discovering and sharing their knowledge, contributing perspective on front-burner issues and building and nurturing meaningful relationships.
Research Articles
Whitman research spans a diverse range of topics and areas of expertise. This is reflected in Whitman publications showcasing our faculty research accomplishments, research labs, centers and institutes, as well as academic journals housed at Whitman.
Jan 19
5 p.m. - 6 p.m.
Flaum Grand Hall
Nov 11
12 p.m. - 1:30 p.m.
Faculty Seminar Room (525)
Centers and Academic Areas
Centers and Institutes
At the Whitman School, we preach experience by doing. As a result, we support various centers and institutes devoted to the practice, expertise, and real-world applications in the study of business. Their shared mission is to advocate business practice in a comprehensive range of areas -- from sustainable enterprise to global commerce. The centers and institutes offer our students thought leadership and hands-on experiences through speakers, practice, forums, conferences, and events.
Academic Areas
We believe a well-rounded education is about more than just business courses — it's about providing dynamic, relevant experiences that ensure you build a competitive edge in the global business marketplace. Our students study under the leadership of exceptional faculty members who are highly esteemed as world-class scholars and researchers. Published in numerous leading journals, they are committed to advancing management theory and practice in accounting, entrepreneurship, finance, management, and marketing.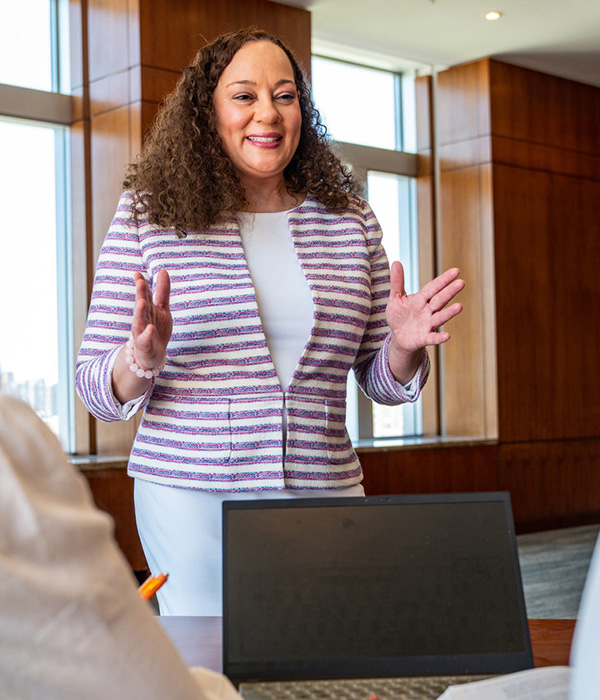 Faculty & Staff
Directory
With nearly 100 faculty serving Whitman students across the undergraduate, graduate and Ph.D. programs, our thought leaders help discover new knowledge, foster industry leadership and create relationships that last well beyond our students' time on campus.
Whitman Faculty Receives Chancellor's Citation, Leading the Way Towards a More Diverse, Welcoming and Respectful Campus Culture
Kira Reed
Associate Professor of Management and Provost Fellow
This means so much to me. It feels wonderful that the project finally came to fruition... Everyone has worked hard to make this course 'uniquely Syracuse' and a vital part of our culture moving forward through curriculum, mentorship and scholarship.
Whitman's Associate Professor of Management and Provost Fellow Kira Reed is making an impact in helping every new Syracuse University student feel welcomed, safe and respected on campus.

As part of her responsibilities as provost faculty fellow, she has supported the University's First-Year Experience Initiative, an effort to give all students a shared introduction to campus that builds connections, promotes health and wellness, and fosters a respectful and inclusive community. The resulting full semester, one-credit First-Year Seminar (FYS 100) will debut in the fall of 2021 for approximately 3,600 incoming students and will replace the six week SEM 100 course that had been in place for the past three years.

While Reed is quick to credit her whole team in this effort, her commitment has not gone unnoticed. In the spring of 2021, she received the Chancellor's Citation for Excellence for outstanding contributions to the student experience and university initiatives.

"This means so much to me. It feels wonderful that the project finally came to fruition," says Reed. "I don't think the course we built today could have been offered before this point in time. Events across our country and on our own campus have prepared us in a way that we can now tackle critical subject matters more directly. We've grown into the conversations that will take place in this course, so the timing is right. Everyone has worked hard to make this course 'uniquely Syracuse' and a vital part of our culture moving forward through curriculum, mentorship and scholarship."

While the course had to go through the various approval steps, Reed is particularly proud that it was ultimately approved by the University Senate with 94% in favor. As an additional part of this initiative, a 3-credit Diversity, Equity & Inclusion (DE&I) requirement has also been added to all undergraduate programs throughout the University, which can be fulfilled by taking one of close to 140 existing courses.

According to Reed, each college or school will engage with students for three weeks as part of FYS 101, described as the Home College Experience portion of the course. Each school or college has different activities planned to foster community building during this time. The Whitman School, for example, will hold its Home College Experiences (weeks 4, 9, and 12 of the semester) on Fridays, which will be used to enhance Whitman's existing IMPRESS program. There are plans in place to incorporate other DE&I-related student activities, speakers and discussion-based activities into these uniquely Whitman experiences.

"We are well aware that a student's first year on campus can determine if he or she stays in school and succeeds academically," says Reed. "Creating this shared experience that supports success for those of every background and fosters a connection across different student experiences not only advances the University's goal of maintaining a welcoming, safe and respectful campus, but it also makes our students truly feel at home here."

The University expects approximately 195 sections of FYS 100 to be offered in the fall of 2021. Many faculty members throughout campus have shown an interest in facilitating this course and will be given the training and tools they need create a worthwhile experience for everyone on campus. In addition, over 200 students applied to be peer leaders. Those selected for this paid position will be trained over the summer to assist each faculty member with the course. Reed is especially interested in connecting with students with military backgrounds, first generation college students, international students and students who identify with other diverse groups.

While much of Reed's work has recently been focused on bringing FYS 100 to life, she has also been a vital part of the Whitman faculty since 2001. Reed currently teaches Introduction to Management Strategy (MGT 247) and believes that a deeper knowledge of DE&I is vital to future business leaders.

"You can't help but incorporate DE&I knowledge into your management education," she explains. "Whitman students are going to join companies that expect new hires to add something to the daily life of company culture. Our students will have an important skill set based around DE&I that will give them an advantage in so many workplaces that are embracing a more diverse and accepting culture."

"I look forward to seeing the First-Year Experience initiative evolve throughout the University," she adds, "I believe it will make a true impact on our campus community."
By Caroline Reff
Need An
Expert?
Interested in finding an expert opinion on one of the many topics in which Whitman faculty do extensive research?