We're a community of connectors here at the Whitman School focused on exposing you to interdisciplinary perspectives, active learning and diversity of thought and experience. Our faculty members are no exception, as they combine academic accomplishment and acclaimed research with the real-world appreciation and proficiency of top practitioners.


Tradition is paramount here. We're proud to be Orange. Since 1919, our faculty has been committed to supporting your journey and helping ensure your success by remaining perpetually curious, discovering and sharing their knowledge, contributing perspective on front-burner issues and building and nurturing meaningful relationships.
Research Articles
Whitman research spans a diverse range of topics and areas of expertise. This is reflected in Whitman publications showcasing our faculty research accomplishments, research labs, centers and institutes, as well as academic journals housed at Whitman.
Jan 19
5 p.m. - 6 p.m.
Flaum Grand Hall
Nov 11
12 p.m. - 1:30 p.m.
Faculty Seminar Room (525)
Centers and Academic Areas
Centers and Institutes
At the Whitman School, we preach experience by doing. As a result, we support various centers and institutes devoted to the practice, expertise, and real-world applications in the study of business. Their shared mission is to advocate business practice in a comprehensive range of areas -- from sustainable enterprise to global commerce. The centers and institutes offer our students thought leadership and hands-on experiences through speakers, practice, forums, conferences, and events.
Academic Areas
We believe a well-rounded education is about more than just business courses — it's about providing dynamic, relevant experiences that ensure you build a competitive edge in the global business marketplace. Our students study under the leadership of exceptional faculty members who are highly esteemed as world-class scholars and researchers. Published in numerous leading journals, they are committed to advancing management theory and practice in accounting, entrepreneurship, finance, management, and marketing.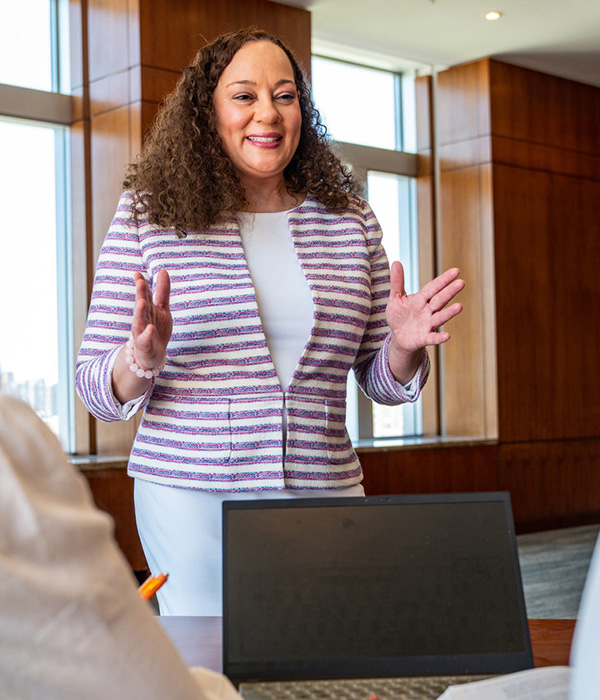 Faculty & Staff
Directory
With nearly 100 faculty serving Whitman students across the undergraduate, graduate and Ph.D. programs, our thought leaders help discover new knowledge, foster industry leadership and create relationships that last well beyond our students' time on campus.
Retail Influencer Shelley E. Kohan Shares Her Expertise at Whitman
Shelley Kohan
One way I can really help the industry is by teaching and sharing my knowledge with my students. I feel like I'm adding value, and I enjoy giving back.
Shelley E. Kohan has been long recognized as a "retail expert," but over the past five years, she has also become an established "retail influencer," as she shares her vast experience in the retail industry as a media resource, writer and through her new podcast. Her status as a retail influencer was cemented recently when she was listed as one of the RETHINK Retailers Top 100 Retail Influencers of 2021.

Kohan has been influencing students in the Martin J. Whitman School of Management's Retail Management Program since January 2020, when she joined the faculty as an adjunct instructor, teaching classes on product development, merchandise buying, and retail buying and planning. She brings to Whitman her experience working as a highly accomplished senior retail executive at places like Bloomingdale's, Macy's and Saks 5th Avenue. Kohan is also an associate professor at the Fashion Institute of Technology and a frequent contributor to Forbes.com.

"One way I can really help the industry is by teaching and sharing my knowledge with my students. I feel like I'm adding value, and I enjoy giving back," she says. "The best days are when I get a LinkedIn notification or message from a former student telling me how he or she used the information shared in my class in the real world. That's an inspiration to me."

Kohan has made frequent media appearances discussing retail-related issues such as e-commerce, sustainability, the circular economy, racial bias and diversity, equity & inclusion. Her expertise has led her to be interviewed on the "NBC Nightly News," quoted in the New York Times and the Wall Street Journal, and heard sharing "hot topics" on her weekly podcast on The Robin Report.

"Talking about retail is my favorite thing to do. And, anything that gets the Whitman name out there only serves to increase our retail management program," she says of some of her recent media appearances on behalf of the School.

As her students and the public hope for a quick return to normalcy after the pandemic, one of the biggest questions she gets asked lately is: "Where is retail headed?"

"While online shopping will continue to grow, people still like the instant gratification and social interaction of shopping," she explains. "Brick and mortar isn't dead, but there will be changes. We'll see retailers editing down their assortments and giving consumers fewer choices. And, we're almost certain to see a swifter, more nimble supply chain; near-sourcing, and smaller format stores—even from big retailers like Target and Walmart."

According to Kohan, many of the big retail anchor stores that closed during COVID-19 were probably headed towards bankruptcy anyway; the pandemic just accelerated the problem. On the flip side, the events of the past year allowed some retailers to restructure for the better. For example, legacy retailers that were slow to adopt technology were able to learn a lot from the nimble, niche retail brands that moved so quickly using digital tools to remain viable.

One thing that she is sure will remain is the technology that ramped up during the pandemic. "Customers have gotten used to the ease and convenience of curbside pick-up, self-check out and letting Alexa order groceries for you. And, Amazon is already testing inside the door delivery," she says. "Maybe one day soon, there will be a way Alexa can put your groceries away for you, too!"
By Caroline Reff
Need An
Expert?
Interested in finding an expert opinion on one of the many topics in which Whitman faculty do extensive research?