We're a community of connectors here at the Whitman School focused on exposing you to interdisciplinary perspectives, active learning and diversity of thought and experience. Our faculty members are no exception, as they combine academic accomplishment and acclaimed research with the real-world appreciation and proficiency of top practitioners.


Tradition is paramount here. We're proud to be Orange. Since 1919, our faculty has been committed to supporting your journey and helping ensure your success by remaining perpetually curious, discovering and sharing their knowledge, contributing perspective on front-burner issues and building and nurturing meaningful relationships.
Research Articles
Whitman research spans a diverse range of topics and areas of expertise. This is reflected in Whitman publications showcasing our faculty research accomplishments, research labs, centers and institutes, as well as academic journals housed at Whitman.
Jan 19
5 p.m. - 6 p.m.
Flaum Grand Hall
Nov 11
12 p.m. - 1:30 p.m.
Faculty Seminar Room (525)
Centers and Academic Areas
Centers and Institutes
At the Whitman School, we preach experience by doing. As a result, we support various centers and institutes devoted to the practice, expertise, and real-world applications in the study of business. Their shared mission is to advocate business practice in a comprehensive range of areas -- from sustainable enterprise to global commerce. The centers and institutes offer our students thought leadership and hands-on experiences through speakers, practice, forums, conferences, and events.
Academic Areas
We believe a well-rounded education is about more than just business courses — it's about providing dynamic, relevant experiences that ensure you build a competitive edge in the global business marketplace. Our students study under the leadership of exceptional faculty members who are highly esteemed as world-class scholars and researchers. Published in numerous leading journals, they are committed to advancing management theory and practice in accounting, entrepreneurship, finance, management, and marketing.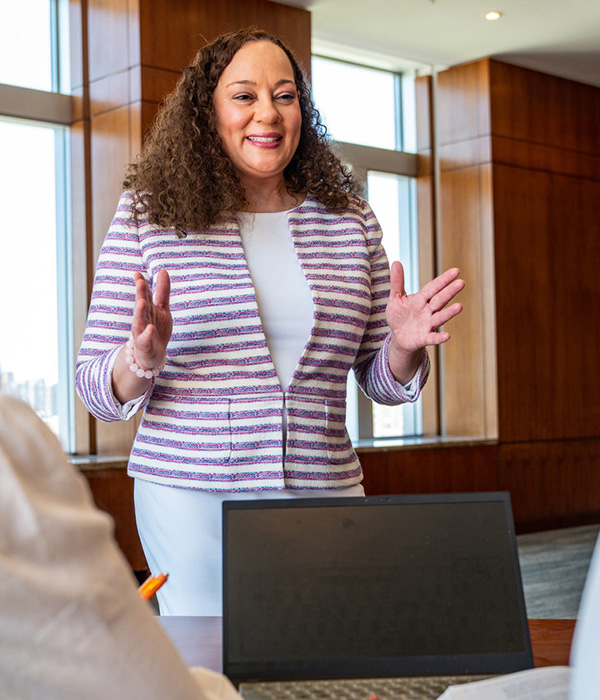 Faculty & Staff
Directory
With nearly 100 faculty serving Whitman students across the undergraduate, graduate and Ph.D. programs, our thought leaders help discover new knowledge, foster industry leadership and create relationships that last well beyond our students' time on campus.
Back on Campus to Share a New Perspective on Accounting
Willie Reddic
Associate Professor of Accounting
There are a lot of great people here, and now I am one of their colleagues. I'm excited about the opportunity to have the support of these great people around me.
After nearly a decade, Willie D. Reddic G'12 (MAX), '13 Ph.D. is happy to be back on campus at the Whitman School and eager to show the next generation of students all the possibilities that accounting has to offer.

After receiving a master's degree in finance from the University of Illinois at Urbana-Champaign, Reddic was encouraged by Whitman Dean Emeritus Melvin T. Stith '73 MBA, '78 Ph.D., to consider pursuing a Ph.D. Stith was one of the founders of the Ph.D. Project, an initiative that aims to attract talented people of color into the faculty pool. Reddic had always had teaching in the back of his mind, so he decided to pursue his doctorate in accounting.

Reddic went on to become a KPMG fellow and complete his dissertation on portfolio rebalancing within the property and casualty insurance industry. Soon after completing his Ph.D., he was hired as an assistant professor at the Driehaus College of Business and Kallstadt Graduate School of Business at DePaul University. In 2020, he was promoted to associate professor with tenure at DePaul.

Despite his success at DePaul, the opportunity to return to the Whitman School was something he couldn't resist. "I was trained by the faculty at Whitman, and I wanted to come back and show them that every single thing they taught me wasn't in vain," Reddic says. "There are a lot of great people here, and now I am one of their colleagues. I'm excited about the opportunity to have the support of these great people around me."

As he settles in at the Whitman School as an associate professor of accounting, he intends to teach and continue his research, which most recently focuses on looking at regulated industries around disclosures and how firms allocate their earnings. He also hopes to bring more under-represented students into the Whitman school, specifically in accounting, and help them to navigate a vibrant and evolving career path that the school offers not only through classes but summer internships, networking, alumni support and other critical experiences.

He is eager to show all of his students at the Whitman School that today's version of accounting is far from the bookkeeping tasks of decades past. Instead, it is a challenging field that requires a much wider range of skills.

"Graduates in the accounting field today need to also be strong in analytics and information systems if they are going to be as marketable as possible in the workforce," Reddic says, adding that he hopes to incorporate some of these skills in his work by partnering with the University's School of Information Studies.

Reddic is most excited, however, to work with and support the Ph.D. students. "I look forward to giving them the kind of guidance I received here and helping them through the process," he says. "Ph.D. students need to take a different approach today to get hired in what has become a very competitive market. A few decades ago, you could graduate with a Ph.D. in accounting and go right into a job, but the supply has been squeezed, particularly in academia. Today, most students finishing a Ph.D. program have a great deal of research experience and publications in elite journals. If you don't have that, then you're likely to be scrambling for a job. I hope to share my own perspective to help them reach their full potential."

A life-long sports fan, Reddic is looking forward to again rooting for the Orange inside the stadium, and he will continue to be an outstanding cheerleader for the accounting profession at the Whitman School, as well.

"I love what I do and am happy to be back here on the Syracuse University campus," he says. "I'm eager to see what happens next."
By Caroline Reff
Need An
Expert?
Interested in finding an expert opinion on one of the many topics in which Whitman faculty do extensive research?