First Silicon Valley Trip Provides Whitman Students with West Coast Insight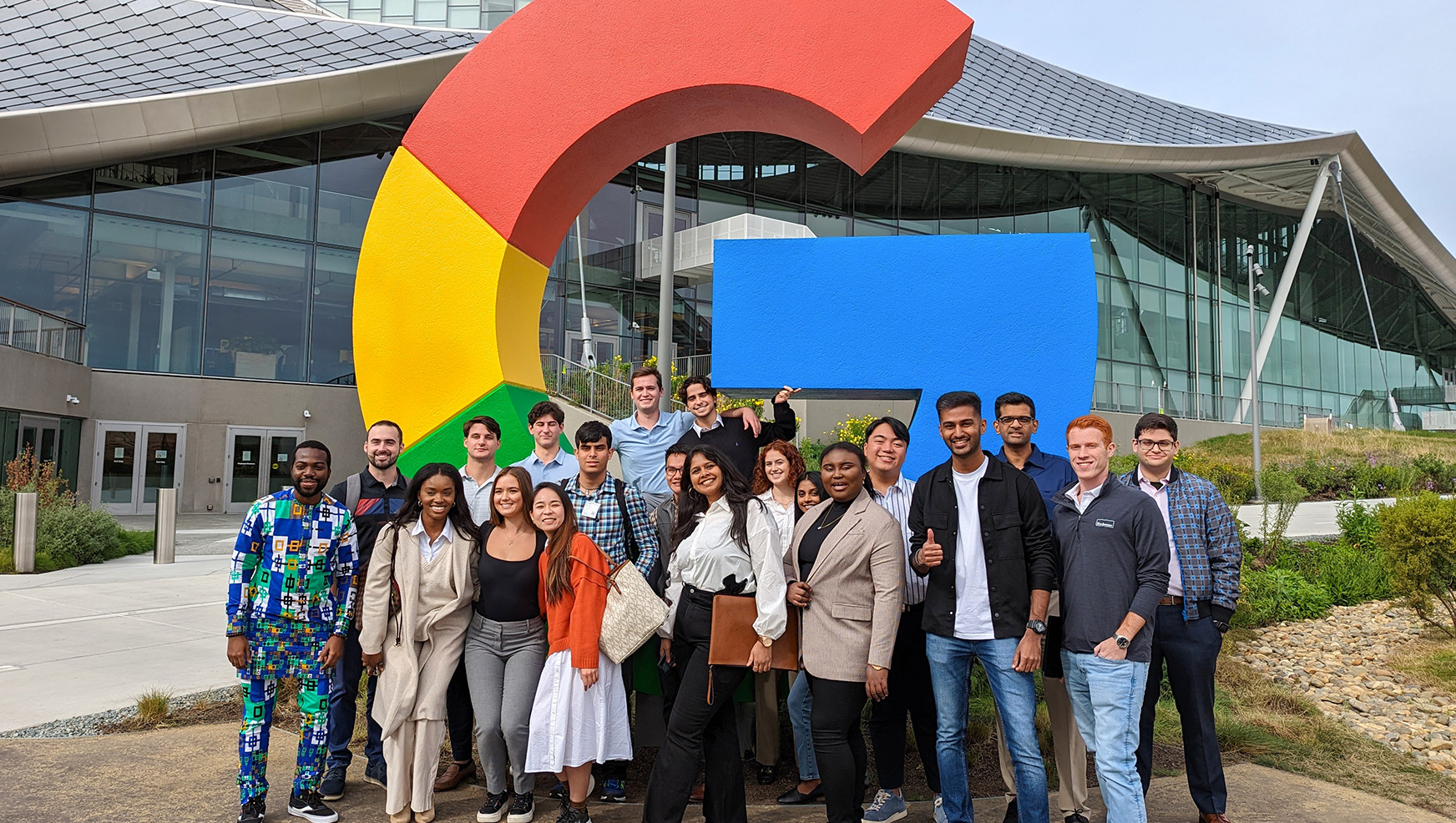 The Whitman School of Management constantly strives to innovate the experiences it provides students. In partnership with the Whitman experiential programs, corporate relations and career center teams, the School offered a new opportunity for undergraduate and graduate students during the fall 2022 semester, a three-day trip to network and learn in California's Silicon Valley.

The Career Center organizes specialized trips for Whitman students looking to network and learn more about their fields of focus. These excursions, traditionally based in New York City, provide students with a range of visits to companies, alumni networking events and other experiential learning opportunities.

In November 2022, 20 students and three Whitman staff members took off from the Syracuse Hancock International Airport across the country to the Golden State's Bay Area. A hub in the corporate world, Silicon Valley is home to many of the world's leading business and technology firms.

The two-and-a-half days that followed were packed with a multitude of experiences. Students viewed the iconic sights of San Francisco, including Muir Woods Park and the Golden Gate Bridge. Collectively, they visited Lux Capital, a venture capital firm; The Hive, a venture studio; Faro, an early-stage startup; Matterport, a late-stage/growth firm; and Google and LinkedIn, both large tech firms. They also participated in an alumni networking dinner. In total, 35 professionals interacted with the group, representing 19 different employers.

"I developed a new appreciation for the impact these companies have had, and I hope to become a contributor to the lives of others in the near future, as well," says Joshua Agbomedarho '24 MBA.

Agbomedarho stated he was especially appreciative of the opportunity to visit global technical powerhouses, such as LinkedIn and Google, which notably influence how we live, work and connect.

Through this trip, students were exposed to numerous industries and the range of potential working environments demonstrated by differently-sized firms. This allowed students to consider their strengths – discovering the differences between large organizations and smaller, company – and visualize where they see themselves in the next few years. Director of Experiential Program Erin Draper notes that students expressed a greater interest in more West Coast opportunities, describing the overall trip as eye-opening.

"Students report having a better understanding of venture capital, big tech and startup/growth companies – and that they feel more confident in their ability to network because of this experience," says Draper.

Experiential and exploration trips continue to foster relations with Syracuse University's strong Orange alumni network and provide current students with exceptional networking and learning opportunities. The success of this experience represents the boundless comprehensive experiences Whitman students can continue to anticipate.