Orange Central 2022: Coming Home and Giving Back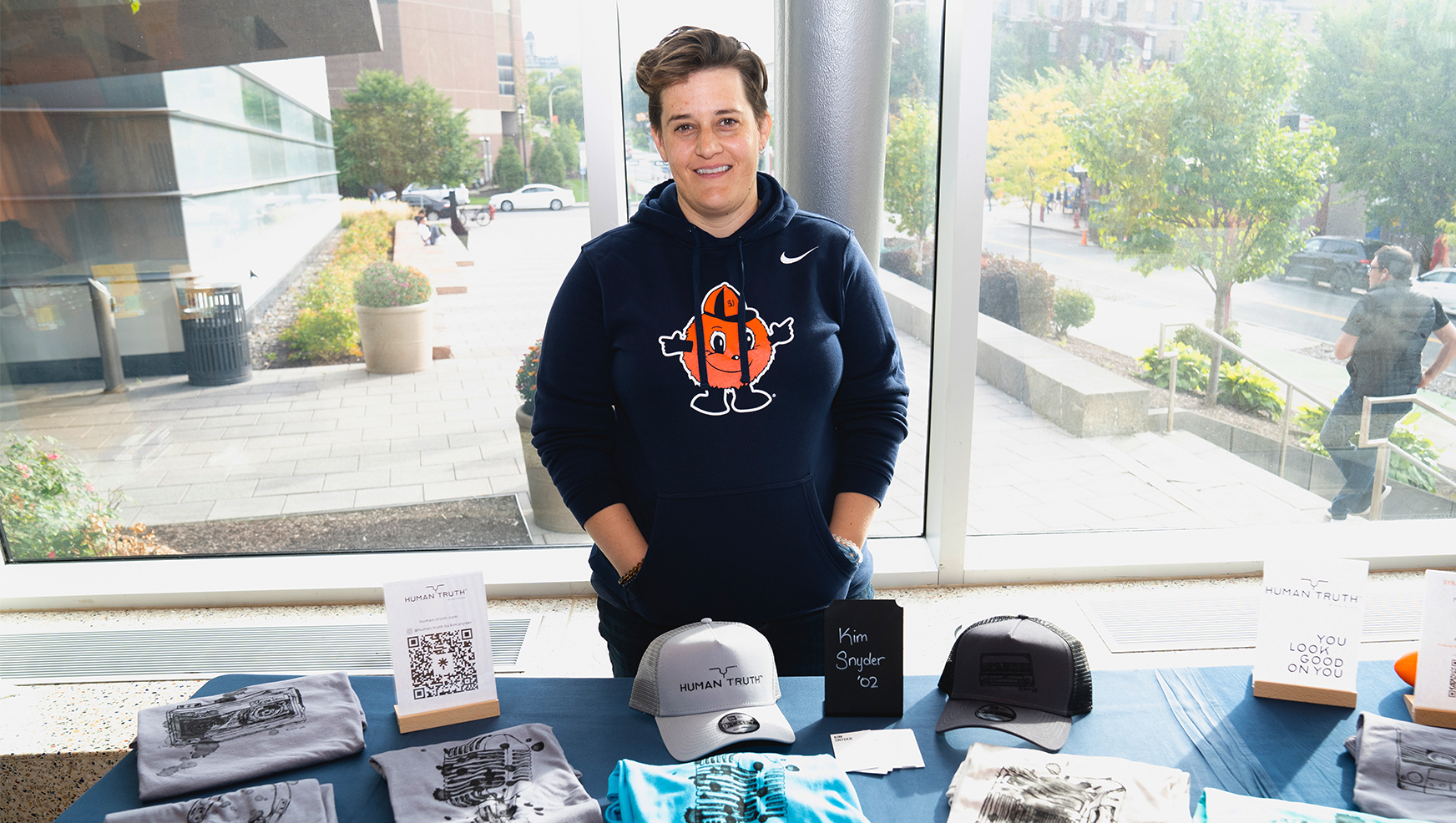 The Whitman School welcomed alumni and friends back to campus for Orange Central Sept. 29 to Oct. 2. The building was bustling with activity—from alumni career conversations with students to the eighth annual Orange Tank business pitch competition. Alumni coming home and making time to give back during a weekend packed with programming exemplify what it means to be Orange.


Orange Tank 2022 Awards $41,000 to Student and Alumni Entrepreneurs

On Sept. 30, 2022, the Whitman School hosted its eighth annual Orange Tank business pitch competition. The event brought Whitman student and alumni entrepreneurs together to pitch their ventures to a panel of entrepreneurial alumni judges in hopes of receiving the $25,000 grand prize. Thanks to the generosity of Whitman Advisory Council member and Syracuse University Life Trustee John Couri '63 (A&S), H'08, the cash prizes for the event totaled $41,000.

Emceeing the event this year was Derrell Smith '10 (IST), G'13 (NEW), a leader and entertainer who spreads love through food. After a neck injury ended his NFL career, Smith worked in New York City as an advertising producer. In 2016, he won a meatball competition and started 99EATS, inspired by the women who taught him how to cook. Today, he is the executive producer and host of Mad Good Food on Tastemade and CEO of 99EATS LLC. Smith is a frequent guest on the Today show and E! Network, sharing his twist on food from his upbringing and entertaining people with stories and tantalizing dance moves. He now resides in Los Angeles.

The event also welcomed judges Jeff Burbank '08, founder and CEO of Oaza Beverages; Blake Brossman '98 (VPA), founder of PetCareRX; Amy Fazackerley, co-founder and CEO of Lay-n-Go LLC; Amrita Mainthia '12 (WSM/NEW), vice president of investor relations at General Catalyst; and James Perkins '88 MBA, a business consultant, back to campus to hear the competitors' pitches.

Smith interviewed Orange Tank 2021 grand prize winner Bruno Gonzalez Hauger '21 (WSM/NEW), '22 M.S., co-founder of the medical development company Illumenar. Gonzalez Hauger took home the $25,000 prize last year for his venture Ambassadoor Technologies, an app that helps small brick-and-mortar companies stand out in social media through the use of nano-influencers.

Gonzalez Hauger's advice to entrepreneurs pitching their business was to "figure out what people's problems are and how to solve those problems. And then how to solve that problem many, many times in a row. Don't focus on what you think the solution is until you know that problem like the back of your hand."

While the judges deliberated, Whitman's EEE Department Chair Todd Moss, associate professor of entrepreneurship and the faculty director of the Sustainable Enterprise Partnership, updated the audience on some of the department's recent accomplishments.

The judges returned to announce the following winners:
Alumni Category
First place and $5,000 went to Sam Hollander '21 (WSM/NEW) and James LePage '22 of ShareClub. The company is a platform that leverages shareholder rewards to turn loyal customers into investors and turn these investors into more loyal customers.

Second place and $2,500 was awarded to Blaine Killen '15 (WSM/IST) and Eric Atcheson of FitLift. The company tracks motion and gives real-time and post-training feedback on weightlifting techniques, from a wearable device and smartphone.


Student Category

First place and $5,000 went to Noah Mechnig-Giordano '22 (ECS), '23 MBA of Happy Loose Leaf Tea. The company's mission is to engineer innovative tea-steeping devices that change the way loose-leaf tea is brewed. Mechnig-Giordano has a patent-pending product.

Second place and $2,500 was awarded to Jack Adler '23 of Out2Win. This company is a sports marketing agency run by college students for college students with a particular emphasis on leveraging the newly opened space for NCAA athletes to profit off their name, image and likeness.

Third place and $1,000 was awarded to Selim Dangoor '23 (WSM/NEW) of MUNCH Jerky. Using ethically sourced flank steak, MUNCH provides a tender beef jerky for the health-conscious without sacrificing taste.


Grand Prize

The highlight of the Orange Tank competition was the presentation of the $25,000 prize to alumni team Hollander and LePage, co-founders of ShareClub. With over 500 retail investors on the closed beta platform, ShareClub is already offering shareholder rewards.

ShareClub makes it possible for companies to activate a customer segment that is a 1.3 times more frequent return shopper with an over 74% greater share of wallet than an uninvested customer. Unlike traditional shareholder benefits given away through in-person annual shareholders meetings, ShareClub is digitizing shareholder rewards through an automated platform that verifies ownership and facilitates reward redemptions.

"We're thrilled to have won both first place and the grand prize at the Orange Tank competition. It's a testament to the hard work that our team has put in, and we're excited to use the prize money to help us bring ShareClub to as many public companies as possible," says Hollander. "We're on a mission to help public companies better communicate with their retail investors, and I'm confident that we'll be able to make a big impact."


Alumni Entrepreneurs Showcase Businesses at Syracuse Samplings

As part of the Whitman School's celebration of entrepreneurship, the Syracuse Samplings event featured a range of offerings by alumni founded and -owned businesses including:

Kora-Lynah Abelard '15 (WSM/NEW), Orijin skin care
Melissa Ben-Ishay '06 (FALK), Baked by Melissa
Ryan Benz '11 M.S., Oh My Darling
Alyza Bohbot '08 (VPA), City Girl Coffee
Jeff Burbank '08, Oaza Cold Brew
Nate Cotanch '12, Zia Hatch Chile Company
Jake Duneier '10, Eight Beer
Adam Fazackerley '96, Lay-n-Go LLC
Mike Friedman '12, TallOrder Socks
Margaret Gay '13, 27Teas
Adam Gold '06 (NEW), Funk 'n Waffles
Adam Kukoff '12, Nutsóla
Ryan Novak '11, Chocolate Pizza Company
Kim Snyder '02, Human Truth art and apparel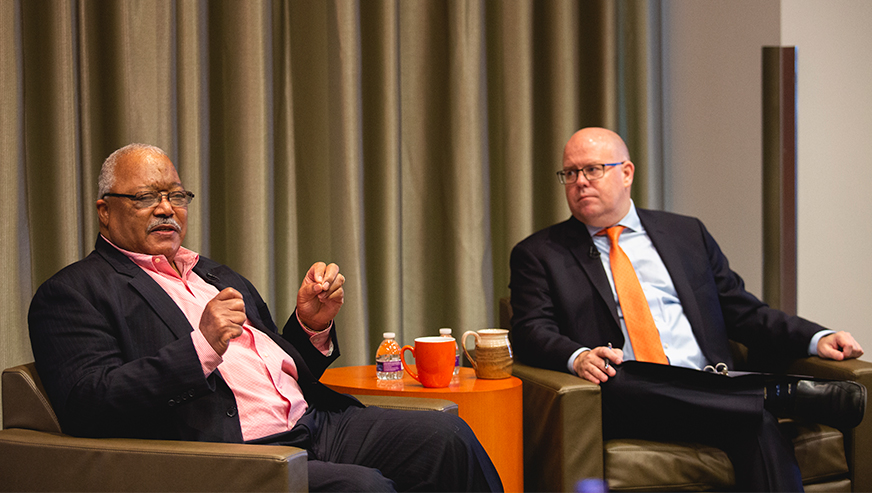 Dean Emeritus Shares Perspectives on Leadership Ahead of University Recognition

On Friday of Orange Central, Whitman faculty and staff gathered for a breakfast celebration and fireside chat with Interim Dean Alex McKelvie and Dean Emeritus Melvin T. Stith '73 MBA, '78 Ph.D.

The Whitman gathering gave faculty and staff who came after Stith a chance to celebrate his recognition by the University and to hear perspectives on inclusive leadership from his career. Later that evening, Stith was honored with the Syracuse University Military and Veteran Award. He also received the Hometown Heroes Award during the Syracuse versus Wagner football game.

Born in Portsmouth, Virginia, Stith served in the U.S. Army's Military Intelligence Corps from 1968 to 1972, achieving the rank of captain. He earned an MBA and Ph.D. in marketing at Whitman. He returned to Whitman in 2005 as its 16th dean after having served as dean and the Jim Moran Professor of Business Administration in the College of Business at Florida State University. Stith retired from Whitman in 2015 but was called out of retirement in 2017 to serve as the interim president of Norfolk State University, his undergraduate alma mater.

Throughout his career, Stith has served on boards of directors for numerous corporations, government agencies and academic institutions, including Syracuse University's D'Aniello Institute for Veterans and Military Families.

Also honored during the Syracuse University Alumni Awards ceremony was Robert J. Miron '59, who received the 2022 Arents Award for Excellence in Cable Television. Miron is the retired non-executive chairman of Discovery and former chairman and chief executive officer of Advance/Newhouse. He is a Syracuse University Life Trustee and member of the Advancement and External Affairs, Athletics and Finance Committees. He and his wife, Diane, provided the lead gift for the Diane and Bob Miron Fund for Academic Success in the Syracuse University Libraries. A digital news studio in Newhouse II is also named in their honor.

Alumni Make Time to Give Back to Current Students

Although Orange Central brings alumni together for time with friends, old and new, the Whitman School is fortunate that many also make time to share career perspectives with students:

Tracy Barash '89, senior vice president/head of research, data and insights, business operations and franchise planning for Turner Sports and Bleacher Report, spoke to Whitman Leadership Scholars about her journey from Whitman to sports media.

Taylor Brady '15 of Morgan Stanley hosted a coffee chat with students and offered advice and insight into her role as a financial advisor.

Freddy Morales '97, accounting and finance graduate and current Whitman parent, made the trip to campus from Spain. He spoke with students over lunch about his role as head of finance at Bristol Myers Squibb Company's Iberia cluster.

Special thanks to Whitman's Orange Tank 2022 alumni coaches Kora-Lynah Abelard '15 (WSM/NEW), Nate Cotanch '12, Danielle Donovan '09, Mike Gursha '10 (WSM/NEW), Ryan Novak '11 and Corey Passarella '11 for offering guidance to the pitching teams as they prepared for their presentations.

Before taking their spots at Orange Tank and Syracuse Samplings, Blake Brossman '98 (VPA), Bruno Gonzalez Hauger '21 (WSM/NEW), '22 M.S., Derrell Smith '10 (IST), G'13 (NEW) and Kim Snyder '02 participated in a panel discussion and networking luncheon with students hosted by the Entrepreneurship Club.