Professors of Practice Find Great Satisfaction in Mentoring Students Toward Entrepreneurial Success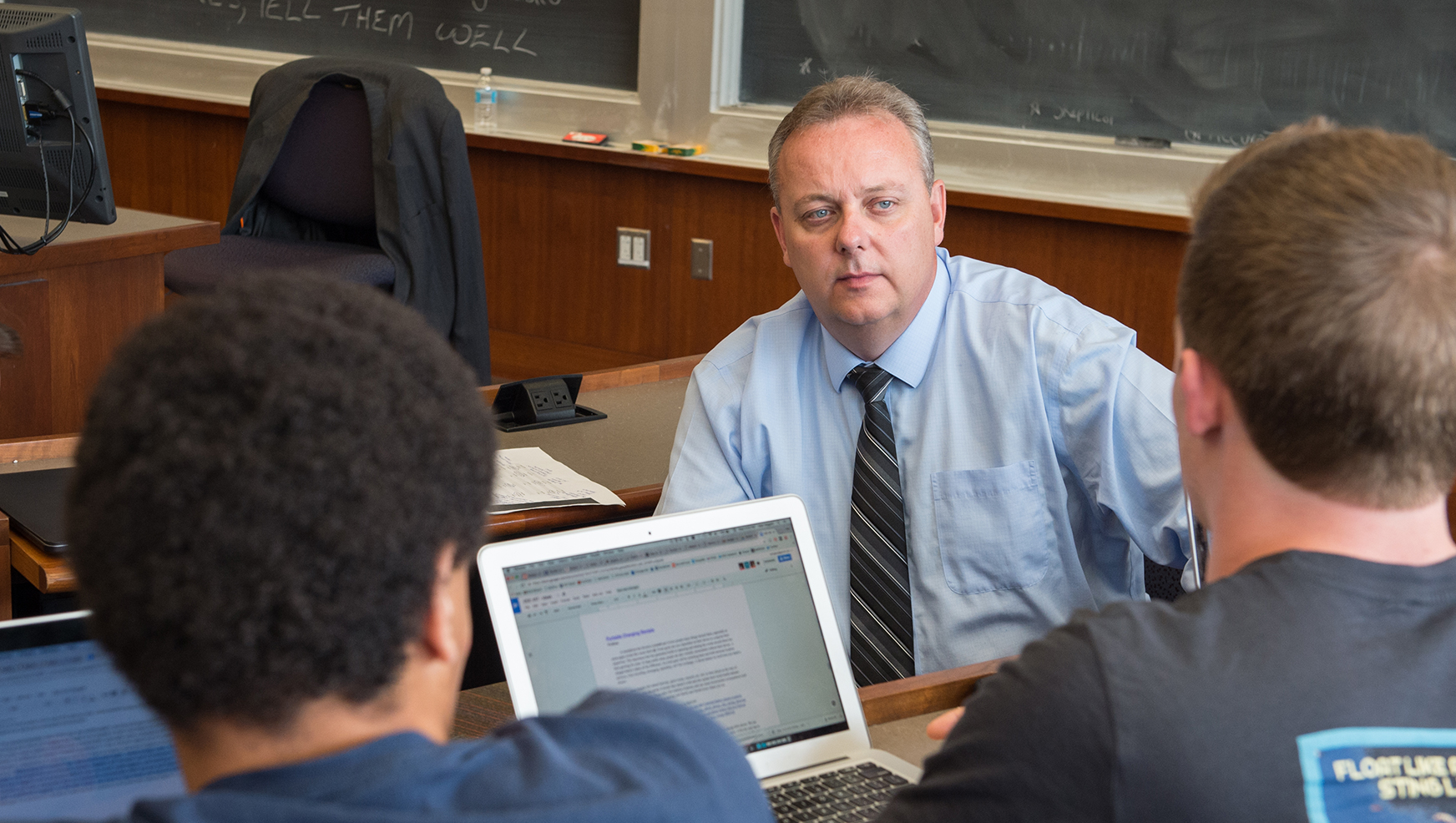 When Ryan Novak '11 bought Chocolate Pizza Company in Marcellus, New York, while in his last year at the Whitman School of Management, he had many questions. Thankfully, he found plenty of answers from the professors of practice in the Department of Entrepreneurship and Emerging Enterprises (EEE).
As a teenager, Novak started working at what was then a small, local chocolate shop, mopping floors and washing dishes. Just a few years later, at age 21, he purchased the business. Today, it has become the largest chocolate manufacturer in Central New York, producing 250,000 pounds of chocolate a year. Known for its signature item that resembles a pizza but is made of chocolate, candies and nuts, Chocolate Pizza Company also offers over 100 other treats at its new 10,000-square-foot production and retail space. It has a thriving online business and supplies corporate gifts and other products to places like Wegmans, Delta Air Lines and Disney Studios.
While Novak has had great success, he is grateful for the help he received at Whitman along the way.
"Professor Ken Walsleben helped me almost constantly while I was getting started. He guided me in putting together a business plan and answered many of my questions," says Novak. "And professor John Petosa, who is an attorney and a CPA, as well as a former CFO, helped me get the business incorporated and took the lead in setting it up as an S Corporation. He connected me with business leaders, banks and other connections that helped grow the business. It was a huge help to have people I trusted in my corner, and they are still there today."
Walsleben and Petosa are two of four professors of practice on the faculty of Whitman's EEE department, along with Alexandra Kostakis and John Torrens, who is also the deputy department chair. All of these professors are also entrepreneurs themselves, bringing with them a wealth of experience, advice, connections and stories of both successes and failures. In addition to their formal classroom teaching, all genuinely enjoy sharing their experiences in entrepreneurship with current and former Whitman students.
"That our professors of practice are so willing to spend a lot of time working with current and former students is something very special about the EEE department," says Walsleben, recounting examples of those who have built businesses around everything from financial counseling to special events. "There's probably nothing better than to see the enthusiasm on the face of a budding entrepreneur or talk through a problem or risk and help someone see things more clearly. We make it a point to let students know they can come to any of us and tap into our expertise."
Petosa agrees. "Once you're my student, you're always my student," he says. "My door is always open, and I encourage them to reach out. When you get to the point I'm at in my career, it's so much fun to share what you've learned and also see the excitement students have for their own ideas. There's nothing better than that."
Petosa doesn't even mind when students don't take his advice. "When Ryan Novak came to me to discuss moving his chocolate manufacturing plant, I actually tried to talk him out of it," he says. "He didn't listen, took a chance, and it paid off. That's part of the entrepreneurial process, and I couldn't be happier that he had the courage and faith to do what he thought was best. Clearly, it all worked out."
Kostakis knows that many of her students need encouragement to take risks and believe in themselves. "A lot of students have self-doubt, and I've been there myself," she says. "I try to remind them that if they really, really believe in their ideas, they can do it. And, if they believe but someone tells them that they can't do something, they should do it anyway."
"Entrepreneurs make more mistakes than anyone because they are also willing to take risks," she says. "I don't mind sharing my own mistakes, so when students are having a hard time, they can look back and say, 'This happened to Professor Kostakis, and she did OK.' Professors of practice bring a unique perspective, and it makes me feel good that I'm contributing."
As the only female professor of practice in the EEE department, Kostakis brings an important perspective as a role model to young women. "Many women entrepreneurs don't believe in themselves the way they should," she says. "I encourage them to trust their gut, speak up and ask for what they want. If something doesn't feel good, then don't do it. One door may close, but three more will open. Minimize the risk, and keep doing what you're doing. It's OK to make mistakes, but, in the end, be courageous."
Torrens finds mentoring "immensely satisfying" and is especially gratified when former Whitman students send him updates on what they are working on or share the successes they are having. "Just the idea that students think enough of me to give me an update or tell me how what they've learned in the classroom applies to their business plan is very special," he says.
Like all of the EEE professors of practice, Torrens meets with a number of students informally each semester, sometimes as often as once a week, to discuss whatever it is they need.
"Helping Whitman students gain clarity in their next steps and discussing how to continue moving forward is rewarding because I've been down that same path multiple times myself," Torrens says. "There's nothing better than seeing someone who's never done this before come in with such great enthusiasm. The students I have had the privilege of working with have some pretty innovative and just plain cool ideas. It makes the job really fun."