Linda Dickerson Hartsock Sees Retirement from Blackstone LaunchPad as "Just Another Startup"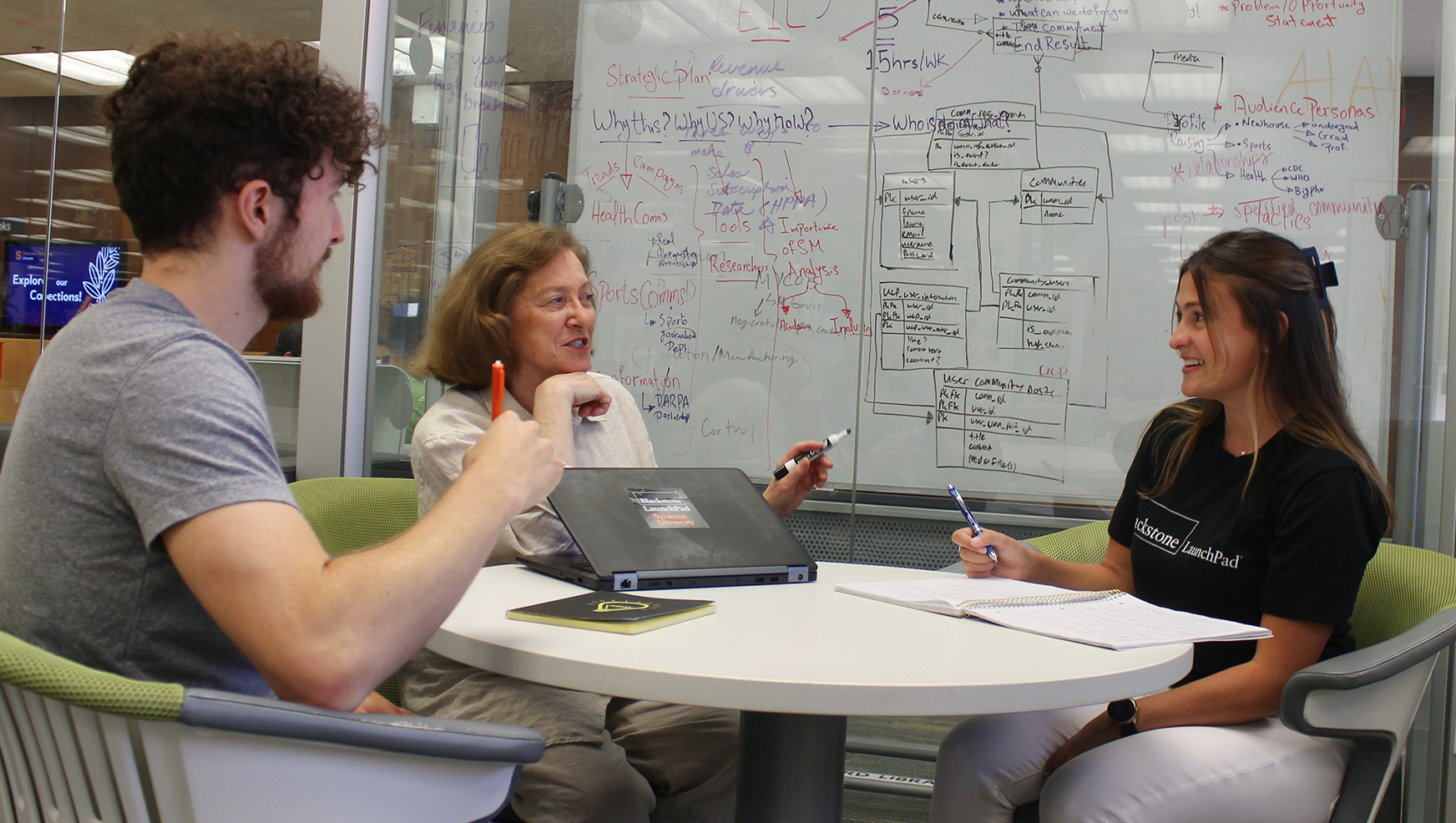 "You are the reason we believe the impossible can be achieved."
That is just one of the many notes that Linda Dickerson Hartsock has tucked in a wicker basket in her office from students who have seen their ideas come to life at Syracuse University's Blackstone LaunchPad. As Hartsock prepares to retire from her position as founder and executive director, she considers these messages some of the greatest achievements of her 40-year career.
Under Hartsock's leadership, the LaunchPad at Bird Library has produced 6,000 innovators, 2,000 venture ideas, 200 companies and $115 million through the hard work and ideas of faculty and more than 6,000 students, many of whom continue to be active alumni with the innovation hub that began in 2015.
"We've demonstrated that the LaunchPad itself is a successful startup," says Hartsock of the cross-campus, collaborative ecosystem that has engaged every academic unit University wide.
"Building this program has been a point of pride in my career," she says, crediting the support of David Seaman, dean of libraries and University librarian as well as interim dean of the School of Information Studies. "It's made Syracuse University a global innovation leader, and it's given us something very unique here. We're training trailblazers in the entrepreneurial world."
Hartsock has an impressive resume. A faculty member and administrator at her alma mater, Marist College, for two decades, she was also president and CEO of Hudson Valley Pattern for Progress, an organization that brought community revitalization and innovation from Albany to Manhattan. Later in her career, Hartsock relocated to Central New York, eventually taking the role as vice president of innovation and technology at CenterState CEO, where she managed the Syracuse Tech Garden. In 2012, she joined Syracuse University, overseeing the Connective Corridor initiative under former Chancellor Nancy Cantor. In 2016, Hartsock took over a newly established innovation community on campus, the Blackstone LaunchPad.
"Linda was the right person at the right time to be the inaugural executive director of our Blackstone LaunchPad," says Professor of Entrepreneurial Practice John Torrens, who is the deputy department chair of the Whitman School's Department of Entrepreneurship and Emerging Enterprises (EEE). "Her inclusive collaborative, servant leadership style helped create a thriving central hub for student entrepreneurs on campus. Under her stewardship, our students have accomplished some very impressive things, from appearing on 'Shark Tank' to raising millions of dollars in equity capital to running and growing successful businesses."
Hartsock's role has consistently intersected with Whitman's EEE department, where she's been an adjunct instructor and collaborated to help find students internships and other opportunities. She is especially pleased that Whitman now has a dedicated course called LaunchPad, designed for those who already have an operating business. While students from any college or school at the University are eligible to work at the LaunchPad, Whitman EEE students make up a great number of those found there.
"No single person impacted my time at Syracuse University more than Linda Hartsock," says Bruno Gonzalez Hauger '21 (WSM/NEW), '22 M.S., who is the cofounder of medical development company Illumenar, as well as several other startups that benefitted from the LaunchPad. "She has been there for every student who entered the glass doors through the steps of their entrepreneurial journey. Her wisdom, kindness and generosity seem to have no end. Linda provided the foundation that student entrepreneurs at Syracuse University needed to flourish, and she is truly the force that has made the Blackstone LaunchPad such a success. That glass box won't be the same without her, but I know that the amazing entrepreneurial culture she built will thrive for years to come."
"My career has not been a linear path," Hartsock says, "but in many ways it was very connected. My time at the LaunchPad has been the most fun and the most meaningful of all of my roles because it brings my entire life and career trajectory together in one place, working with students who are not just technologists but also creatives. Putting all that together has made great things happen."
In her retirement, Hartsock intends to spend more time with her three sons and relax just a bit, although she is in talks with the EEE department to continue some teaching and collaborate on a few special projects.
Like a true entrepreneur, Hartsock doesn't see retirement as an end. She says, "In a way, it's just another startup."