Residency Programs Bring Online MBA Students Together for Unique Business Topics That Differentiate Whitman From Competitors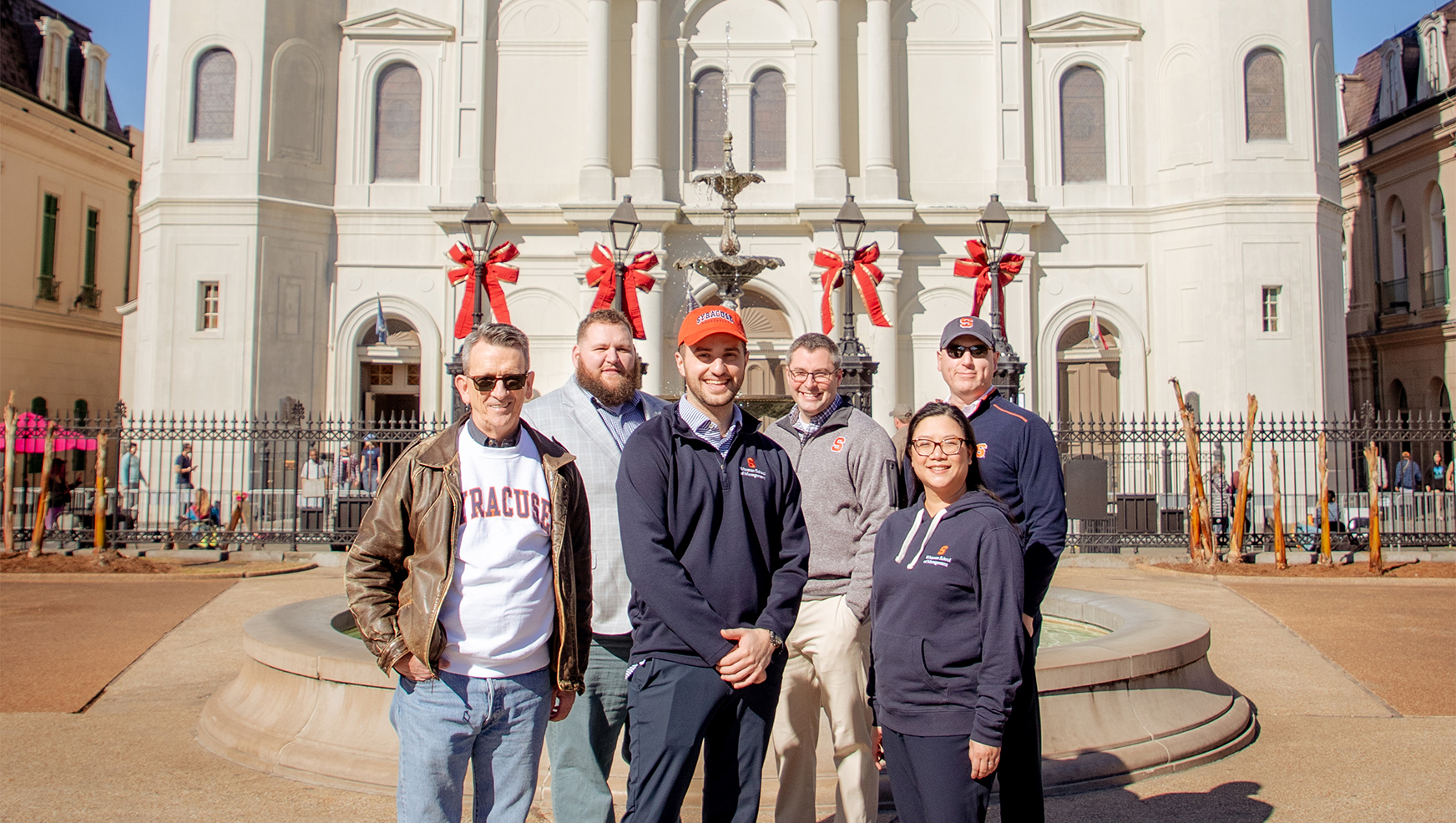 What business student wouldn't want to spend a weekend in New Orleans learning negotiation skills directly from Syracuse University's Chancellor? How about a trip to New York City to take a deep dive into how the pandemic has brought technology to the forefront of healthcare? Or what about a trip to Denver to better understand the ins -and-outs of the emerging cannabis industry? These are just some of the opportunities that take students in the Syracuse University online MBA program at the Whitman School of Management out from behind their computers and in front of business experts, alumni, faculty and, of course, their fellow students.
Since 2015, the online MBA program has offered approximately 130 residency tracks covering everything from supply chain and sports to alternative investments and consulting with nonprofit organizations. Students are required to participate in three residency programs (worth one credit each) in order to earn their degrees. These residencies are differentiators for the Whitman program, as few other business schools offer such an extensive array of experiences in a variety of locations. Students value this element of the online program as a reason to travel, immerse themselves in new information and tangible skills, and, most of all, get to know the classmates and professors they've only met online.
According to Whitman's Interim Dean Alex McKelvie, many other online MBA programs are moving to predominantly prerecorded content, and students seldom interact with faculty or other students face-to-face. "Each theme we choose for a residency track shares immediate insight into important and emerging industries or 'hot skills' that our students can get up to speed on over a long weekend and bring back to use in their workplaces days later. We're bringing in thought leaders and innovators — many of whom are our own alumni — who present a working knowledge of topics that are happening in the here and now," he says. "Our students truly look forward to these experiences, and these in-person opportunities have proven to draw a more diverse student body to our program, while also allowing the Whitman School to become increasingly competitive in a business school space that is full of some very big players."
"Our students truly look forward to these experiences, and these in-person opportunities have proven to draw a more diverse student body to our program, while also allowing the Whitman School to become increasingly competitive in a business school space that is full of some very big players."
— Interim Dean Alex McKelvie
Residencies are held at Syracuse University, as well as cities around the country. This summer, the School will once again open up international residency tracks, something that has been on hold since the pandemic began. According to Assistant Dean for Master's Programs Amy McHale, there are four main types of residencies with multiple topics to choose from: The Business of…, which concentrates on a specific industry; Emerging Trends, which delves into areas that may only be touched on briefly in traditional coursework, like alternative investments or resilient supply chains; Skill Building, which includes popular proficiencies like Negotiation, Digital Storytelling with Tableau and Power-Up with Power BI; and The Whitman Challenge, which allows the online MBA students to use their skills as consultants to nonprofit agencies or companies in need of business expertise.
"One of the main factors of my decision to choose the Syracuse University online MBA program was the residencies offered," says Brad Pokorny '22, a U.S. Army veteran and entrepreneur. "While earning my degree online was the right decision for my circumstances, there was something about sitting down and conversing with professors and classmates on occasion that was very appealing to me. Whitman really rolls out the red carpet, and everyone is so welcoming and enthusiastic about the various topics offered."
Many students in the online MBA program choose the optional orientation residency held at Syracuse University as their first residency. Held over a long weekend, the orientation is geared primarily for students new to the program and gives them a chance to meet their advising team and faculty members, get a better understanding of the resources available to them through the University and, best of all, network with classmates in a social setting. Students also have the chance to stroll the campus, take in a game at the JMA Wireless Dome or stop into the bookstore to stock up on some Syracuse merchandise. The most recent orientation residency was held in April, while at the same time, the Whitman School also welcomed other online MBA students taking part in a skill building track on Excel modeling for financial planning or Power BI, or another residency on The Business of Sport.

Residencies are announced months in advance to give students a chance to plan ahead. Each takes up to a year to plan and all are coordinated by Jenny Henderson, associate director for student services. Students are encouraged to choose a residency soon after starting the program in order to have plenty of time to complete their three-track requirement by graduation. When academic calendars align and space allows, the residency programs are also open to other full-time master's degree students from the Whitman School.
THE BUSINESS OF…

The online MBA students are always eager to immerse themselves into topics that are novel or focus on a specific area of business, so the Whitman School offers a revolving selection. Two of the most recent revolved around healthcare and sport, while an upcoming residency looks into cannabis from a business perspective.
Healthcare
In response to the many changes in business practices due to the pandemic, the Whitman School offered The Business of Healthcare in the fall of 2022 in New York City. Forty-four students gathered in person for a long weekend session that focused on the healthcare innovation, coordinated by Adjunct Instructor David Eilers '80 (NEW), who has had an impressive career in the healthcare space, and Anissa Davenport '19 MBA, a recent graduate who has extensive experience in healthcare leadership and is currently an innovation consultant and founding partner of Possibility Partners LLC, in North Carolina.
With healthcare spending growing to over $4 trillion in 2021 or 19.5% of GDP during the pandemic, this residency track examined whether the U.S. has created a more resilient healthcare system as a result and took a hard look at the lessons learned during unprecedented times. Discussions surrounded which institutions did the best in responding in innovative ways to improve care, as well as what disruptive influences impacted the healthcare marketplace. A panel discussion by healthcare experts included Zac Brien, national account manager at Butterfly Network; Michelle Cunningham, vice president, global platform leader, BD Health; Shari Jardine, deputy director, Center for Global Health, Northwell Center for Global Health; and Doug Present '86, investor and former CEO of Managed Health Care Associates, was well received, as was a keynote address by Present (see sidebar). Another aspect of the residency track included two design thinking challenges: one pertaining to barriers of getting access to quality healthcare in the U.S. and another involving identifying disruptive trends in the U.S. healthcare system and proposing experiments to improve customer value by "turning pain into gain." On the final day, groups of students responded by pitching solutions and emphasizing what made their ideas "desirable, feasible and sustainable" in the future, according to Eilers.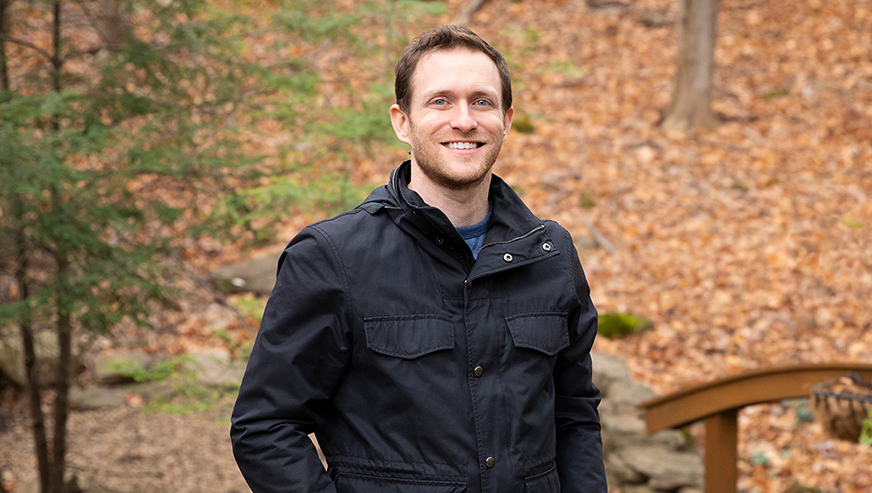 Alumnus Ryan Raymond
"A lot of companies are really solving complex problems from the technology standpoint, and there is a lot of venture capital going into healthcare. So many businesses and products related to healthcare have launched over the past five years, and there are certainly many more to come," says Ryan Raymond '03 (NEW), '22 MBA, who has more than 15 years of career experience in healthcare. "I was interested in this residency because there are huge opportunities for digital transformation in healthcare, particularly in underdeveloped countries. This covered some interesting concepts and helped me look for new business ventures as I completed my MBA."
"I was interested in this residency because there are huge opportunities for digital transformation in healthcare, particularly in underdeveloped countries. This covered some interesting concepts and helped me look for new business ventures as I completed my MBA."
— Ryan Raymond '03 (NEW), '22 MBA
"The Business of Healthcare track was a great success, and I think students came away with an innovator's mindset, a new tool set for ensuring successful adoption of emerging technologies and the creative confidence to apply those tools to a variety of market opportunities," says Eilers.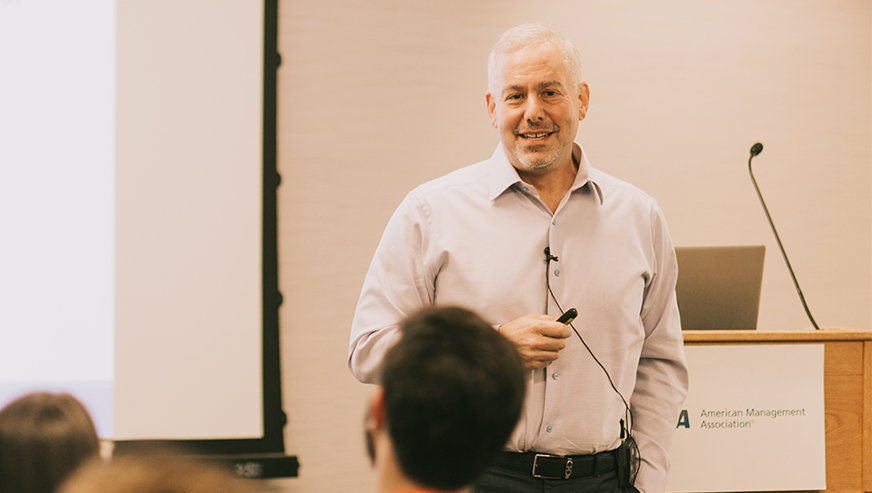 Alumnus and Whitman Advisory Council Member Doug Present

Doug Present '86 Shares Insight on State of U.S. Healthcare Post-Pandemic
During The Business of Healthcare residency, Doug Present '86 presented "The Pandemic — What Happened and Where Are the Opportunities?" Present is a member of the Whitman Advisory Council and is on the University's Board of Trustees. He received an MBA from the Wharton School, where he has been an adjunct instructor since 2007 and has had an extensive career in healthcare, including work at Deloitte & Touche Health Care Consulting, Medsite Inc., Managed Health Care Associates Inc. and Douglas Present Associates, his own investment firm.
Present noted important statistics about U.S. healthcare, emphasizing how 14% of all adults are employed in the industry and projecting the impact that the "Silver Tsunami" will have on healthcare as the senior adult population in the U.S. is expected to peak in 2040. He also gave an overview of what happened to the healthcare system during the pandemic — from hospital bed shortages and supply chain disruption to how U.S. stockpiles of critical supplies proved inadequate — and discussed how healthcare inequities among certain populations, particularly minority groups, became more strikingly visible. In addition, Present noted that "healthcare workers never signed up to be heroes" and, in turn, have "been leaving the system in droves."
The keynote was not all doom and gloom, however, as Present highlighted the lessons learned and the opportunities that came out of that. "Supply chain issues have made their way to the C-suite, stockpiles have been recreated, and the U.S. government has realized that nobody else can be expected to do this for us," Present says. "Despite it all, real opportunities came out of the pandemic — telemedicine, healthcare at home, deputizing healthcare provider systems like pharmacies, a greater focus on behavioral health and more. So much of the bad has actually created opportunities everywhere in the healthcare landscape."
Sport
In early April, the Whitman School held The Business of Sport on campus, the first time for this particular topic, in conjunction with Rick Burton '80 (NEW), the David B. Falk Distinguished Professor of Sport Management at the Falk College of Sport and Human Dynamics at Syracuse University. Burton recently co-authored a book, Business the NHL Way, with Norm O'Reilly, dean of the Graduate School of Business and professor of marketing and sports management at the University of Maine, who also participated in the residency.
The Business of Sport came out of a conversation Burton had with McKelvie, a huge hockey fan himself, about the book and the parallels between sports and business practices. The residency track proved to be very popular, with approximately 80 online MBA students attending over a three-day weekend that was packed with well-known faces from the world of professional sports. Friday's session kicked off with NHL Commissioner Gary Bettman, who spoke via Zoom on initiatives that ranged from competitive balance, driving fan engagement and sponsor participation, as well as efforts to diversify the sport, give the NHL a more global appeal and the creation of the first Department of Player Safety in pro sports history.
Other highlights include an in-person appearance by Don McPherson '87 (A&S), CEO of Don McPherson Enterprises and former All-American quarterback at Syracuse University, as well as a veteran of the NFL, who spoke on DEIA in sports and business and shared his work connecting the appeal of sports to addressing complex social issues on gender-based violence prevention. Additional participants included Alysee Soll, CEO of underdog venture team, and chair of Women in Sports Tech, who is an expert in sourcing, investing, advising and fundraising for startups across sports business, particular for females and underrepresented minority business founders; Dr. Gary Burton, a former school superintendent who presented on leadership; and a panel discussion that included alumni working in sports: Jade Daniels '19 MBA, senior products manager for the NBA; Kris Knief '19 MBA, vice president, strategy and innovation, for the Foley Entertainment Group; and Kyle Georger '23 MBA, director of corporate sales, Pegula Sports and Entertainment.

Attendees also participated in group work, enjoyed time networking with classmates, faculty and guests and attended a lacrosse doubleheader at the JMA Wireless Dome.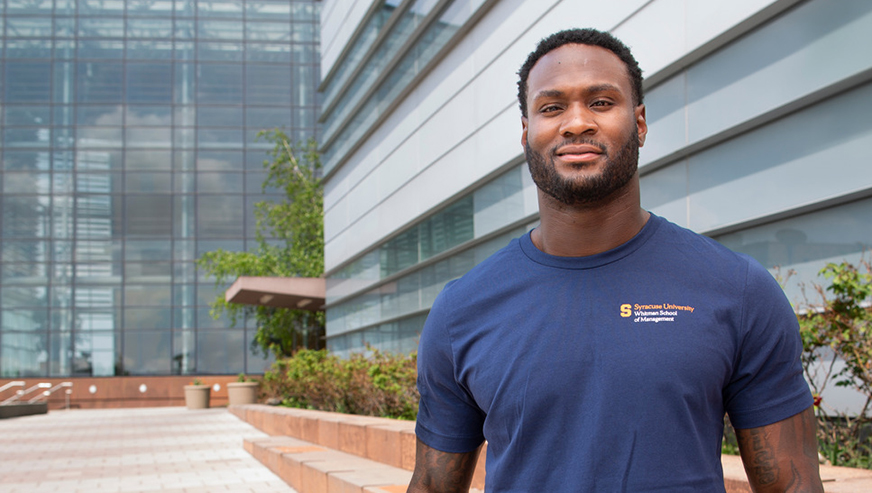 Alumnus Latavius Murray

The residency wrapped up with online MBA program alumnus and Syracuse native Latavius Murray '20 MBA, G'24 (MAX), who is in his 11th year in the NFL and Zoomed into the residency to speak not only about his football career but also his role as the president of the Jon Diaz Community Center Foundation and as chief brand officer for Enduraphin, an innovative sports nutrition company located in Central New York. During his appearance, he credited his decision to earn an online MBA while playing football for helping him "think outside the box" and not wanting to be labeled as "just an athlete."

"Syracuse University, as a whole, has a great connection to the world of sports, whether it be our own teams, those who come out of places like the Newhouse School to work in broadcasting, the exercise science major that is now housed at Falk College or the business and innovation practices learned at Whitman that are clearly transferrable to the business of sport," says Burton. "We are very grateful to have had the opportunity to bring in such a great variety of guests and so many valuable discussions on the intersection of sports and business."

Cannabis
In September, the Whitman School will again offer a residency track on The Business of Cannabis track. This time, however, it will partner with the S.I. Newhouse School of Public Communications, as students from both schools travel to Denver for a long weekend. The first time Whitman offered this topic in 2017, cannabis was still widely illegal in most states, including New York, according to John Torrens, professor of entrepreneurial practice and deputy department chair of entrepreneurship and emerging enterprises, who is coordinating the track for Whitman and was an early investor in the cannabis industry in California. Two other residencies on the topic were held, one in Denver in 2019 and another virtually in January 2022 with a focus on social justice issues related to the cannabis industry.
The September track will examine how far cannabis has come as a legitimate business practice in just the past few years. "When we first started this, cannabis was a taboo topic that you couldn't talk about seriously," says Torrens, "but it's legal in many states now and probably will be legal on the federal level within the next five years, which brings many opportunities to the table."
According to Torrens, companies that have entered the cannabis industry are growing, scaling and in need of talent in sales, marketing, accounting and more. "When I look at the top jobs on Indeed, chief financial officer is at the top in the cannabis arena," Torrens explains. "There is not enough financial talent for these CFO jobs, partially because there still remains a stigma attached to the industry. But who better to prepare future leaders for this emerging industry than a respected business school and University?"
Torrens expects the Whitman School to combine its business expertise with Newhouse's ability to add aspects of creativity and messaging to examine how cannabis can be perceived among more traditional consumer audiences. "The business side of cannabis is gaining steam, and there is a lot of money pouring in," he says. "That's going to lead to a burgeoning industry with well-paying jobs for those who have the know-how, and some of those just might be our own students."

EMERGING TRENDS
The Whitman School has always worked to ensure its students are at the forefront of what's new and innovative in business practices and job-ready skills. To that end, it offers residencies that address topics attracting attention and making headlines.
The Resiliency of Supply Chain
One recent residency track, The Resiliency of Supply Chain, took a look at something that got everyone's attention during the pandemic, as people emptied the shelves of toilet paper, struggled to find common food items and learned to expect long wait times for delivery of everything from construction equipment to kitchen appliances. This residency was held virtually during the summer of 2021 due to the constraints of the pandemic, under the direction of Associate Professor of Supply Chain Management Julie Niederhoff.
"At the time, we were virtual, and supply chain seemed to be a very appropriate topic," says Niederhoff. "COVID-19 brought so many disruptions to a lot of companies, so it was a timely conversation. Resiliency in supply chain has long been a topic and will continue to be, whether it's due to COVID-19, environmental disasters, weather events, wars, etc. We've learned more than ever before that there have to be contingency plans."
The track began with representatives from various grocery and food supply chains, who shared the challenges and unique solutions that came out of the pandemic, as well as weak points that were discovered "a little too late," according to Niederhoff. A panel discussion on food supply included Eric Rose '15, a consultant formerly with Sysco; Michelle McGillivray from Tampa Maid; Alyson Weber '20 and Sarah Jonckheere from General Mills; Arul Jayapal '15 MBA from Resilinc; and Johnny Anderson '19 MBA from Accenture.
On the second day, Patrick Hackett '84, former director of international supply chain at Bed Bath & Beyond, and Mansi Raythatha, associate director, value chain management, Keytruda product manager, at Merck, joined the group to talk more about strategies to eliminate future supply chain disruptions. Students enjoyed the cross-disciplinary insights and the opportunity to connect with University alumni.

On the last day of the virtual residency, students applied what they had learned about supply chain to two case studies — one about the need for MRI machines and the difficulty in procuring them and another called "What the Heck Happened to Toilet Paper?" a closer examination of the cause of the nationwide shortage in the early days of the pandemic.
"One of the great things about our online MBA program is that our students are working professionals," says Niederhoff. "After the presentation on food, for example, students were able to see that problems in that industry also applied to other industries, including their own. That opened up a conversation about common themes and unique misses, as well as discussion on best practices that everyone could implement in their own workplace. The residency offered new insights, vocabulary and tools learned during the COVID-19 experience."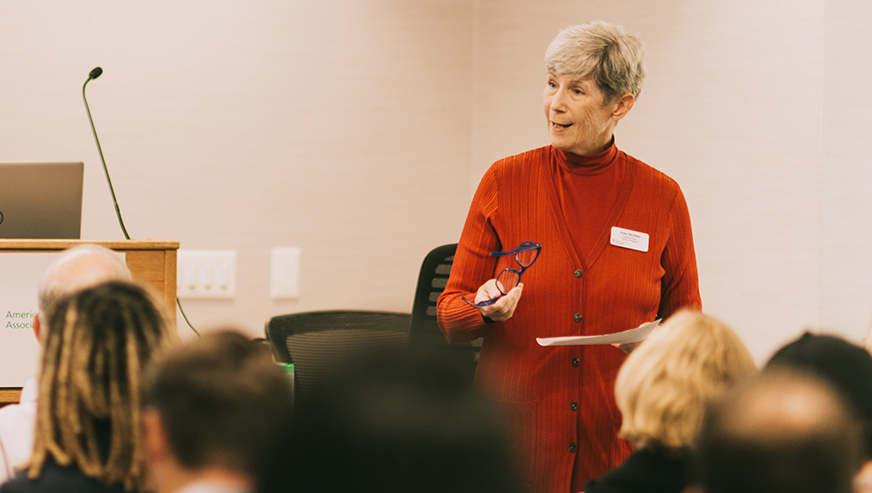 Amy McHale speaking to students during the residency in New York City.

Virtual Residencies During the Pandemic

The Whitman School's decision to continue offering residency programs virtually during the pandemic was important, according to Assistant Dean for Master's Programs Amy McHale. While students were surely disappointed to be unable to travel to various locations for these experiences, moving forward with virtual residencies kept students on track for graduation. Residencies were held via Zoom and provided the same level of content as the in-person variety — experts, speakers, group work and more — with the exception of face-to-face networking. Some students considered it a plus, as they could attend residencies that they might not have had the time to travel to. In addition, a number of speakers were more accessible on Zoom. Most online MBA students only attended one or two online residencies, however, and were able to make it to at least one in-person session once COVID-19 restrictions eased.
SKILL BUILDING
Everyone in the business world benefits from specific skills that can bring their level of experience to a new level. The online MBA program offers residencies that offer an intensive lesson in a specific business skill that students can take back to their workplace in days rather than after a full semester. Examples of such residencies include Digital Storytelling with Tableau, Power-Up with Power BI and Financial Modeling.
Negotiation

Another opportunity offered in January as part of a multi-track residency in New Orleans was Negotiation. It was presented by someone who knows quite a bit on the subject — Syracuse University Chancellor Kent Syverud, who has presented on the topic several times. In addition to leading the University for the past nine years, Syverud holds a law degree and has a prestigious list of leadership experiences in academia, on the boards of various organizations and as a clerk for former Supreme Court Justice Sandra Day O'Connor.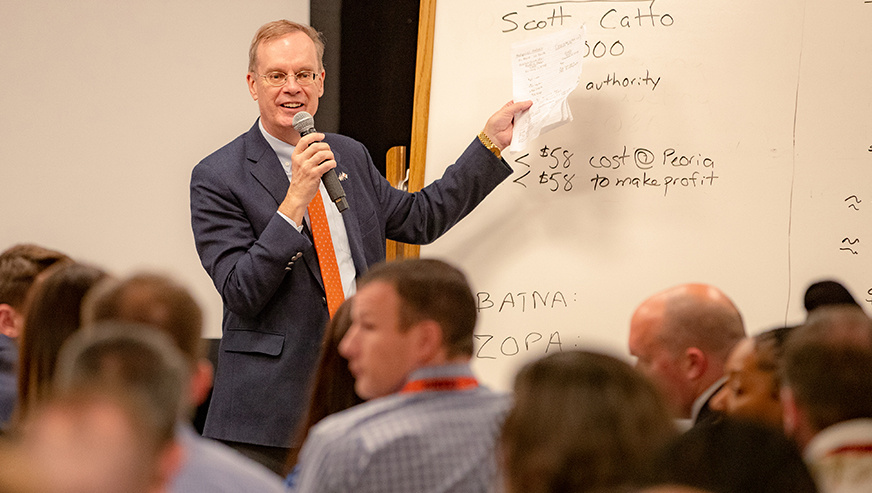 Syracuse University Chancellor Kent Syverud teaching the Negotiation residency track in New Orleans.
In this engaging and hands-on track, Syverud shared from his own experience with negotiations of all kinds and outlined effective strategies and tactics. Students broke into small groups to practice these skills and built on what they learned throughout the weekend with increasingly complex negotiation scenarios that could be implemented in their various workplaces right away.

"I've taught negotiation for many years, and every time is a unique and rewarding experience."
— Syracuse University Chancellor Kent Syverud
"There's nothing like teaching a group of engaged students," says Syverud. "As an educator, being in the classroom teaching and interacting with our students is motivating and inspiring. I've taught negotiation for many years, and every time is a unique and rewarding experience. The intensive format of the Whitman negotiation course allowed me to get to know the students, their diverse backgrounds and the distinct professional and personal experiences they bring to the classroom. This experience reminded me how fortunate I am to teach here."
Delanie West '23 MBA, principal creative director, Be Super Creative, attended the Negotiation residency track and was impressed with what she took away from the experience.
"I've wanted to take part in this topic because, in my 30-year career, I've always had to negotiate, but I've never really been taught the secrets," she says, "so I was really excited when this opportunity became available through the online MBA program. The more I learned at the residency, the more I saw all the tactics that have been used on me over the years. Wow! I was finally able to connect the dots."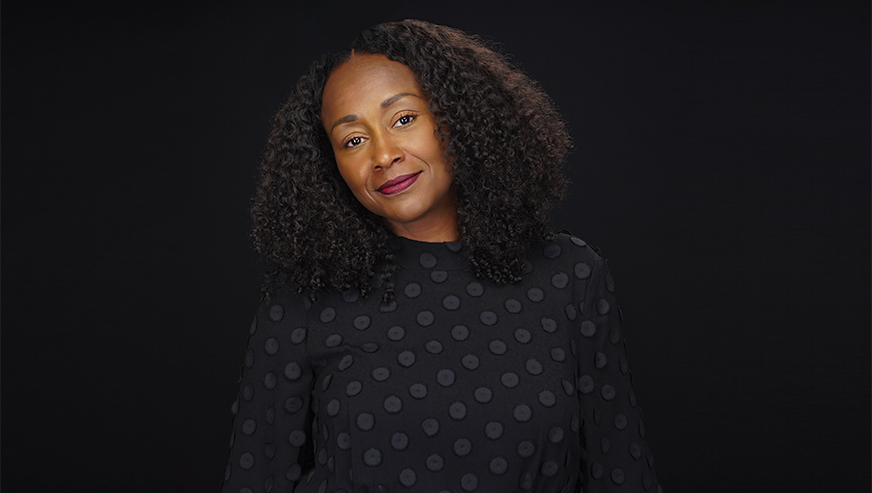 Alumna Delanie West
"I've wanted to take part in this topic because, in my 30-year career, I've always had to negotiate, but I've never really been taught the secrets."
— Delanie West '23 MBA
West was impressed that Syverud took the time to share his expertise with the online MBA students. "When you think of who is best equipped to deliver to content to the customers, who better? He is the administrator of the students at Syracuse University. He is the star player," she adds. "I made sure I sat right in front. I thought he was an insightful teacher, and he's pretty skilled at winning. I'm really thankful that I had the opportunity to learn from the Chancellor."

THE WHITMAN CHALLENGE
While 140 students traveled to New Orleans this January, some attended the Negotiation residency track while others took part in The Whitman Challenge. This track is based on the concept that businesses are continually faced with a variety of both challenges and opportunities but often aren't quite sure how to solve or maximize either, according to Henderson.

The Whitman Challenge is designed to give online MBA students the opportunity to work as consultants with local nonprofits or companies — not Fortune 500 companies, but organizations that will truly benefit from the experience the students bring. Students are tasked with using creative problem solving skills to deliver solutions to complex challenges that make a difference to the participating organizations.
During the New Orleans trip, students had the choice to work with one of two nonprofit organizations: Louisiana (LA) Green Corps, which offers job skill training in construction, green infrastructure and conservation job training programs for those age 18 and up who are not in school or working and are committed to improving their lives and community; or Excite All Stars, which empowers children to become leaders through leadership experiences and support with academics, the arts and athletics.
The first day of the residency started with an overview from the organization's leadership, outlining the details of its mission and helping the MBA students get a better understanding of how they can assist using their own skill sets. With the help of subject matter experts and company representatives, the Whitman students worked in teams throughout the weekend experience to develop recommendations, which they presented to the organization on the final day, receiving feedback in return.
Louisiana Green Corps
At LA Green Corps, students worked on a strategic marketing plan to maximize the available budget and address target markets for key business activities, which in this instance was the challenge of recruiting two groups: 18 to 24 year olds and those age 25 or older, as well as strategies for fundraising for the nonprofit. Students worked on leveraging the appropriate marketing channels for each of the objectives utilizing social media and alumni ambassadors from LA Green Corps to build community awareness, identify key sustainability metrics and create a measurable plan to evaluate whether their objectives were being met.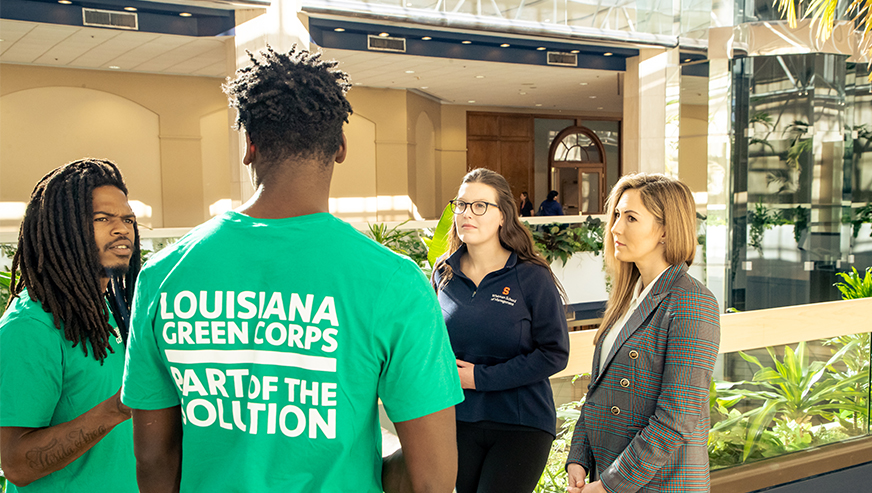 Online MBA students work with LA Green Corps representatives during the Whitman Challenge residency track in New Orleans.
The LA Green Corps Whitman Challenge was overseen by Gokce Sezgin, an adjunct instructor at the Whitman School and owner of Insight 2 Flight, a consulting service focusing on front-end strategy and innovation to execution; as well as two alumni from LA Green Corps, George Dorsey and Daniel Hill. Both Dorsey and Hill came to speak to the Whitman students on the first day of the challenge to share how valuable LA Green Corps had been to create a successful future.

"It was a privilege to take part in the marketing strategy development for an organization like LA Green Corps that has such a great mission," says Anna Aminov '23 MBA, who works in order management for Inficon. "It was good exposure to the nonprofit culture and what the reality looks like for so many people. The realization that somehow my knowledge from my MBA was going to be used to help others and be able to apply real world experience was so different from other things we are learning in the classroom. It was definitely one of the highlights of my MBA."

"It was good exposure to the nonprofit culture and what the reality looks like for so many people."
— Anna Aminov '23 MBA
Aminov lives in Syracuse, New York, but participates in the online MBA program because it allows her to work and pursue a degree at the same time. She cites the reputation of Whitman, the flexibility of the program and the location as reasons for choosing to attend a school in her hometown.
"When I started, I didn't really realize the residencies would offer opportunities to travel, but they were a big plus," she explains. "Of the three required residencies, one was remote due to the pandemic, the others were in-person. I really enjoyed the experiences and the opportunity to use our skills and to help others while also gaining experience from the task at hand."
Excite All Stars
A second option for The Whitman Challenge in New Orleans was with Excite All Stars under the supervision of Whitman's Luz Lee, an adjunct instructor who is a certified Lean Six Sigma Master Black Belt trainer, mentor and leadership coach. On day one, the Whitman students heard from CEO and Co-founder Gerald Williams, who, with his wife, Penny Marquez-Williams, started the nonprofit after they saw the major effect that the devastation of Hurricane Katrina had on so many children.
The students spent the weekend consulting on fundraising, human resources and an overall look at the strategic management of the organization.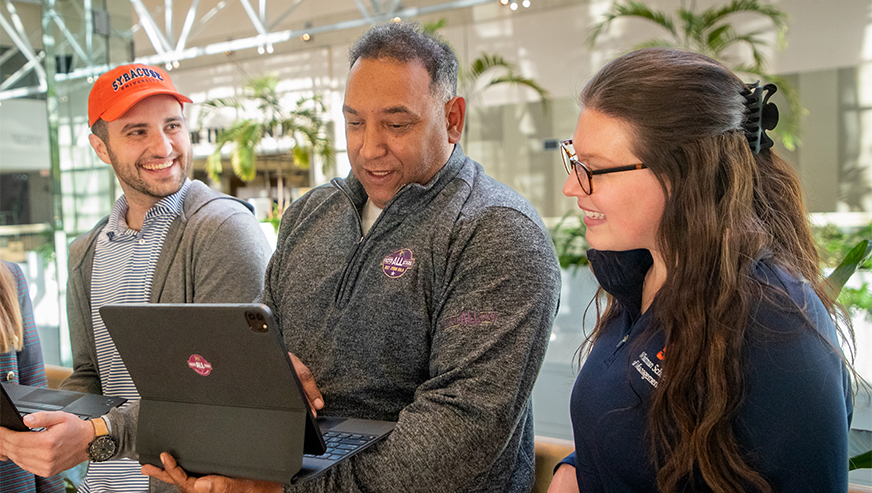 Excite All Stars representative talks to online MBA students about the fundraising efforts and strategic management of the organization.
Alexa Redick '23 MBA is the vice president of marketing and communications for ODC Network, a nonprofit organization advancing outdoor education and conversation in the state of Michigan. She chose to pursue an online MBA through the Whitman School because "I'm already pretty advanced in my career, and I didn't think I could drop everything and go back to school in person, but I wanted to gain more robust skills in the business of nonprofits," she says. "And I also wanted to see the world differently and pursue business in the way in which I want the world to look."

So, when she had the opportunity to work with Excite All Stars, she was eager to put her experience to work and collaborate with others to expand her own skill set.

"I love the city of New Orleans; it is so rich with history. But, I'm not sure people realize how much devastation still exists in this area from Hurricane Katrina," she explains. "It was gratifying to travel there as part of the residency and use our collaborative skills to help another nonprofit organization."
Redick says she especially enjoyed working with the young people that Excite All Starts helps. "My recommendations during this project came from years of experience in the nonprofit space," she says. "After we left, the CEO emailed me to ask for my help implementing some of the ideas our group recommended. One of my first tasks as a volunteer will be helping to train the organization's new development director, and I'm really excited to take that on."
While the experience was fulfilling, Redick still most enjoyed networking with the people she knew from her core classes but had never met in person. "It was fun being able to walk up to someone and say, 'You're the guy who has the cat who comes across the screen!' or getting to meet my favorite data analytics professor in person," she says. "This type of experience helps you feel a part of the culture of Syracuse University."
INTERNATIONAL RESIDENCIES RESTART
The Whitman School is especially excited that it will again offer international residency programs to its online MBA students starting this summer. These came to a halt when COVID-19 hit and travel was restricted, but that will change in August when students have the chance to travel to Stockholm for Entrepreneurial Business in Sweden, led by McKelvie, who lived and worked in the country for eight years and returns yearly.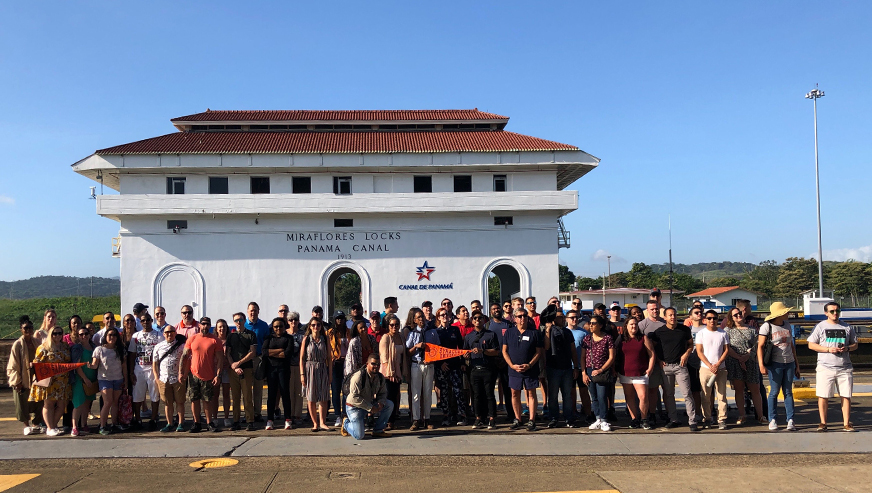 MBA students traveled to Panama and Costa Rica for a residency prior to the pandemic in 2020.
"The Stockholm residency will be the first time we'll take our online MBA students international since January 2020 and marks the return of our international short format electives, as well," says McKelvie. Students who wish to participate in international opportunities can opt for a week-long elective or a two-day residency that includes additional site visits to companies and universities, as well as social and cultural experiences. To date, 35 students are registered for the Stockholm elective and 25 will join them for the residency.
Those who participate in the elective, High Growth Businesses in Sweden: The Making and Taming of Unicorns, will examine what it takes to start, grow and sustain a high growth business from multiple perspectives, such as team building, finance, innovation, organizational culture and public policy. The experience will include visits to high growth businesses in different industries that are in various stages of development, as a reminder that high growth business takes places in more than just the technology sector and startups.
Those who stay for the entire residency experience will also learn about Swedish business culture with a particular focus on what makes the country a hotbed of entrepreneurial business. While plans for the residency are still being finalized, it is expected to include multiple presentations, case studies and cultural visits. Students will come away with a better understanding of the political, cultural, competitive and environmental factors that make Sweden a unique powerhouse for entrepreneurship and a model for business around the world.
"You can read about these hubs of global business in a book, or you can go see them in person and talk to people who are actually working on some exciting high growth ventures."
— Interim Dean Alex McKelvie
"You can read about these hubs of global business in a book, or you can go see them in person and talk to people who are actually working on some exciting high growth ventures," says McKelvie.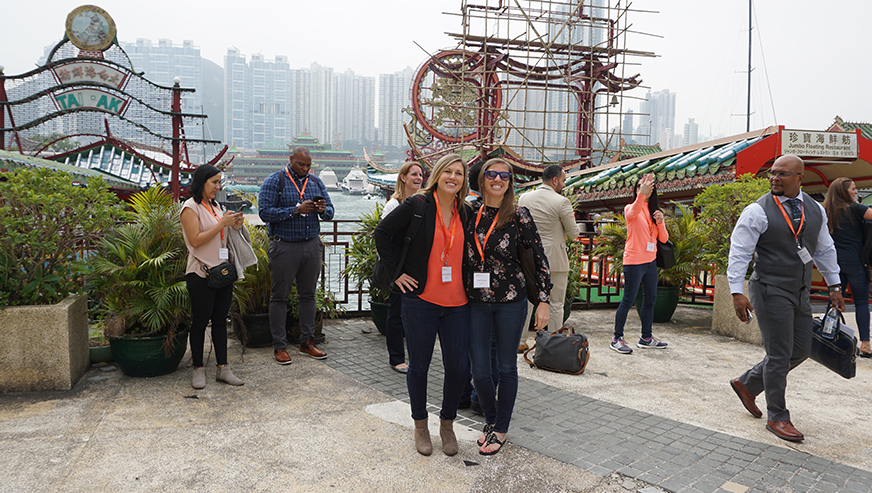 MBA alumnae pose in Hong Kong during a residency in 2019.
Prior to the pandemic, the Whitman School held residencies worldwide, including supply chain in Panama and Munich, global innovation management in Hong Kong and innovation in Dublin. In addition to Stockholm, a residency in Nairobi, Kenya, in January 2024 was recently announced. It is the intention of the online MBA program to increase international offerings in the near future, to give students a greater picture of the globalization of business and to offer the opportunity to travel the world and experience various cultures. International residencies not only fit in well with the objectives of the Whitman School but also are a part of the University's overall strategic plan emphasizing student experience, internationalization and innovation.

"Whatever the topic or destination, students in the online MBA program are eager to sign on for these unique opportunities to focus on the latest business topics, be exposed to an array of experts that often include Whitman alumni and also have a reason to see the country, and even the world."
— Assistant Dean for Master's Programs Amy McHale
"Whatever the topic or destination, students in the online MBA program are eager to sign on for these unique opportunities to focus on the latest business topics, be exposed to an array of experts that often include Whitman alumni and also have a reason to see the country, and even the world. And, the students are thrilled to take advantage of a long weekend to connect with faculty and classmates one-on-one in both formal and informal settings throughout each residency," says McHale. "Our residencies are a true value-add to our online MBA program, and we are always on the lookout for new topics and locations that can bring our students unique perspectives on business that can put to work almost immediately. We're excited to see what's next."