Future-Proofed and Relevant Educational Programs at Whitman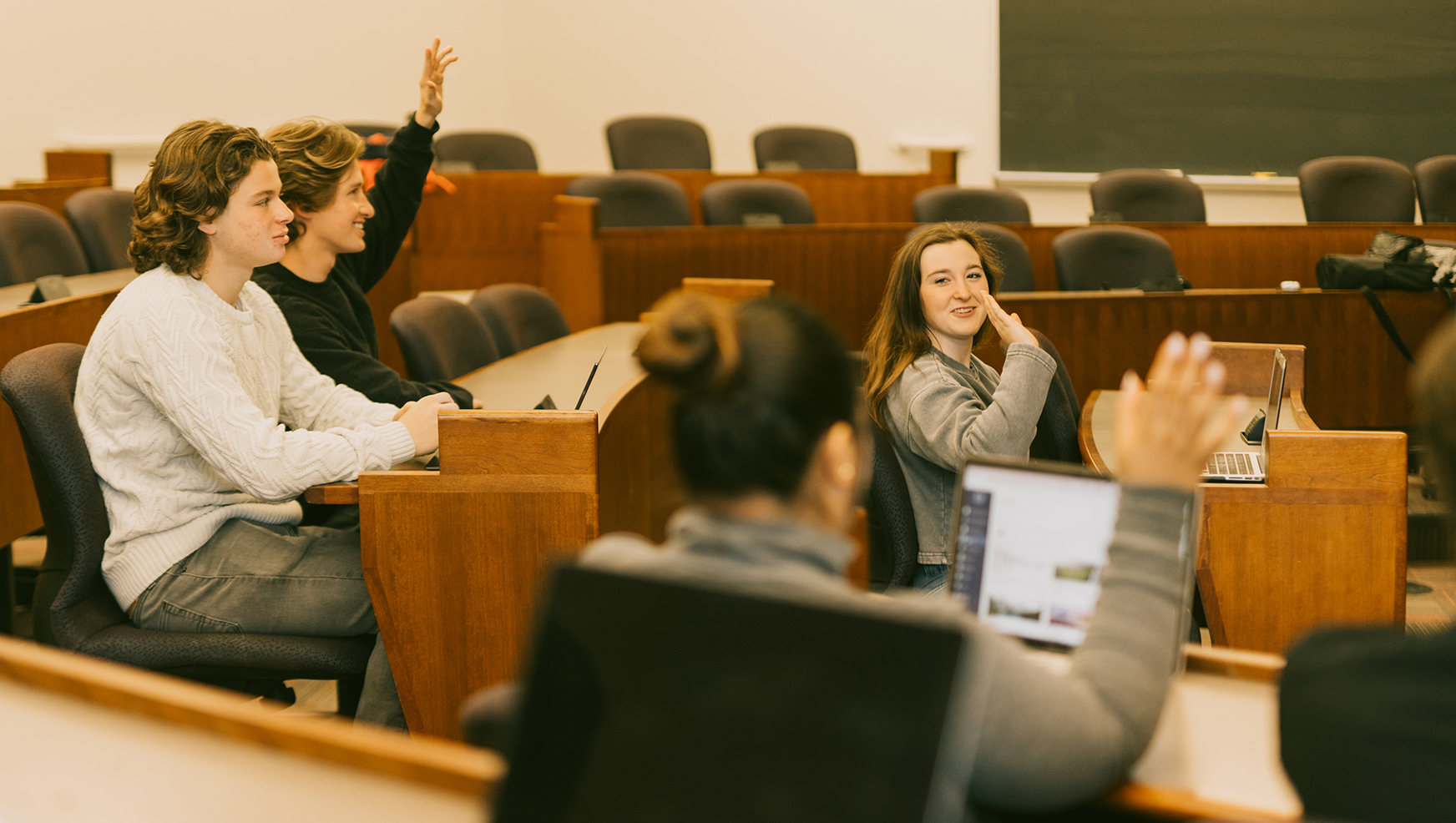 Undergraduate students participate in class discussion and small group projects.
The Whitman School remains at the forefront of business education. But in a world of accelerating change, it must ensure it is not only preparing students for the present but also for the future, to fully deliver on its promise of a first-rate education that is highly relevant and reflective of where the world is headed. Future-proofing a Whitman education is the substantial task that the School took on two years ago, led by Interim Dean Alex McKelvie in his former role as associate dean for undergraduate and master's education.
Two-Year Process Begins
Last academic year, the Undergraduate and Master's boards — comprised of faculty members from each department, the Career Center, the respective undergraduate and master's program offices, the Dean's Office and students — began examining trends and studying where business was heading. After looking at a variety of topics, trends and issues, the boards identified recent changes, as well as important topics expected to emerge over the next five to 10 years.
"One way the boards looked to future-proof was to review industry standard best practices and infuse relevant technology and trends into every aspect of our program, from coursework to co-curricular opportunities," says Lindsay Quilty, assistant dean for undergraduate programs.
Ultimately, these two groups identified adjustments to the curriculum needed to align the overarching learning goals and objectives with preparing students for the future of business.
Both boards independently identified five areas that needed to be more fully infused into the curriculum to help to future-proof the undergraduate and graduate programs: technical and technological skills; sustainability; diversity, equity, inclusion and accessibility; soft skills; and global readiness.
The learning goals and objectives for both the undergraduate and graduate programs were then revised to include what was needed to keep business practices in line with current and future business trends. These were shared to solicit feedback and voted on by the boards and all faculty before moving forward.
Operationalization
During the Fall 2022 semester, these curriculum boards worked to assess how well the programs were already delivering on the revised goals and objectives and where there were gaps by mapping out each of the infused topics aligned with corresponding courses. Understanding where topics are taught in the curriculum, how students are learning them, and how the School can measure that students have the proper knowledge and skills is an essential part of not only this process but also Whitman's accreditation process.
In spring 2023, the boards will finalize their work by ensuring that new content is being introduced in courses and adjusting co-curricular options to bridge the discovered gaps. This ensures that Whitman's learning goals and objectives will be delivered.
Moving Forward
"Traditionally, change at this level in an educational setting is difficult. Curriculum, especially for required courses, tends to change very slowly. That we have moved this far forward across five important areas is a big win," says McKelvie, noting the final stages will be reviewed and voted on by faculty.
"One additional component of this work is that it's another reflection of the strong culture of assessment we're building at Whitman. To keep moving this process forward, we measure our successes every year, and, more fundamentally, we need to deliver the education that we are promising students and their families," adds McKelvie.
As part of the assessment process, Whitman retains data annually to show that students have the right level of preparation and knowledge.
Recent graduates also provide feedback as part of the Poets&Quants and Bloomberg Businessweek rankings. For the undergraduate rankings, alumni provided positive feedback on "significant experiences," such as meaningful global immersion and the wide variety of experiential learning opportunities Whitman offers.
"The highest ever placement rates show that Whitman students are in great demand, and the more that we can help ensure that our students are industry-ready now and for the future, the more likely they are to be hired," says McKelvie.
A commitment to future-proofing learning goals is a commitment to constant reevaluation and a willingness to improve whenever necessary. By going through this process and using intentional foresight, Whitman no longer needs to overhaul its curriculum entirely but, instead, expects to see incremental changes that will adjust to the needs of the global business environment for the foreseeable future.