Whitman Graduate Students Prevail at University at Buffalo Supply Chain Competition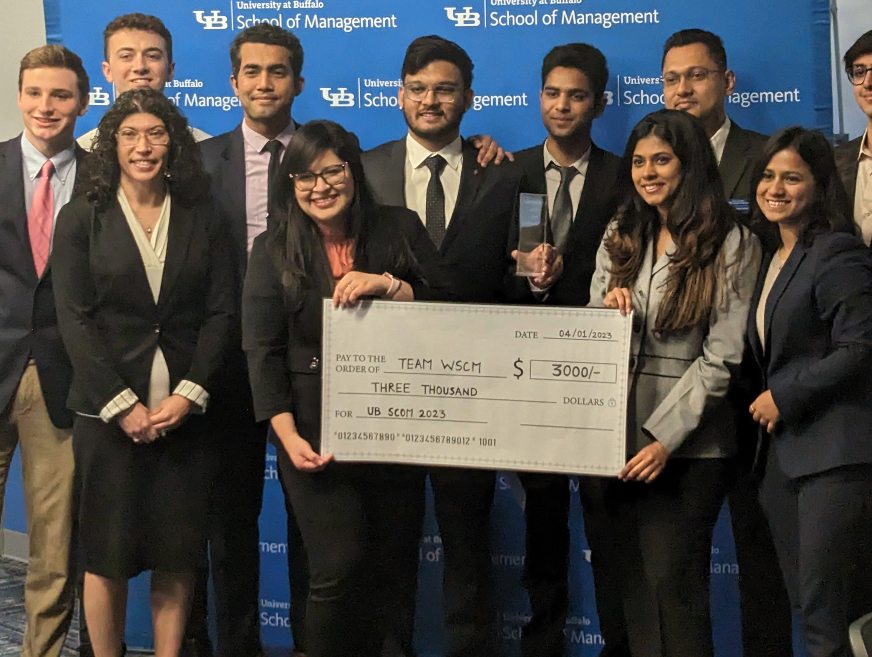 Syracuse University's Martin J. Whitman School of Management's Anushree Jagdish '23 MBA, Pulak Jain '24 MBA and Katherine Rodríguez '24 MBA were victorious at the University of Buffalo Supply Chain & Operations Management (UB SCOM) Club's Student Case Competition 2023 in April. This competition was held at UB and focused on issues related to supply chain management, specifically those impacted by the pandemic. Thirty-one teams from various universities participated, but Whitman students won over the judges with their expertise. The team not only discovered each other's strengths throughout the competition but also the advantages of having the support of the Whitman community.
Jagdish first heard about this competition from Erin Draper, director of experimental programs at the Whitman School. Although Jagdish was interested in the competition, she had to put a team together first.
As president of the Whitman Graduate Student Organization (WGSO), Jagdish was already working with Jain on an up-skilling program for Whitman students, which prompted her to invite him onto the team. After accepting the invitation, Jain then asked Rodriguez, another classmate, to join the group.
All three shared a common interest and knowledge in supply chain management. "Jain has a background in finance and supply chain, and his strength comes from experience working in India. Katherine was working for a consulting company, so her strengths were in presentations and making sure that the deck looked good and that the format of the case report was correct. Where I came in was relating a concept back to the case," Jagdish says.
This first stage of the competition was 10 days long and had 30-plus teams participating in it. The Whitman team had to come up with a unique and sophisticated case report, which had to be presented in-person if they made it to Round 2 of the competition. Only six teams could move forward to Round 2.
The team acknowledged that their Whitman education helped them advance to Round 2. Jagdish says, "Whitman prepares you with tools and techniques for these situations that allowed me to use the knowledge I had from the classroom for this competition."
The team decided to employ a "divide and conquer" mindset where they all took on roles related to their strengths. According to Jagdish, there were multiple read-throughs of the case report in order to ensure everything was cohesive and represented the best of their abilities as a team.
"Everyone was on the same page where we found one goal and knew we had to work together to achieve it," Jagdish says.
Gary Cole, counselor of academic services at Whitman, also became an essential part of this team. As Round 2 approached, the team had to find a way to get to the University at Buffalo a couple hours west of Syracuse. That's when the team reached out to Cole for help; he stepped in and offered to drive them to the campus. He knew the way, as it is his alma mater.
Jagdish says, "It really helped having a familiar face in the crowd. Gary was a great support throughout and would check-in on us to make sure that we were all set for the competition."
The team gave their presentation, which impressed everyone at the competition. Jagdish said that the judges, who were professionals from companies such as Brightfarms, Port X Logistics and Sonwill Transportation, gave them rave reviews. In the end, the Whitman team took first place. The prize was $3,000, which the students plan on splitting equally.
For students who may be interested in entering case competitions like this one, Jagdish offers three pieces of advice: "Look out for opportunities. Pay attention to classroom concepts. Don't hesitate to ask for help." These three skills, Jagdish says, were the reason that she and her team were so successful throughout UB SCOM Student Case Competition 2023.