Two Whitman Ph.D. Graduates Continue Entrepreneurial Work at Highly Ranked Universities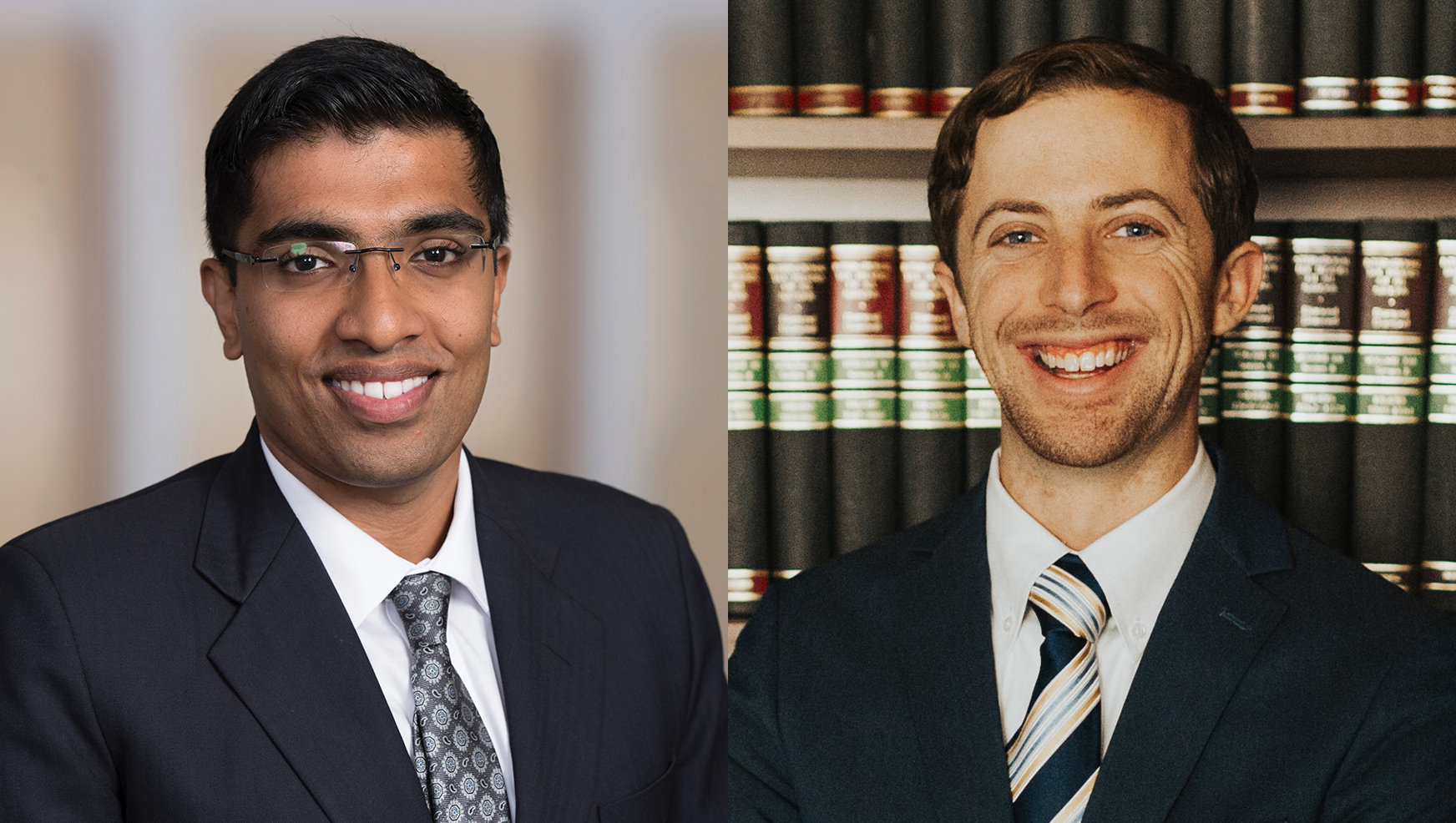 Kurian George and Devin Stein recently completed Ph.D.s in entrepreneurship. The experiences, opportunities and collaborations they had at the Whitman School while reaching this goal have led them both to exciting career opportunities at two well respected and highly ranked universities.
Growing up in India, Kurian George always had an entrepreneurial talent for seeing a problem and finding a solution. After earning a bachelor's degree in economics and master's degree in rural management, George went to work for the Indian government promoting entrepreneurship in rural areas with a particular interest in government policies as they related to women entrepreneurs. While the job was interesting, it wasn't exactly what he wanted to pursue.
"I felt like I was doing a lot of implementation but not a lot of my own thinking," he explains. "I wanted to go back to school, so I applied to a few Ph.D. programs in the U.S. that specifically focused on policies and entrepreneurship."
He was not only intrigued by the Ph.D. program at Syracuse University's Whitman School, but was also drawn to Whitman's Institute for an Entrepreneurial Society (IES), which produces academic research, policy analysis and public outreach through an extensive pipeline and a reputation for quality research. It seemed like the perfect fit for George.
Once accepted, he began to delve into his research, which involves ways in which entrepreneurs—particularly immigrants and refugees—adapt to cultural and regulatory institutions to be perceived as legitimate.
"Refugees and other immigrant entrepreneurs in particular often have limited legitimacy in the local context due to lack of acceptance or limited resources," he explains. "However, statistically speaking, entrepreneurship is more popular among immigrants and refugees, as it's a way to integrate into a new country."
With its large refugee population, the city of Syracuse, New York was also a draw for George. While working on his dissertation, Immigrant Entrepreneurs and the Contingent Value of Personal Legitimacy, he was able to interview more than 60 refugee entrepreneurs about how they were contributing to the community not only through business growth or income but also their social impact. "This population was a valuable resource for my work," he explains.
He credits the international recognition of the Whitman School and the reputation of its entrepreneurial faculty—most notably Professor Maria Minniti, founder and director of IES and Bantle Chair in Entrepreneurship and Public Policy at Whitman—for helping to develop his full potential as he began to pursue faculty positions at highly competitive universities worldwide. George was soon offered a position as an assistant professor in the Department of Management at Tilburg University in the Netherlands. Not only isTilburg ranked in the Top 5 for management/business research in Europe, it also has a focus on entrepreneurship with plans to expand even further in this space. So, after completing his Ph.D., he joined the Tilburg faculty in August 2022.
"The Whitman School truly prepared me to be the kind of candidate that a top university like Tilburg was looking for in a faculty member," he says. "They knew I was bringing a high level of expertise from my work at the Whitman School, which is highly regarded in the world for entrepreneurship research, teaching and its Ph.D. curriculum. I am grateful for the experiences I had at Whitman, and I hope to share that while continuing to make an impact at Tilburg University."
An outdoorsman, Devin Stein has always had a connection with the environment, but it wasn't until the Long Island native attended Utah State University for both his undergraduate degree in environmental studies and his master's degree in economics that he discovered his passion for wildfire management through the smoke-filled skies that were commonplace during the dry season each year.
While his master's degree and work at an environmental policy think tank supported by Strata Policy helped him find a path he felt would make a difference, Stein soon realized that policy can sometimes be far removed from what is actually happening on the ground, as it often focuses on reactive legislation. He was intrigued by the many smaller organizations and individuals trying to find solutions to problems outside the political arena. Often, he noticed, entrepreneurship was the key to success. Eventually, he decided to pursue an academic route where he could utilize his interest in how entrepreneurship creates value in an environmental or social context.
Stein knew his take on entrepreneurship was different from the usual definition of an idea that creates monetary value. Then, while at an academic conference, he met Minniti and told her about his research goals.
"She helped me see that Syracuse University's Whitman School was the best place to learn to do meaningful, rigorous and high-impact research," he explains. Not long after, Stein was on his way to Whitman to pursue a Ph.D. in entrepreneurship.
"Whitman allowed me to pursue my interests through an entrepreneurship program," he says. "It didn't seem to make a lot of sense at first, but slowly I created a home for myself. It was really uplifting to see entrepreneurship as a broader tool for problem-solving—not just for making a profit or creating an organization, but demonstrating how people organize themselves to create value."
Stein is finalizing his dissertation: Community Entrepreneurship and Complex Social Issues: The Case of Wildfire Management in California, as he completes his Ph.D. in entrepreneurship at the Whitman School and prepares for the next step in his career. Taking with him the experiences, research and support he received at the Whitman School, and also as a fellow at the Institute for an Entrepreneurial Society (IES), Stein will begin this fall as a tenure-track assistant professor in entrepreneurship at the University of Alabama.
"This is huge, as Alabama is an R1 and entrepreneurship-focused university," he explains. "There are a host of natural disasters in that area—tornados, hurricanes, etc.—so I knew I could expand my research into related areas like water management and how communities are addressing natural disasters, which is something the University is eager for me to do."
"Whitman has a phenomenal entrepreneurship program with world-renowned faculty who have mentored me and given me the confidence I needed," he adds. "The type of open-mindedness toward innovation encouraged by faculty known for a high-quality entrepreneurial mindset surely helped me not only obtain my Ph.D. but also secure the next step in what I hope will be a truly impactful career."