Whitman Launches Dual Degree Programs in Biotech, Health and Sports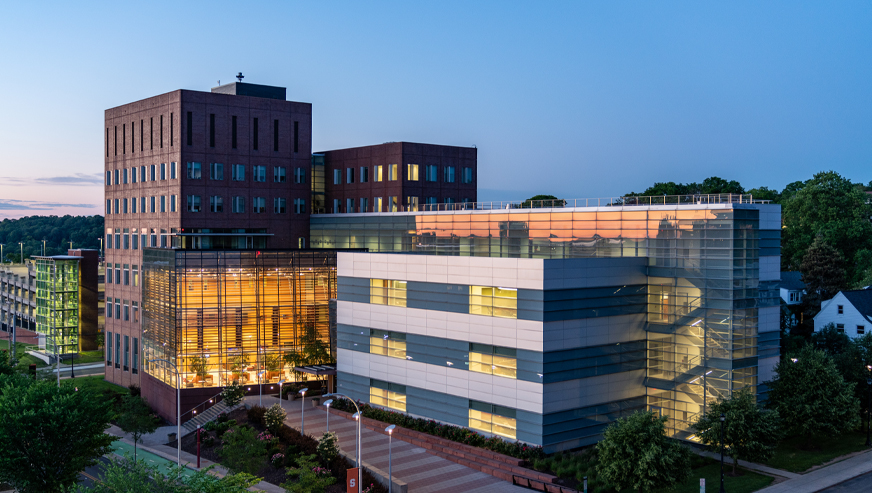 Just about any career track you can name has a business component to it. That's why the Whitman School continues to add dual programs that combine popular industries with a solid business background that not only raise the profile of the School but also draw students to Whitman's interdisciplinary options with other fields of study across the university campus.
The Whitman School launched a number of new dual degree programs this fall: an MBA with a master of science in biotechnology with the College of Arts and Sciences; two new programs with the David B. Falk College of Sport and Human Dynamics, an undergraduate public health/business degree and a master of public health (MPH) combined with an MBA; as well as another dual undergraduate program with Falk that combines business with the field of sport management.
Combining Business and Biotech to Open Doors
The Whitman/Arts and Sciences dual program helps students prepare for a world where biotechnology and business connect by embracing STEM and life sciences with applied commercial aspects. It is ideal for future business leaders with scientific backgrounds who want to become more versatile and multidisciplinary. The graduate program offers a streamlined format with a minimum of 76.5 credits. Both the MBA and the master of science in biotechnology can be completed in two-and-a-half years.
"By partnering with the biotechnology program, we see a lot of potential for our students to apply both scientific principles and business acumen," says Whitman School Interim Dean Alex McKelvie. "This dual degree provides a special skill set in new product development, R&D, technology and commercialization, along with management, sales and business. This is sure to open doors for students interested in industries related to pharmaceuticals, biomaterials, biomedicine and more."
Solving Complex Problems at the Intersection of Business and Health Care
For students interested in pursuing a combination of business and health care, the Whitman School is offering two dual degree programs with the Falk College, leveraging both Schools' national reputation and programmatic strengths.\
Both the undergraduate program in public health and business and the graduate level MBA/MPH prepare students to take on a stream of challenges at the intersection of both fields. Undergraduates can complete the dual degrees with a minimum of 152 credits and finish the program within four years. The MBA/MPH dual degree requires a minimum of 81 credit hours and is completed in three years.
"The need for professionals who can solve increasingly complex problems in both public health and business became increasingly evident during the pandemic but also through societal and community issues taking place around the world that would benefit from an interdisciplinary understanding of the intersection of both fields, whether related to supply chain management, entrepreneurship and innovation or even financing public health projects," says McKelvie.
Graduates of both of these dual programs will be prepared to join the public and private sector, social organizations, federal and local agencies, nonprofit management, consulting, as well as become leaders in health care and transnational NGOs.
Winning at the Intersection of Business and Sport
Whitman and Falk launched another dual degree program for undergraduates in response to students' growing interest in careers in sports business. The program combines rigorous business training through the Whitman School combined with in-depth knowledge of the high-growth area of sport management through Falk, which is an established leader in sport business marketing and analytics. The dual degree allows students to graduate with a minimum of 148 credits, which can be completed in four years. It prepares students for multidisciplinary business careers in many aspects of sport management.
"We continue to see the overlap in sports and business, particularly through name, image and likeness (NIL) regulations for student-athletes, the commercial aspects of sports, merchandising, marketing, entrepreneurship, and the emergence of the business of esports," says McKelvie. "Giving our students the opportunity to become leaders in the business of sport is truly beneficial and will give them a competitive edge in the job market.''