Professor Minniti Receives 2023 Mentor Award from the Academy of Management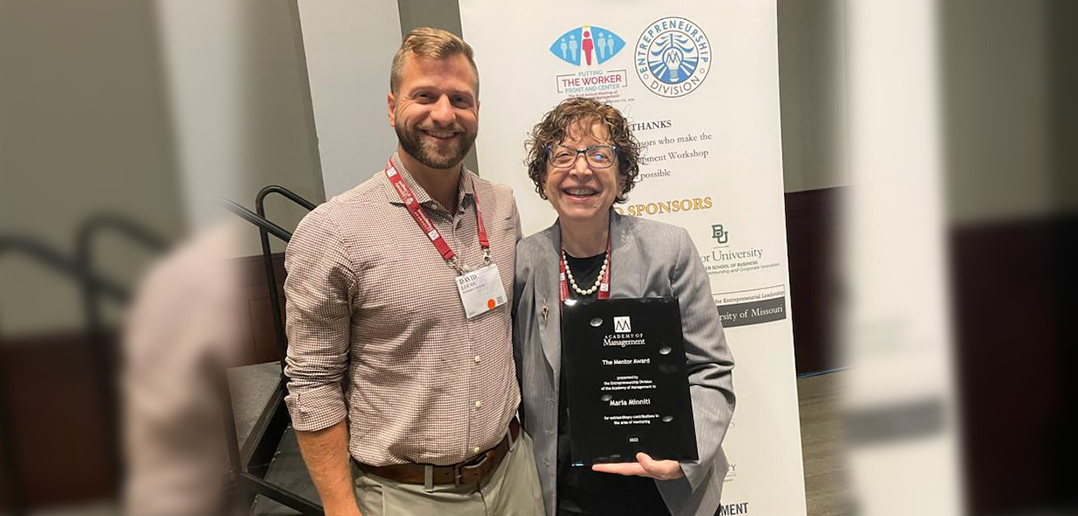 Bantle Chair in Entrepreneurship and Public Policy and Chair, Department of Entrepreneurship and Emerging Enterprises, Professor Maria Minniti received the 2023 "Mentor Award" from the Entrepreneurship Division of the Academy of Management.


The Mentor Award is a prestigious lifetime achievement, and it recognizes extraordinary contributions in the areas of mentoring and commitment to the development of the scholars of the future. The selection committee based its decisions on nominations and supporting materials. Minniti's nomination was supported by an impressive 21 letters and testimonials from current and past Ph.D. students, postdocs, new faculty, administrators, and established scholars — all of whom conveyed genuine, deep gratitude as well as moving examples of Maria's support, inspiration, encouragement, and guidance.
Interim Dean Alex McKelvie shared these words of praise, "This Award demonstrates the deep and lasting impact Maria has had on multiple generations of scholars, revealing how our field has been profoundly shaped for the better thanks to her tireless and passionate mentorship."
Additional nominators included Whitman Professor David Park, who said, "Professor Minniti takes it upon herself to provide exceptional support and service to her Ph.D. students and new faculty. She discerns quickly their individual needs and provides key information, insightful recommendations, or clear direction. Despite the busy schedule, she has been always generous with her time to meet with her students as well as new faculty to advise and mentor."
And Whitman Professors David Lucas said, "For me, it was the easiest nomination I've offered. Maria is an absolutely wonderful colleague, mentor, and friend. It was a delight to see her rightfully recognized for this award!
Congratulations on this prestigious achievement.