Sister's Legacy, Kindness of Whitman Led Her to Choose Syracuse's Online MBA
Amy (Halpin) Hellen
Syracuse will always be a special place, and, for many reasons, I am proud to be a part of the Orange community.
Amy (Halpin) Hellen '09 MBA had been working in retail banking for several years and was looking for a career change, so she began looking for an MBA program that would allow her the flexibility to work full time and attend school. She came across several MBA programs; however, she did not have a connection to any of them. What really sealed the deal for her was remembering the kindness and support that the Syracuse University's Whitman School had shown her family during a difficult time.

In 2006, her sister Tracy Halpin died unexpectedly while a student at Whitman. The University provided transportation to students to get to Tracy's funeral. Former Chancellor Nancy Cantor came to meet Hellen and her family at her sister's residence hall. Hellen recalls, "Nancy Cantor held my mother's hand and said, 'The memory of your daughter will not be forgotten.'" She also remembers sitting next to former Whitman Dean Mel Stith '73 MBA, '78 Ph.D. at the memorial service, who held her arm and told her that her sister was special to the University community and that her memory would live on.

These gestures of kindness, humanity and respect touched her deeply and reinforced her decision to attend Syracuse University to pursue an MBA.
Graduate School Furthered Her Career

The decision to study at Syracuse proved to be the catalyst for Hellen's career.

Upon completing her MBA, Hellen was selected to participate in the Toronto-Dominion (TD) Bank inaugural program for MBA graduates. This program allowed her to work in a variety of functions and collaborate with senior management on projects. Through hard work and determination, Hellen distinguished herself as the most successful participant in the program who achieved several roles with increasing responsibility.

After 15 years at TD, Hellen moved to Discover Financial Services, where she serves as chief compliance officer. In this role, she oversees three functions, including compliance, anti-money laundering and regulatory affairs.

Hellen credits her experience at Whitman for helping her achieve success in her career. It taught her valuable skills in financial statement analysis, business management and collaboration.

One of the key learning experiences that stood out to Hellen was the residencies, which provide opportunities to meet with other students, faculty and alumni in-person for a long weekend. Her fellow students had backgrounds in pharmaceuticals, telecommunications and engineering. "We all faced demands from our work, and we were all professionals who looked out for one another to make the learning experience greater than just assignments and projects," says Hellen. "I learned a great deal from the students beyond the course materials."

Hellen's connection with Syracuse University not only holds bittersweet memories of her sister and the kindness shown to her family but also marks a significant achievement in her own career from the many lessons she learned while earning her MBA.

"Syracuse will always be a special place, and, for many reasons, I am proud to be a part of the Orange community," she says.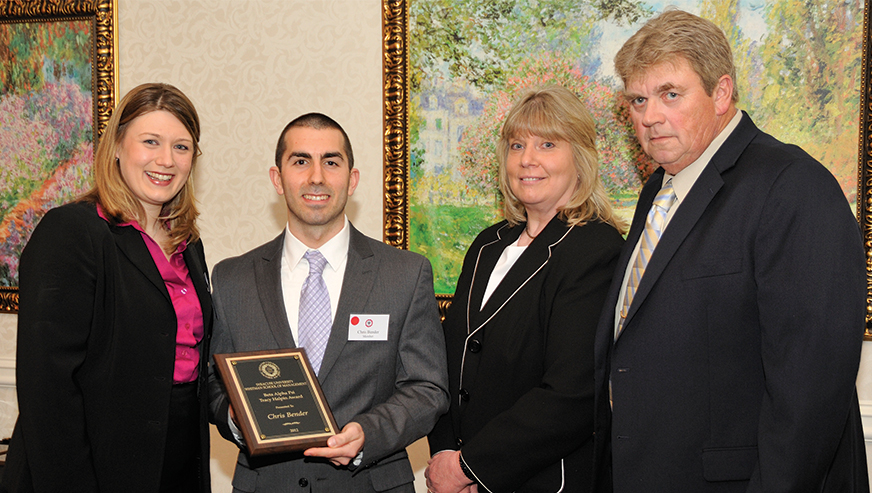 The Tracy A. Halpin Memorial Fund
In honor of her sister, Hellen and her family created a scholarship at the Whitman School. The Beta Alpha Psi Tracy A. Halpin Memorial Fund has generated more than $25,000 to support outstanding undergraduate or graduate students in Whitman's accounting program, who are members of the Beta Alpha Psi Accounting Honor Society. The scholarship is given each year to a student who demonstrates a commitment to community service, leadership and the Whitman School.

In 2007, Hellen was introduced to Amy (Marcello) Bacon '08 to start fundraising for the scholarship. Bacon says, "Amy and I got to know each other on a level we probably didn't expect, especially because we were in two totally different phases of life, me as a college student and her as a working professional. We worked tsogether to find creative ways to fundraise, while Amy was my window into the life of Tracy. Most of all, I am forever grateful for that year when I met one of my best friends and 'big sis.'"

Bacon says she was honored to receive the Tracy Halpin scholarship in 2008. She is even more grateful for the friendship she gained. Bacon asked Hellen be her maid of honor at her wedding and she became a "pseudo younger sister."

In the early years of the scholarship, the Whitman School would hold an annual 5K fundraiser race. The first year there was a competition between members of Beta Alpha Psi (BAP) and the University ROTC program. Hellen recalls how a BAP student beat the ROTC during the first year. After many years of a 5K run and the Syracuse rainy weather in April, Hellen decided to change the fundraiser to get more people involved. She purchased customized Syracuse University cornhole boards and established a cornhole tournament to host as part of the BAP banquet. The idea was a success, as student teams — and even teams from the Big Four accounting firms — competed for the trophy to raise money to continue the scholarship.

Through the scholarship, Hellen hopes that others will hold the same passion for Whitman and the accounting field as her sister. She shares, "Tracy always wanted to help others. She always thought about others first."
By Kimmy Kimball G'13 (NEW)