The Orange Legacy: Three Generations of the Hornung Family Make Great Memories, Give Back to Whitman and University
Bob Hornung '87
I'm proud that so many of my family members have a special connection to the University and the Whitman School. It's a place that means so much to the Hornung family.
After serving in the U.S. Army for a year, Donald G. Hornung '53 decided to pursue a business degree at Syracuse University. He is forever grateful that the University took a chance on him, as this fall marks 70 years since he graduated. His positive experience spread to two more generations of his family, including one of his children and four grandchildren, who also attended Syracuse University. The Hornung legacy can be seen not only in their gratitude for the positive experiences on campus but through the family's generosity, both financially and through their time and expertise. Don fondly remembers his days at the University. "Back then, the business classes were held in Quonset huts on campus," he says. "The difference between what it was like then and what the Whitman School is now is like night and day."
Now retired and living in Naples, Florida, at age 93, Don has fond memories of the lifelong friends he made at Syracuse University. He was president of his senior class and, after graduating, organized many reunions. In fact, Don is credited for coordinating the largest group in University history to attend a 50-year reunion when 423 members of the Class of 1953 came back for a reunion weekend in 2003. As Alumni Association president at the time, he was instrumental in securing a class reunion gift for the Orange Grove, a new gathering space near the Quad established that same year. Don is also proud to have visited campus this fall for Orange Central to represent those who graduated with him 70 years ago.
"Coordinating the reunions was a hobby of mine, and I always encouraged classmates to come," he says. "The years I spent at Syracuse were some of my happiest, and the people I met were all a part of that experience, so it's always been important to get us back together once in a while."
After graduating, Don stayed in Syracuse, taking a job in sales at Smith Corona. What followed was a 25-plus-year career in sales at several companies in the Northeast before he started Industrial Sales Company (ISC) in 1980, a business selling products to window and door manufacturers. Both of his sons, James Hornung and Bob Hornung '87, joined the company, and Don retired at age 65, leaving the business in their capable hands.
Don has been financially generous over the years. In the late 1970s, he donated toward extensive renovations of the interior of the Hall of Languages, which dates back to 1871 as the first building constructed on campus, and he was responsible for urging many others to give to this restoration project. And the Hornung Family Technology Center, a specialized computer lab at the Whitman School, was gifted by Don and his sons. In recognition of his years of dedication, Don received the Outstanding Alumni Award in 2003, and, in 2013, he was honored with the Melvin A. Eggers Senior Alumni Award, as well.
Bob Hornung represents the second generation of his family to attend the Whitman School. While his father's enthusiasm was influential, Bob went to boarding school with two brothers who often invited him to their Central New York home, as well as SU football games. When it came time for college, Syracuse University was on the top of his list.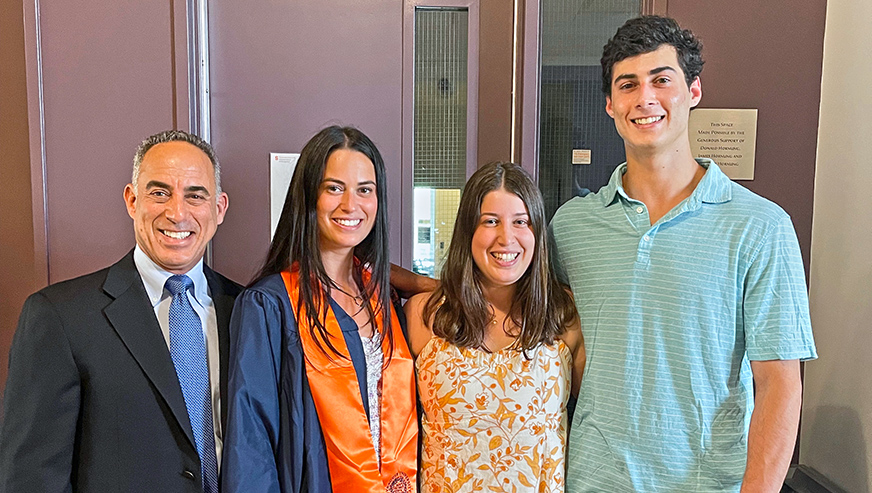 "I wanted to pursue business, and I loved the area, so I knew it was the right place for me," says Bob of his choice to study management.
After earning his degree, Bob went to work for his father's company, ISC, but at the same time founded several startups of his own using skills he learned at Whitman. These included Onlink Corporation and Interactive Data Systems LLC, which he later merged into On-Link Technologies Inc., turning it into a leading e-commerce software company in just two years before selling in 2000 to Siebel Systems, a premier provider of e-business applications software. Bob was also founder and president of Sashlite LLC, which developed cutting-edge spacer technology for the window industry.
Today, Bob is president of EVO System LLC, a distribution solution provider serving the window and door industry, and he remains a partner in his father's company. Like his father, he has become a great supporter of the Whitman School through his financial generosity, as a member of the Whitman Advisory Council and as a mentor to several Whitman summer interns he has hired over the past few years.
"I had such a good experience at Whitman, and it has offered so much to my family," says Bob. "For me, it's been a dream come true, and the friends I made back then are still some of my closest today. Syracuse University's electric charisma has run through my life. I enjoy my continued affiliation with the Whitman School and am glad to be able to give back."
Of Bob's four children, three decided to Go Orange. "Each made an independent decision, but I'm sure we've all influenced each other," he says. "Growing up visiting Central New York and campus made it a comfort zone for them, and it's far enough from Connecticut that they have their independence but close enough to get home when they want to."
Dayna Hornung '22, Bob's second oldest, was the first of his children to attend Whitman as a marketing management major. When it came time for her to apply to college, "she wasn't interested in any place else," says Bob. "Dayna ended up having an incredible experience at Whitman and is currently in Los Angeles pursing a business career in the entertainment industry."
Jeff Hornung '25, a management major, completed an internship at Macy's corporate offices in New York City over the summer. "I worked in supply chain on the finance side doing merchandise planning and allocations, as well as going over forecasts for next season," he says, crediting the courses he's taken at Whitman for preparing him well.
Like his older sister, he "never wanted to go anywhere else," so he applied to the Whitman School early decision and was accepted. Jeff has made great friends at the University, is involved in Greek life and spent a semester studying in Barcelona.
Being a part of a legacy family is not lost on him. "I have to laugh about it every now and then. When we sit around the dinner table, we're talking to people who have walked the same sidewalks and gone into the same buildings over three generations. Now, my little sister is here, and I'm going to show her around just like my older sister did for me. It's nice that we're passing the school down to each other," Jeff says.
His younger sister, Margot Hornung '27, started her first year at Syracuse University's College of Arts and Sciences this fall. She knows her brother is always nearby, and her dad makes frequent trips to campus.
While that's quite a list of family members, there are a few more, including another of Don's grandsons, James Scott Hornung '13; Bob's nephew, Jacob E. Fleischman '15 (NEW); and Samantha Hornung Polivy '12 (FALK), Don's grandniece.
"The Whitman School was a great place to launch a business career, and I credit a lot of my success to those on the faculty who taught me. I think my father would say much the same, as he jumpstarted his career here more than 70 years ago," says Bob. "I'm proud that so many of my family members have a special connection to the University and the Whitman School. It's a place that means so much to the Hornung family."