The Whitman School has a long history of working closely with our industry partners for students placement, class projects, mentorship, career exploration, experiential learning opportunities, or donating funds or equipment to be used in the classroom.
Find out all you can collaborate on!
Industry Partners Opportunities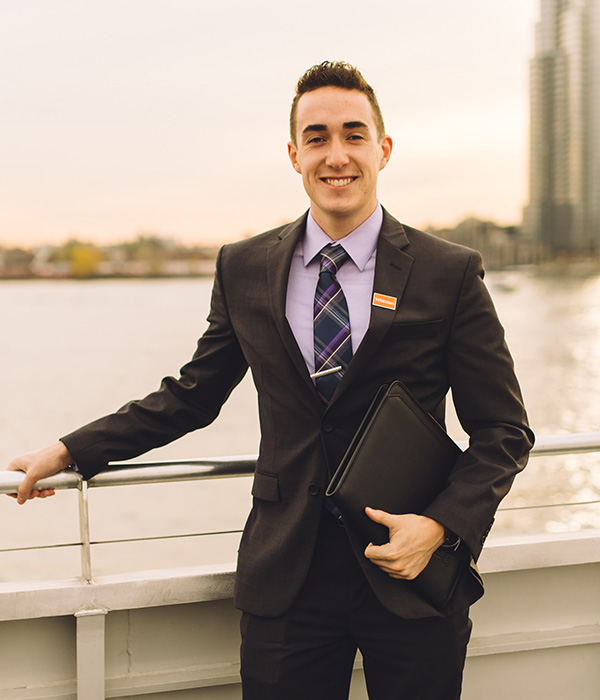 Whitman Undergraduate Majors
Students at Whitman graduate with a variety of majors. Many double major and triple major.
#57
2023 MBA Programs,
U.S. News & World Report

STEM
Designated

Many of our master's programs carry STEM designation.
#17
Entrepreneurship
Undergraduate, 2023
Princeton Review
Whitman Student Profiles and News
Whitman Student Takes Ample Leadership Opportunities In and Out of the Classroom
Bryan Reynoso
Finance and Entrepreneurship & Emerging Enterprises
Coming to Syracuse and being at Whitman was a choice with a promise for better things to come.
Before coming to college, Bryan Reynoso '23 was always drawn in by Syracuse University's atmosphere, opportunities and comradery. Once he started classes, he realized the Whitman School of Management had all the same characteristics.

The finance and entrepreneurship & emerging enterprises double major found that being at Whitman gave him a sense of community. He says, "Before coming to Syracuse, I did not realize all the fantastic opportunities Whitman students get to be involved in outside of the classroom, whether it is alumni networking events in New York City, major-specific clubs, classes with an average of 38 students and so much more."

Reynoso has taken advantage of these extracurricular opportunities through leadership positions. His executive board positions in one of Whitman's professional fraternities, Alpha Kappa Psi, as former vice present of finance and current vice president of the fraternity has allowed him to hone in on his finance background and make an impact on future business leaders within the chapter. Additionally, taking on the position of director of programming for the Entrepreneurship Club connected Reynoso to many entrepreneurs. He set up meetings for the entire organization to learn more about their journeys, successes and insights.

Through these leadership experiences, Reynoso has been able to work on his professional development skills, become more confident in his public speaking and discover his passion for wanting to start his own business in the field of technology, a path he hopes to gain footing in upon graduation.

He describes his connections at Whitman to be far beyond his expectations. From meeting with advisor, whom he considers to be his "number one supporter," to office hours with Professor of Practice Kivanc Avrenli, Reynoso is thankful for all the encouragement he has received outside the classroom.

These opportunities and connections led Reynoso to work for Bloomberg this past summer as a global data intern. He says, "In my role, I learned how data drives the market, and it gave way to learning how many banks and institutions relied on it every single day to make important business decisions. I was able to network among fellow interns and hear from Mike Bloomberg himself during a reception in New York City, which was a cool opportunity."

Additionally, Reynoso appreciates the variety of skills and experiences he has encountered within the classroom. "I have gained leadership skills and learned how to organize a team during difficult circumstances. Remembering back to the SOM 122: Perspectives of Business Management project during the early days of the pandemic, I recall the challenge to communicate virtually with my teammates since it was all so new to us. However, in the end, this was a challenge we were able to overcome with the resources we had and learned to navigate," he says.

Being a double major, he has been able to take classes in different subjects, learn from a variety of professors and use the knowledge he learns in classes and apply it to the opportunities he takes outside of the classroom.

"Since the beginning, I found choosing Whitman to be a no-brainer," he says. "Coming to Syracuse and being at Whitman was a choice with a promise for better things to come."
By Anna Rooney '23
Have Any
Questions?
Want to partner with Whitman! Take your next step to incredible opportunities.