Class News & Notes (Spring 2023)
1980-1989
NEW POSITIONS AND PROMOTIONS:
Nick Gustin '85: Senior Vice President and General Merchandising Manager, Apparel, Hudson's Bay
Thomas Murphy '87 MBA, '95 Ph.D.: Chief Executive Officer, Green Carbon Nanostructures Corporation
Jim Perkins '88 MBA: Interim Chief Financial Officer, Flyspace Productions
1990-1999
NEW POSITIONS AND PROMOTIONS:
Todd Bernstein '91: Account Manager, New Business Development, New York Islanders
Adam Bobker '93: Managing Director, Fortress Investment Group
Rob Liberty '94: Managing Director, Bank of America
2000-2009
NEW POSITIONS AND PROMOTIONS:
Seth Davis '00: Chief Executive Officer, Stern Pinball Inc.
Anthony Iannone '01: Director of Sales – East, RapidAI
Shannon Nulty Fitzpatrick '04: Associate Director of Operational Excellence, Bristol Myers Squibb
Chad Wainman '04: Senior Claims Consultant, Stephenson+Brook
John Popkess '05 MBA: Senior Vice President-Commercial Credit Senior Underwriter, M&T Bank
Joseph Dambroso '06: Global Accounting Manager and Internal Controls, Amazon
Adam Green '06: CEO of Asset Management, FNZ Group
Dan Angel '07: Managing Principal, Olifant Legacy
Ujjwal Dhoot '07 MBA: Chief Executive Officer, Allivet
Emily Doran '07: Senior Lead Expert Risk Specialist, Office of the Comptroller of the Currency
Brittney (Papke) Frick '07: Senior Principal Contract Manager - Marine Systems Business Unit U.S. Navy, Northrop Grumman
Jonathan Davis '08, '10 MBA: Manager, Solution Engineering, Deltek
Rachel White '08: Director of Merchandising, Rifle Paper Co.
Trevor Marsteller '09: Controller, Bear Flag Robotics
2010-2019
NEW POSITIONS AND PROMOTIONS:

Zachary Gorman '10: Relocation Consultant, Roadway Moving
Scott Dittmeier '11: Senior Vice President, Bank of America
Dr. Brian Hammer '11 MBA: Vice President, Membership Administration and Engagement, American College of Physicians
Lesley P. Antwi '12: Strategic Account Manager, Amazon
Briana Bartel '12: Senior Manager, Strategic Ads Partnerships, DoorDash
Alexandra Marchesano '12: Lead Product Manager, Grove Collaborative
Max Moskovitz '12: Director, Golden Vision Capital
John DiNardo '13: Senior Manager, Baringa
Jenna Gartner '13: Albertsons Ice Cream & Nutritional Lead, Unilever
Kyle Hoffstein '13: Strategic Account Executive, Quickbase
Rebecca (Schultz) Schwenk '13: Global Head of Investments Early Career Programs & Director, Early Careers and DE&I Strategy, Corebridge Financial
Alec Barnett '14: Principal, TSG Consumer Partners
Jenna Bordy '14: Director, Performance Marketing, Love Wellness
Elizabeth Entrup '14: Senior Vice President, Institutional Equity Sales, Jefferies
Paul Goldsmith '14: Associate, Kirkland & Ellis
Yi-Nien Lai '14 MBA: Senior Manager, Business Intelligence, Klaviyo
Katherine Ristau '14: Executive Director – Senior Strategy Manager, JPMorgan & Chase Co.
Dan Rosenbloom '14: Engagement Manager, McKinsey & Company
Dani Alderman '15: Vice President of Business Strategy and Operations, Product, JPMorgan Chase & Co.
Charlene Bozzi '15: Senior Director Total Rewards & HR Transformation, Novanta Inc.
Sissie Cong Cui '15 MBA: Marketing Insights, Roku Inc.
Rachel Firestone '15: Director, Brand Partnerships, Gallery Media Group
Erika Hammond '15: Cybersecurity Project/Program Manager, Raytheon Technologies
Tess Johnson '15, '16 M.S.: Finance Manager, Bain Capital
Jessica Matos '15: League Finance, Manager, NBA
Francine Roettger Moreda '15: Global Engagement ABM – Oral Care, Unilever
Joe Morgan '15: Corporate Development Manager, Data Centers, Iron Mountain
Justin P. Saia '15 MBA: Vice President, Europe Communications, Schneider Electric
David Skoler '15: Law Clerk, Sullivan & Cromwell LLP
Ariel Tavakoli '15: Senior Analyst, Asset Management, Extell
Ben Uhing '15: Vice President – Private Banker, J.P. Morgan
Mike D'Agostino '16: Analyst, National Grid
Byron Delarosa '16: Vice President, Stout
Dana Ewanechko '16: Demand Planner, Henkel
Brianna Hanson '16: Senior Director, Finance Transformation, Wheels Up
Angela Herrera '16: Alliances Marketing Manager, Special Projects, PwC
Jake Horowitz '16: Associate Vice President, Retail Leasing, Colliers
Amanda Kwong '16: Campaign Director, Ad Council
Alexis Lewis '16: Digital Marketing Assistant, Belk
Krista Librett '16: Operations Manager, Senior Credit, Manulife Investment Management
Peggy Nairin '16: Vice President, Delos
Kara Sciscente '16: Enterprise Account Executive, AlphaSense
Michael Shaw '16: Business Intelligence Manager, Yahoo
Simon Winokoor '16: Financial Planning and Analysis, Squarespace
Lauren Bogardus '17: Vice President, BNY Mellon
Melissa Canales '17: Senior Manager, Collegium Pharmaceutical Inc.
Adelina Colucci '17: Assistant Buyer, Brunello Cucinelli
Diana D. Correia '17: Senior Associate, JPMorgan & Chase Co.
Nick DeFrancisco '17: Account Associate, Resy
Jack DeSilva '17: Finance Manager, BlueTriton Brands
Jordan Evans '17: Planning Consultant, Fidelity Investments
Hugh Fisher '17: Senior Consultant, ZoomRx
Ahmad Hasan '17: Director, Morgan Stanley
Joshua Karpinski '17 MBA: Director, Transformation Strategy, Liberty
Sam Levis '17: Commercial Account Executive, Gong
Alyssa Leyden '17: Associate Operations Manager, HelloFresh
Emily Murphy '17: Assistant Assortment Planner, Nordstrom
Danielle Popper '17: Manager, Corporate Communications, Morgan Stanley
Max Solomon '17: Onboarding Success Manager, impact.com
Veronica Vital '17: Product Manager, Méndez & Co. Inc.
Angela Anastasi '18: Law Clerk, McCue Sussmane Zapfel & Cohen P.C.
Collin Brown '18: Omni Merchandise Planner, LOFT Denim, ANN Inc.
Catherine Cummings '18: Account Planner, Estée Lauder Companies Inc.
Corey Dender '18: Billing Manager, Initiative
Lindsay Dick '18: Account Manager, Paramount
Ria Dhuper '18: Client Success Manager, Commercial Observer
Greg Fligor '18: Private Equity Associate, Nautic Partners LLC
Daniel Fridliand '18: Marketing Lead, Black Lotus Labs Inc.
Blair Greenwald '18: Senior Project Manager, Unified Partnerships, iHeartRadio
Tre'Jour Heard '18: Finance Manager, Warner Music Group
Connor Hughes '18: Director of Finance, Greystone
Christopher Johnson '18 MBA: Director of Marketing, Ashland Greene
Christopher Joodi '18 MBA: Strategic Accounts and Partnerships, Mercantile
David Kennedy '18: Finance Manager, L'Oreal
Brett Klein '18: Audit Senior, CBIZ Marks Paneth
Andrew Ljubicich '18: Senior Tax Associate, Accounting Methods and Credit Services, KPMG
Carmen Nepa '18: Senior Associate, Inverness Graham
Abhishek Nichat '18 MBA: Senior Manager, Beyond
Emily Schmerzler '18: Account Supervisor, Financial Communications & Capital Markets, Edelman Smithfield
Zack Schoem '18: Business Analyst Consultant, ApartmentsTogether
Nate Segal '18: Account Executive, Champify
Aaliyah Smith '18: Senior Associate, Site Marketing, DoorDash
Michelle Watson '18 M.S.: Associate Accountant, Rochester City School District
Christina Ambalavanar '19: Marketing Associate, Grubhub
Frank Britto '19: Senior Analyst, Greenbacker
Sean Browne '19: Senior Associate, Alvarez & Marsal
Grant Chamberlain '19: Senior Tax Accountant, Bonadio Group
Annie Fitzgerald '19: Financial Analyst, Stuart Weitzman
Erin Gallagher '19: Manager, Paid Planning and Buying, Resolute Digital
Jill S. Greenberg '19: Audiologist, AdventHealth
Matthew Gutierrez '19: Editor, TIFIN
Felix Hernandez '19 MBA: Manager, CMMS and Maintenance Planning, Lotte Biologics
Esther Jo '19: User Experience Designer, BetMGM
Lia Kakoulidis '19: Strategist, VaynerMedia
Cassie Kramp '19: Assistant Vice President, Commercial Banking Associate, Citi
Derek Lepore '19: Senior Business Development Representative, FloQast
Jamie Martin '19: Founder, Cosmic Pursuit LLC
Sachin Patel '19: Director of Strategic Accounts, Tanium
Caitie Pavon '19: Creative Accounts Manager, Knightsbridge Park
Derek Polanco '19: Account Manager, ReNew Wound Care
Courtney Pulicella '19: Account Supervisor, twelvenote agency
Erin Sciortino '19: Associate, Blackstone
Daniella Sheerins '19: Associate Buyer, Ross Stores Inc.
Nathaniel Solomon '19: Associate, Mohr Partners Inc.
Tina Souza '19 MBA: Vice President, Agile Enablement, Fidelity Investments
Claire Stocum '19: Associate Vice President, Senior Relationship Liaison, M&T Bank
Daniel Wetreich '19: Financial Planning Analyst, Omnicom Media Group
Audrey Yoo '19: Sales Development Manager, athenahealth
2020-2023
NEW POSITIONS AND PROMOTIONS:
Nick Barba '20: Senior Startups Manager, Future Founders
Jacob Cestari '20, '22 MBA: Staff Account, SeaChange International
Grace Chesterman '20: Supervisor, Horizon Media
Leam Cohen '20: Field Training Specialist, Morgan Stanley
Sarah Ferranti '20: Equity Research Associate, BMO Capital Markets
Brett Genzer '20: Treasury Analyst, BNY Mellon
Brianna Gorczynski '20: Senior Associate Risk Consultant, KPMG US
Adam Grant '20, '21 M.S.: Accounting Analyst, Verizon
Emily Hua '20: Senior Accountant, Rokt
John Jaroslawski '20: Territory Representative, Milwaukee Tool
Cat Jordan '20: Assistant Vice President, Investor Relations, Diamond Standard Co.
Kylie Maher '20: Assistant Vice President, U.S. Institutional Credit, Tradeweb
Rebecca Millman '20: Editorial Specialist, Walmart
Michelle Morris '20: Client Services Associate, TransPerfect
Justin Nee '20: Anti-Money Laundering Investigator, Standard Charter Bank
Destani Parker '20 MBA: Client Development Manager (Litigation), Gibson, Dunn & Crutcher LLP
Spencer Stein '20: Audit Associate II, CBIZ Marks Paneth
Andrew Southard '20: Business Partner Specialist, IBM
Amir Vaziri '20 MBA: Assistant General Manager, Macerich
Samantha Walters '20: Experience Management Senior Associate, EY
Sara Caric '21 MBA: Leader Solutions Consultant, Highmark Health
Victor Carrafiello '21: Assistant Manager, Precision Advertising Planner, L'Oréal
Brendan Foy '21: Underwriter, Chubb
David McDonough '22 MBA: Process Improvement Associate II, JPMorgan Chase & Co.
Jacob Segal '22: Mergers and Acquisitions Tax Associates, Pw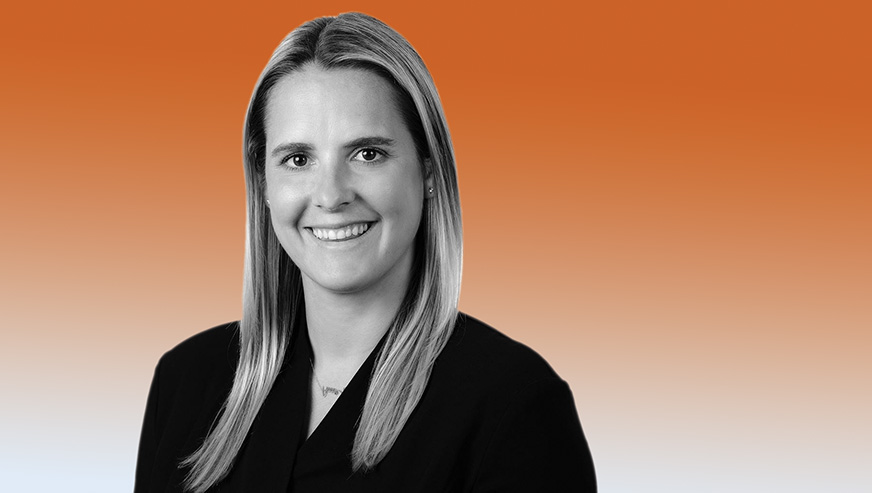 Gabrielle Harvey '10, executive vice president of JLL, was honored with the firm's Extra Mile Award for her career achievements. In addition to her commitment to her clients, team and advancement of the real estate industry, Harvey is an engaged community member dedicated to young leaders and women in business through volunteer leadership roles on the Syracuse University Boston Regional Council, CoreNet Global New England Chapter and the Southern Methodist University's Alumni Board.
AWARDS AND RECOGNITIONS:
Brian Gladstone '17, vice president at Meridian Capital Group, was featured in the New York Real Estate Journal as One to Watch Fall 2022.
IN THE MEDIA: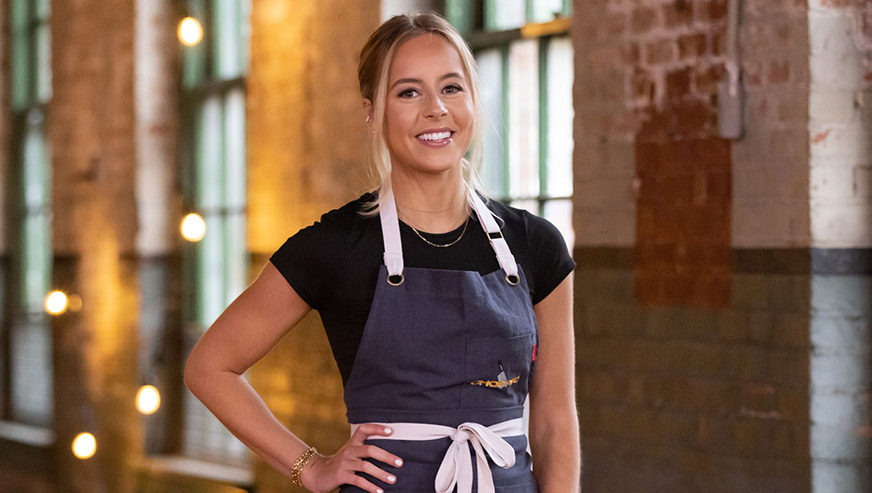 Brooke "Chef Bae" Baevsky '18, a private personal chef in Los Angeles, was recently featured by CNBC and in Newsweek's "My Turn" series and Culture section.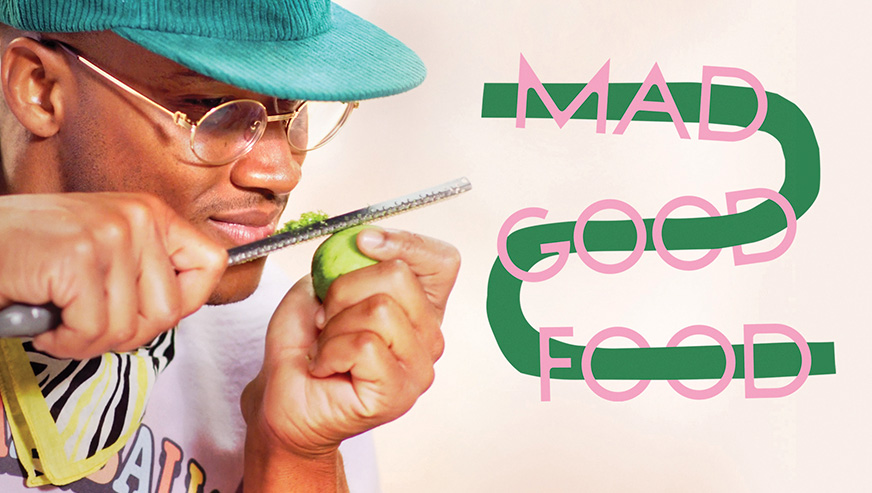 Derrell Smith '10 (IST), G'13 (NEW), CEO of 99EATS and host of Tastemade's "Mad Good Food," shared savory super bowl favorites on NBC's Today.
Chris Marino '13, global head of performance marketing and media at Bloomberg, was featured in the "Intelligent Creative Spotlight Series" on vidmob and in the Marketing Brew weekly series "Coworking."
Chelsea Ransom-Cooper '15, managing partner and director of financial planning at Zenith Wealth Partners and member of the Young Whitman Advisory Council, was featured by Financial Planning Magazine in the article "Black-owned RIA Leader: How wirehouses can improve on DEI."
MERGERS AND ACQUISITIONS: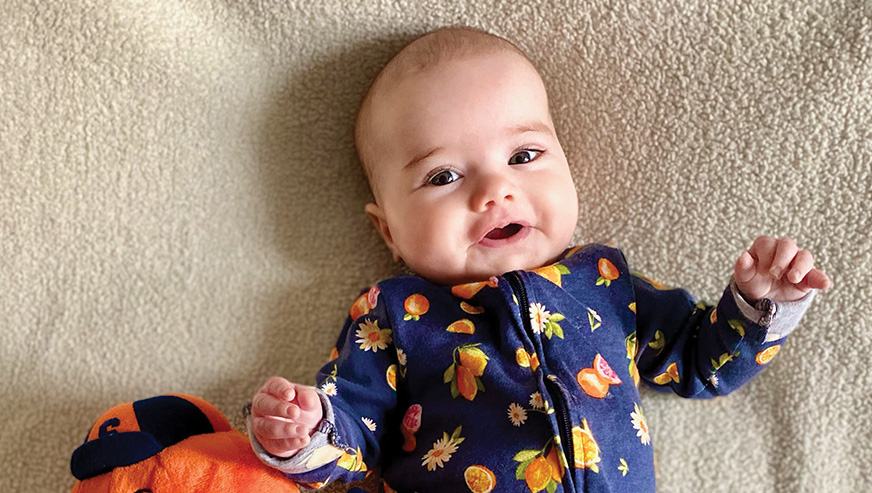 Megan McDermott '09, district manager at ADP, and her husband, Badr Barco, welcomed baby Nora Nov. 3, 2022.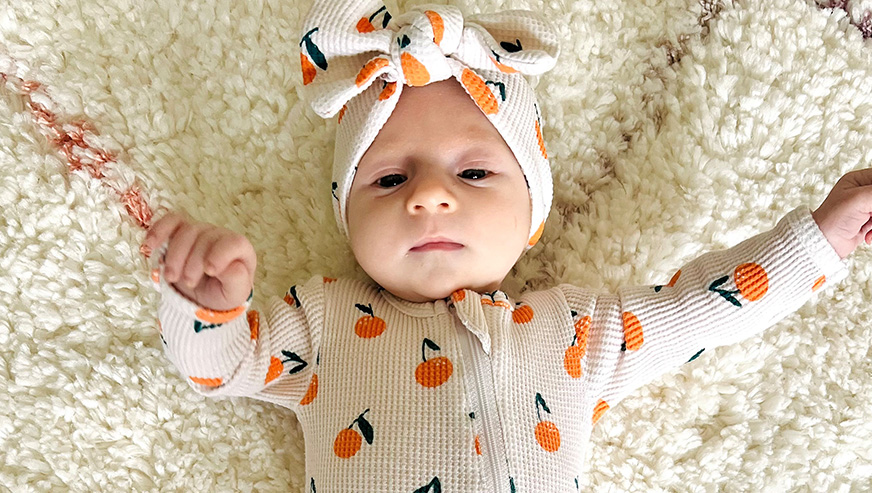 Kelly Jaffe '11, '12 M.S., asset and wealth management marketing leader at PwC, and husband, Eric Jaffe '10 (VPA), welcomed Norah Grace Nov. 20, 2022.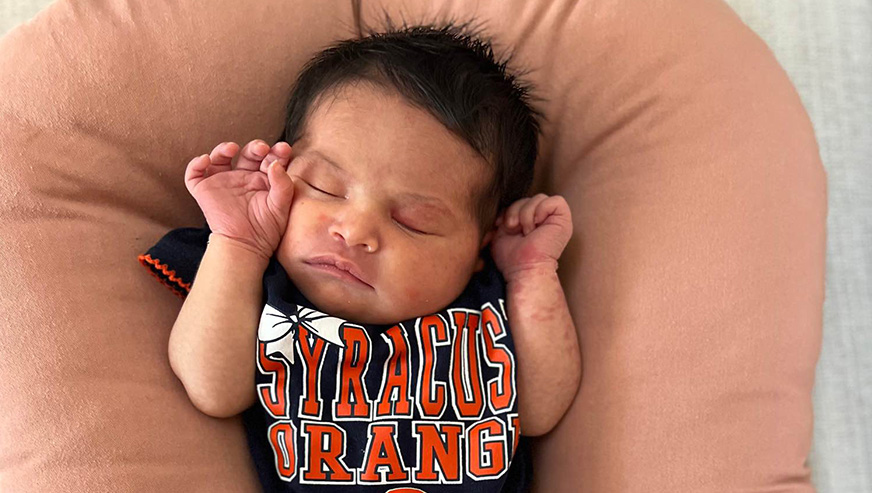 Melinda Guida '15, partner manager at Twitter, and her husband, Alessandro Guida '13 (A&S), welcomed Giuliana Lynn Nov. 19, 2022.
Submit Your Class News & Notes!
We would love to know about your new position, promotion, family addition, award or recognition for the Class News & Notes section of our magazine and alumni newsletter. Submit your good news.