Whitman Showcases Talent, Opportunities at 45th Annual National Black MBA Conference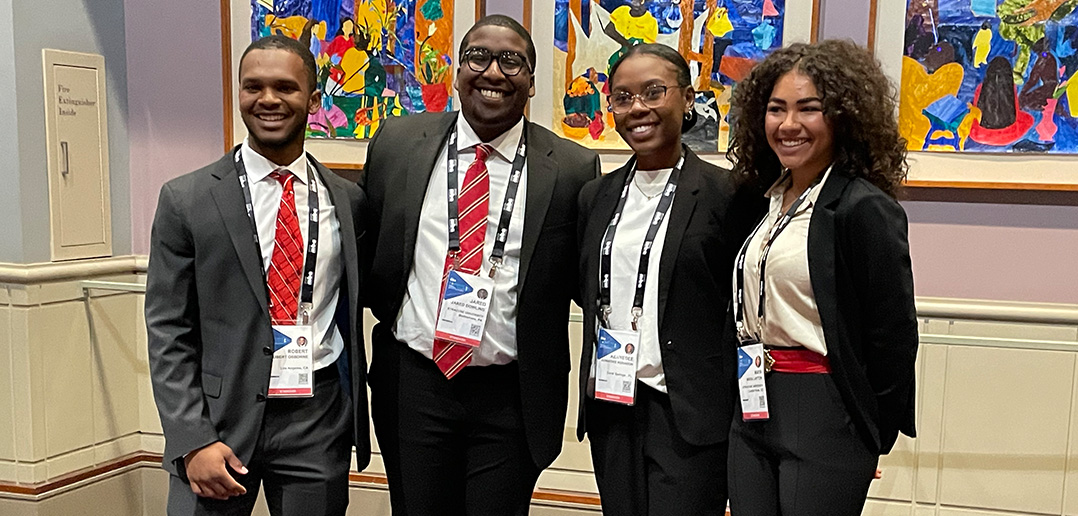 Thirty students, one alum, five faculty members and five staff members from Syracuse University's Whitman School, along with two University human resources team members, traveled to Philadelphia for the 45th Annual National Black MBA (NBMBAA) Conference and Exposition. Twelve undergraduates and 18 graduate students attended to look for internships and full-time positions with more than 200 major companies hiring at the event. This is the largest Whitman School contingent to ever attend this nationwide event.

During the event, four Whitman students participated in a case competition presented by State Street Investment Co. The competition allowed participants from eight business schools to apply critical thinking skills in developing solutions for real life business problems. The Whitman team was comprised of Jared Dowling '24 (WSM/NEW), Maya Layton '26, Robert Osborne '25 and Kennedee Robinson '26. Dowling received the award for best presentation skills at the competition.
Attending the 45th National Black MBA Conference was an exceptional experience for me. As a second-year MBA student at Whitman, I did not know what to expect at my first NBMBAA conference. However, the incredible energy and community surpassed all expectations.

It was inspirational to connect with so many accomplished black professionals and students. The career fair and networking events facilitated meaningful new contacts. I even landed an interview at the conference itself and connected with recruiters about potential roles. I am actively following up on these promising conversations.

Connecting with Syracuse alumni at the Whitman reception also reinforced a sense of belonging to this extensive community. Travelling with fellow Whitman students enabled us to share this experience and bond along the way. Immense thanks to Interim Dean McKelvie and Diane (Crawford) for their staunch support of Whitman students' career development."
—Joshua  Olusegun  Agbomedarho '24 MBA

Sara Garvey, director of corporate relations at Whitman, had the opportunity to talk to over 54 companies about opportunities they had for internship and full-time positions while sharing what incredible talent can be found at the Whitman School. Many valuable relationships were formed during the conference, according to Garvey.
Whitman's Graduate Programs Office, led by Mary Collier, executive director of graduate recruitment, and Anh Murphy, counselor for academic services, spent the days at the conference recruiting students for both on-campus and online graduate degree programs.
A special event was held at the Pennsylvania Academy of Fine Arts for Whitman students and alumni to hear about new and exciting research being conducted by a team of faculty members — Associate Professor of Management Kira Reed, Associate Professor of Accounting Willie Reddic and Professor of Accounting Susan Albring — as they explore the racial wealth gap. Many insights and productive discussions ensued during the gathering.
In addition to attending the conference, the Whitman School is engaged in a collegiate partnership with the NBMBAA as part of its inclusive belonging and engagement strategy. The NBMBAA provides opportunities for networking, professional development and engagement of students of color for more than 57 collegiate partners, and students have access to all the organization's resources for professional development. Whitman students who attended the NBMBAA in Philadelphia were provided with a year-long membership to the organization by the School. Another membership benefit with the organization provides one Whitman student with a full scholarship to a graduate program annually.
"I am so grateful to have been given the opportunity to attend the National Black MBA Conference this year. It was so encouraging to be in an environment with so many Black professionals in the same place, and to be able to network with and learn from them. I was so excited to be able to talk to employers about internship opportunities to create opportunities for experiential learning and work experience. I also got to see Boyz II Men perform at the welcome reception! Overall, this was an amazing experience, and I hope to go back next year and do it all again!"

—Jacquelyn Trotman '26 (WSM/NEW)
The NBMBAA organization also gives access to high school students (who are part of the Leaders of Tomorrow Black MBA program) to prepare them for an education in business management. Whitman is bringing 30 of those high school students from New York City to its Future Leaders Program on campus to give them a closer look at the School as part of the Whitman student recruitment pipeline.
The 45th Annual NBMBAA Conference and Exhibition was a great place to showcase Whitman, its students, faculty and staff, as well as what makes the School the "Be Whitman Be Orange" place to go. Many people stopped by to say, "Go 'CUSE!" — a testament to the strong network of Syracuse fans in the Philadelphia area.


"Attending the conference was an incredible experience. I had the chance to network with people from all over the country, learn valuable money-saving skills, and receive helpful resume tips. I like how we had the opportunity  to connect with different range of companies for future internships and I also liked how there were a lot of events going on to give students a chance to network at a more comfortable setting and even had events that were more professional. Overall it was great and I had a great time. I would recommend anyone to do this."
—Andrea Magdaleno '25
The Whitman School plans to bring an even larger group to next year's NBMBAA event to be held in Washington, D.C.