May 2023
NEW POSITIONS AND PROMOTIONS:
James Jackson '11 MBA: Director of Strategic Sales, Retail Dietitians Business Alliance, LLC.

Michael Jiang '11: Senior Managing Director, Guggenheim Partners

Michael Daniello '15: Senior Associate, Sound Mark Partners

Elmer Luke III '15: Investment Banking Vice President, Mizuho

Ethan Rothschild '15: HR Director, Org Design & Transformation, Unilever
Matthew Alnwick '18: Associate, Athos Partners

Anweih Cox '18: Designer, Narrative
Victoria Parker '18, '21 M.S.: Manager, Global Sourcing, Paramount
Lena Schermer '18: Senior Revenue Accountant, Excelitas Technologies Corporation

Kenneth Mintz '19: Senior Communications Manager, Gamefam

Gabriella Jimenez '20: Electronic Trading & Liquidity Solutions, Bloomberg

Bryan Stocks '20 MBA: Senior Director, Membership, Dairy Farmers of America

Michael Morse '21 MBA: Budget Management Analyst, United States Department of Defense
AWARDS AND RECOGNITIONS:

Chelsea Ransom-Cooper '15 (below), managing partner and financial planning director at Zenith Wealth Partners, and Young Whitman Advisory Council member, has been named one of Financial Advisor Magazine's Young Advisors to Watch in 2023.
MERGERS AND ACQUISITIONS:

Jordan Fox '13 (below) welcomed Sonny Isaac Fox on March 4th, 2023.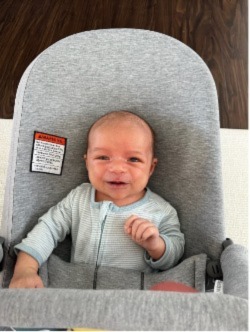 April 2023


NEW POSITIONS AND PROMOTIONS:

David Guilmette '09 MBA: Vice President, CHS Inc.

Megan McKenna '10: Managing Director, Marketing and Media Strategy, The New York Times

Susane Shani '94 (A&S), '10 MBA: Director, Beam Suntory

Zachary Bear '11: Business Development, PitchBook Data

Michael Jiang '11: Senior Managing Director, Guggenheim Partners

Ali Fleischer '13: Senior Manager Product Strategy, SharkNinja

Alyssa Breen '15: Digital Brand Specialist, Michael Kors at Macy's

Andres Diz '16: Senior Associate of Finance, Balanced Rock Power

Eric Klein '16: Director of Business Development, MontPac

Alexander Heller '17: Associate, BBG Inc.

Matthew R. LaFlair '17 (IST), '19 MBA: Director, Integrated Planning and Solutions, National Grid

Sophia Cappelli '18, '19 M.S.: Senior Associate, Blue Owl Capital

Brian Friedman '18: Account Executive, Mid Market, Uber

Mitchell Takeda '18: Senior Project Manager, Sephora

Brendan Anderson '19: Senior Analyst, Capital Markets, Hines

Michael Brenner '19: HCM Account Executive, Paylocity

Samuel Gozinsky '19: Commercial Manager, FanDuel

Quinn Hecker '20: Associate Account Executive, Travelers

Zia Jackson '20: Office Coordinator, Syracuse University – Maxwell School

John-Austin Ricks '20: National Account Manager, Super Coffee

Ruth Bang '21: Senior Consultant, FTI Consulting

Ishan Gajra '21: Senior Associate, Partner Valuation Advisors


MERGERS AND ACQUISITIONS:

Kateyln Meola '10, director of brand marketing at PepsiCo and her husband Andrew Meola '10 (NEW) welcomed their second child Cameron James Meola (below) on February 28th.


IN MEMORIAM:



William Hoyle Hannum passed away on July 11, 2022. Bill was a professor of statistics at the Whitman School for 30 years.

Michael Tripodi '81 passed away on January 24, 2023.

---

March 2023
NEW POSITIONS AND PROMOTIONS:

Jim Perkins '88 MBA: Interim Chief Financial Officer, Flyspace Productions

Shannon Nulty Fitzpatrick '04: Associate Director of Operational Excellence, Bristol Myers Squibb

Adam Green '06: CEO of Asset Management, FNZ Group

Jonathan Davis '08, '10 MBA: Manager, Solution Engineering, Deltek

Scott Dittmeier '11: Senior Vice President, Bank of America

Ariel Tavakoli '15: Senior Analyst, Asset Management, Extell

Krista Librett '16: Operations Manager - Senior Credit, Manulife Investment Management

Lauren Bogardus '17: Vice President, BNY Mellon

Diana D. Correia '17: Senior Associate, JPMorgan & Chase Co.

Jordan Evans '17: Planning Consultant, Fidelity Investments

Joshua Karpinski '17 MBA: Director Transformation Strategy, Liberty

Max Solomon '17: Onboarding Success Manager, impact.com

Angela Anastasi '18: Law Clerk, McCue Sussmane Zapfel & Cohen P.C.

Christopher Johnson '18 MBA: Director of Marketing, Ashland Greene

Carmen Nepa '18: Senior Associate, Inverness Graham

Michelle Watson '18 M.S.: Associate Accountant, Rochester City School District

Christina Ambalavanar '19: Marketing Associate, Grubhub

Cassie Kramp '19: AVP, Commercial Banking Associate, Citi

Jamie Martin '19: Founder, Cosmic Pursuit LLC

Claire Stocum '19: AVP, Senior Relationship Liaison, M&T Bank

Audrey Yoo '19: Sales Development Manager, athenahealth

Jacob Cestari '20, '22 MBA: Staff Account, SeaChange International

John Jaroslawski '20: Territory Representative, Milwaukee Tool

Kylie Maher '20: Assistant Vice President, US Institutional Credit, Tradeweb

Rebecca Millman '20: Editorial Specialist, Walmart

Spencer Stein '20: Audit Associate II, CBIZ Marks Paneth

Samantha Walters '20: Experience Management Senior Associate, EY
---
February 2023
NEW POSITIONS AND PROMOTIONS:

Nick Gustin '85: Senior Vice President and GMM, Apparel, Hudson's Bay

Rob Liberty '94: Managing Director, Bank of America

Thomas Murphy '87 MBA, '95 Ph.D.: Chief Executive Officer, Green Carbon Nanostructures Corporation

Chad Wainman '04: Senior Claims Consultant, Stephenson+Brook

Emily Doran '07: Senior Lead Expert Risk Specialist, Office of the Comptroller of the Currency

Brittney Papke Frick '07: Senior Principal Contract Manager - Marine Systems Business Unit US Navy, Northrop Grumman

Trevor Marsteller '09: Controller, Bear Flag Robotics

Max Moskovitz '12: Director, Golden Vision Capital

Kyle Hoffstein '13: Strategic Account Executive, Quickbase

Alec Barnett '14: Principal, TSG Consumer Partners

Yi-Nien Lai '14 MBA: Senior Manager, Business Intelligence, Klaviyo

Katherine Ristau '14: Executive Director – Sr. Strategy Manager, JPMorgan & Chase

Jessica Matos '15: League Finance, Manager, NBA

Ben Uhing '15: Vice President – Private Banker, J.P. Morgan

Dana Ewanechko '16: Demand Planner, Henkel

Angela Herrera '16: Alliances Marketing Manager, Special Projects, PwC

Jake Horowitz '16: Associate Vice President | Retail Leasing, Colliers

Peggy Nairin '16: Vice President, Delos

Michael Shaw '16: Business Intelligence Manager, Yahoo

Corey Dender '18: Billing Manager, Initiative

Blair Greenwald '18: Senior Project Manager, Unified Partnerships, iHeartRadio

Brett Klein '18: Audit Senior, CBIZ Marks Paneth

Derek Lepore '19: Senior Business Development Representative, FloQast

Erin Sciortino '19: Associate, Blackstone

Daniel Wetreich '19: Financial Planning Analyst, Omnicom Media Group

Sarah Ferranti '20: Equity Research Associate, BMO Capital Markets

Justin Nee '20: Anti-Money Laundering Investigator, Standard Charter Bank

Andrew Southard '20: Business Partner Specialist, IBM

Victor Carrafiello '21: Assistant Manager, Precision Advertising Planner, L'Oréal


IN THE MEDIA:

Derrell Smith '10 (IST),'13 M.A. (NEW), CEO of 99EATS, host of Tastemade's "Mad Good Food" and member of the Young Whitman Advisory Council, shared savory super bowl favorites on NBC's Today and to promote his upcoming "Mad Good Food" NFL special.

Chris Marino '13, global head of performance marketing and media at Bloomberg News and member of the Young Whitman Advisory Council, shared marketing insight in the "Intelligent Creative Spotlight Series" on vidmob. Marino was also featured by "Marketing Brew" in the weekly series, "Coworking."

Chelsea Ransom-Cooper '15 (below), managing partner and director of financial planning at Zenith Wealth Partners and member of the Young Whitman Advisory Council, was featured by Financial Planning Magazine in the article, "Black-owned RIA Leader: How wirehouses can improve on DEI."