Scholarship Opportunity Increases Alumni Giving, Benefits Students in Need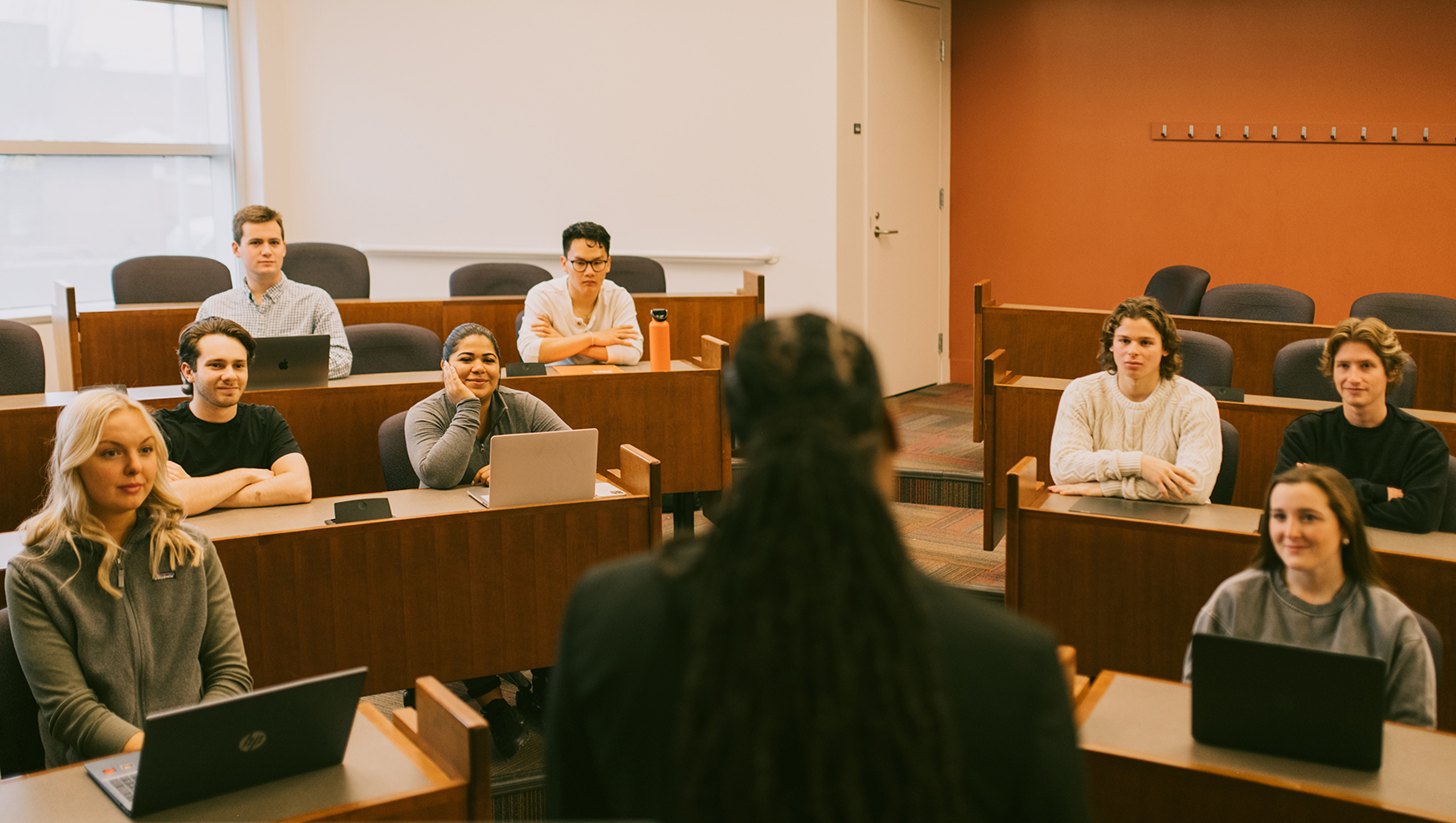 In 2020, as the pandemic was in full force, student need became even more critical for so many. In response, the Whitman School reached out to its alumni with the chance to participate in the Current Use Scholarship Opportunity with the hope of attracting more alumni participation. The effort was part of the University's Forever Orange campaign, a venture aimed at changing the trajectory of student lives and, in part, increasing alumni giving throughout the University. Whitman's initiative was a success, as 10 new scholarships were established between early 2020 and June 2021. Distribution of funds to students began in the 2021-22 academic year and will continue through 2026-27.

"In higher education, we tend to talk about really large transformational gifts — and, no doubt, we are extremely grateful for those — but this was a limited opportunity designed to appeal to a broader audience with the hope that we'd see more people take advantage of the chance to help Whitman students when the need was greater than ever," says Assistant Dean for Advancement Christopher Crooker. "We saw a great response, which is allowing us to help some exceptional students from diverse backgrounds over the next five years."

According to Crooker, the typical term scholarship requires a minimum pledge of $50,000 over five years, but the Current Use Scholarship Opportunity lowered the threshold to $25,000 over five years if pledges were made by June 2021. In addition, alumni could create a scholarship in their name or in honor/memory of a loved one or mentor. The $25,000 pledge will be paid out over five years and then end. Each year, a different Whitman student will benefit from the individual scholarship. Donors are given the names of the recipients, but there is no obligation for donors or students to interact unless both wish to do so.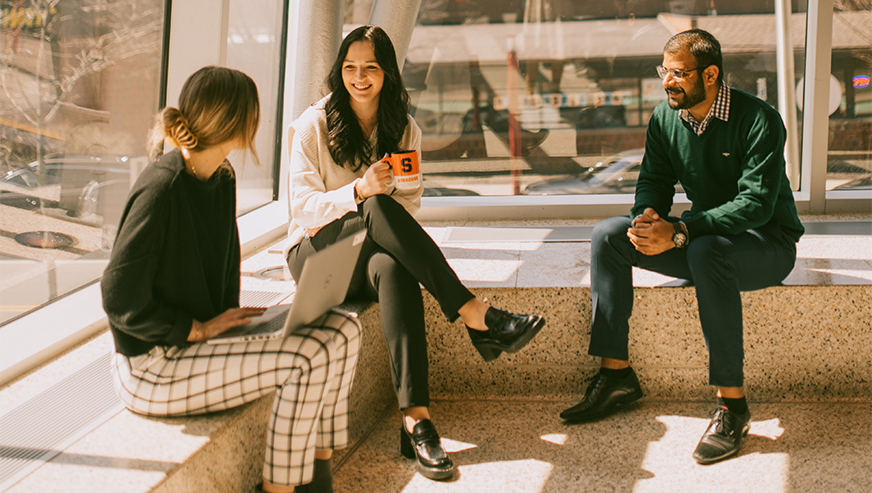 Alumni Couple Traces Success Back to Whitman

Jerome Ryan '99, '13 MBA and Duyum Ryan '99 were thrilled to participate in the scholarship program. Jerome and Duyum pledged $25,000 each—for a total of $50,000 — as a way to give back to a place where they believe much of their success, both personal and professional, began. Jerome received his undergraduate degree at Whitman in finance, management information systems and marketing management, returning later to get his MBA online. Today, he is a managing director for BDO USA LLP. Duyum earned her degree in finance and is the managing director for the transformation office at State Street, which provides financial services. The couple live in Boston with their son and daughter.

"The life we have today can really be traced back to Syracuse University and the Whitman School — our marriage, our family, our friends, our careers," says Duyum, who met Jerome while attending the School of Management. "We are grateful to have the means to return some of what we were given during our time at the School, and it's exciting to be able to help current students who have the capability but not necessarily the resources."

Jerome is a board member and budget director for the Leadership and Public Service High School in New York City, which was co-founded by Syracuse University's Maxwell School of Citizenship and Public Affairs, and both he and Duyum have taken on mentoring responsibilities with students there. While they have yet to have any interaction with the recipients of their scholarship at Whitman, they "would love to meet them eventually and be mentors to them, as well," according to Duyum.

"It's wonderful to be able to share the fruits of our labor and make sure we can provide someone else an opportunity they might not otherwise have," says Jerome. "We are so pleased to participate in this worthy effort with the Whitman School."


Alumnus Inspired by Generosity That Helped Him Earn MBA

Managing Director at UBS Real Estate Finance Christopher LaBianca '92 MBA decided to make a pledge of $25,000 to the Current Use Scholarship Opportunity in 2020. His inspiration for establishing the scholarship came from his experience paying for his undergraduate education at another institution and then trying to save up over the next two years to pursue an MBA from Syracuse University. He saved as much as he could but didn't quite reach his goal. Thankfully, he applied to the School of Management and was the recipient of the George C. McCrillis Award, which bridged the financial gap and allowed him to afford his tuition.

"That help some 30 years ago stuck with me," he says. "Now that I'm in a position to do something similar for someone else in need, I knew it made sense to do so."

This is not the first time LaBianca has given back to the Whitman School and Syracuse University.

"My commitment to Whitman runs pretty deep, and that's been very rewarding for me," he explains, noting that he first started getting involved with the School over a decade ago when a member of the faculty approached him about participating in a Janmester real estate session in New York City. Today, he organizes a full real estate finance day as part of the event, something he truly enjoys. LaBianca has also been a member of the Whitman Real Estate Advisory Board for 10 years and a contributor to the Hill Society, an elite membership of donors supporting the University's top priorities, and the Lubin Society, an organization for parent donors.

LaBianca has not yet met the student who received this year's scholarship, but he hopes he will have the opportunity soon. His son, Maxwell LaBianca '26, is attending Syracuse University, so LaBianca has plenty of incentive to visit the campus frequently and continue to be an integral part of the Whitman School.

"The alumni network in New York City alone is strong and has been a big part of my personal and professional life," he says. "The thought that this scholarship will give a few other students an experience similar to what I had is pretty rewarding to me."


Alumnus Donor Hopes to Help Students Build a Strong Foundation

Michael Y. Jiang '11 (WSM/NEW) majored in finance, accounting and broadcast journalism while attending Syracuse University. "Whitman was so good at helping me build a foundation of broad business knowledge and offering experiential learning opportunities, like the Orange Value Fund, which gives students a taste of what it's like to have a professional Wall Street career," says Jiang, who is a managing director, equity capital markets group, at Guggenheim Securities in New York City. "I've found that you network with friends from college and often have the opportunity to work together professionally, particularly in the New York area, where there are so many people from the University."

Since graduating, Jiang has been eager to become more engaged with the Whitman School. "The opportunity to establish a $25,000 scholarship over a five-year period seemed like a tangible way to do this," he says. "I especially like how you can see the direct impact of where your donation is going in that it's helping a particular student with his or her financial need. That's an appealing way to contribute."

Jiang has been notified of the name of the recipient of his contribution for the 2022-23 academic year, but he has left it up to the student to reach out if they wish. If they do, Jiang says he "would be very happy to be as helpful as I can" to mentor and guide the recipient.


Scholarship Opportunity Benefitted Alumni and Students

Overall, the Current Use Scholarship Opportunity was a two-fold success, bringing financial assistance to a group of students, while also encouraging alumni to become involved or further their involvement with the School.

"We are, of course, tremendously grateful to everyone who has donated to the Whitman School through this opportunity, particularly in support of some of our students who have real obstacles to overcome in order to continue their education here," says Crooker. "Those who chose to participate in the Current Use Scholarship Opportunity stepped up at what was truly an unprecedented time for all of us. We know the students who have received funds, or will receive them over the next few years, will pay it forward by taking their love of Whitman and the Orange alumni network out into the world with them."
---
The following are those who have pledged $25,000 or more over a five-year period as part of the Current Use Scholarship Opportunity, as well as the chosen name for the award. All scholarships were established between early 2020 and June 2021 and will be offered to students for a five-year period.
| | |
| --- | --- |
| Donor | Scholarship Name |
| Sean Giancola '90 | Sean M. Giancola Scholarship |
| Michael Y. Jiang '11 (WSM/NEW) | Michael Y. Jiang '11 Scholarship |
| Steve Kron '95 | Kron Family Scholarship |
| Christopher LaBianca '92 MBA | Christopher LaBianca Scholarship |
| Robert LaBreche '87 | Robert and Ruth McKenna Memorial Scholarship |
| Jaime Pfeffer and Gideon Pfeffer '02 | Jamie and Gideon Pfeffer Scholarship |
| Jerome Ryan '99, '13 MBA and Duyum Ryan '99 | Jerome '99, MBA '13 and Duyum '99 Ryan Family Scholarship |
| Maria Sharpe '80 | Maria Renna Sharpe '80 and Robert Sharpe Scholarship |
| Amy Spiegel '95 and Bart Spiegel '96 (WSM/NEW) | Spiegel Family Scholarship |
| Valerie Vargas '94 and Jose Vargas '93 (IST) | Vargas Family Scholarship |