Innovative Programs Create New Opportunities in Business Leadership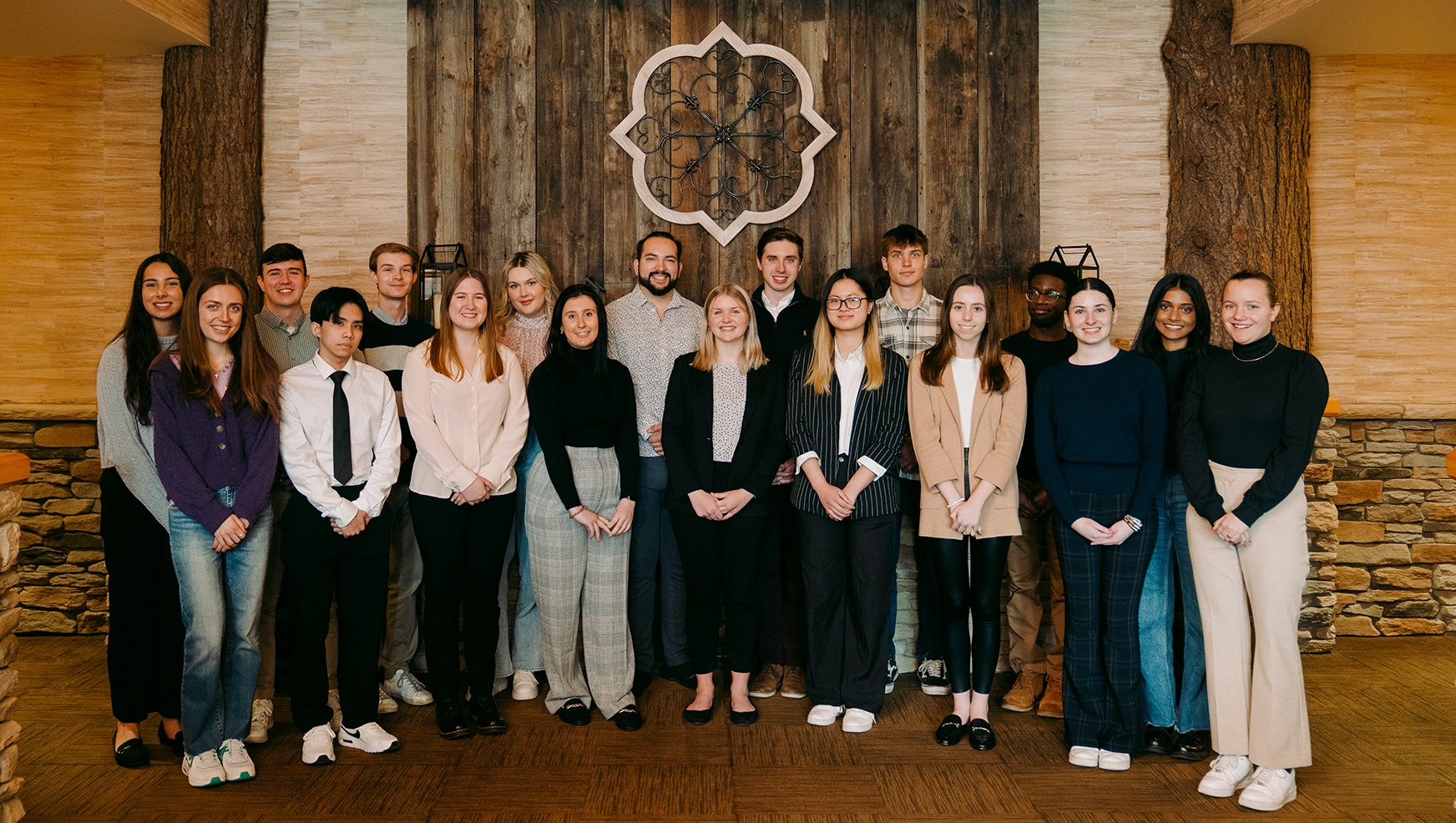 The inaugural Goodman Leaders Academy students attended a leadership retreat in March 2023.
The Whitman School continues to provide innovative programming to prepare undergraduate and graduate students to become more competitive and versatile leaders in the business world. Two recent efforts that expand this mission at Whitman are a joint MD/MBA program with SUNY Upstate Medical University, which allows students to become physicians with a solid understanding of the complexities of the business of healthcare, and the Goodman Leaders Academy, which offers second-year students the opportunity to finely hone their leadership skills in a way that helps them stand out from their peers.

"Whitman is extremely excited about the new MD/MBA program. We are part of the shared movement in our region of Central New York investing in joint healthcare and business industry in areas like medical devices. There is substantial opportunity to support our students and local partners by offering this advanced business degree to medical students. We believe we are helping to prepare the next generation of leadership in the healthcare space," says Interim Dean Alex McKelvie.

McKelvie also adds, "The Goodman Leaders Academy is an important high touch cog in Whitman's Goodman IMPRESS programming. It offers a leadership experience throughout the academic year to a select group of students. The emphasis on smaller group size and personal interactions that allow students to better display their leadership, ethical approaches, conflict resolution skills and engage in more effective networking is an important part of that. This type of programming offers greater personal space to ask more intimate questions, build bonds and practice their own leadership skills."
Joint MD/MBA Program With SUNY Upstate Medical University
Himani Akula
Himani Akula '27 MD/MBA wanted to take a year before matriculating into SUNY Upstate Medical University, but her year was not one of rest and relaxation. Instead, Akula decided to do something to prepare herself to be a more well-rounded physician — by working toward an MBA. So, Akula joined the first cohort of MD/MBA students at Upstate Medical University and the Whitman School in the fall of 2022, where her first year focused solely on business.

"While an MBA program emphasizes business and management skills, an MD program focuses on medical knowledge and clinical skills. The two degrees are quite different in terms of their goals, content and intended scope," says Akula, who has an undergraduate degree in human biology from SUNY University at Albany. However, delivering quality healthcare relies on a diverse array of skills, including having a strong business acumen for medicine, leadership, a drive for knowledge and innovation, empathetic communication, team management, critical thinking and more."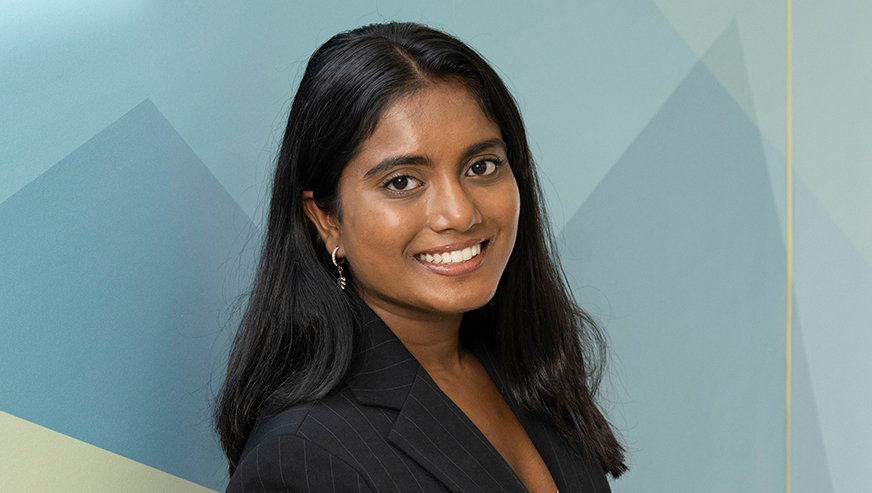 However, delivering quality healthcare relies on a diverse array of skills, including having a strong business acumen for medicine, leadership, a drive for knowledge and innovation, empathetic communication, team management, critical thinking and more.
— Himani Akula '27 MD/MBA
A native of Dublin, Ohio, Akula has made Syracuse her second home and enjoyed being welcomed into the Whitman community by peers and faculty. Akula joined the Whitman Graduate Student Association and Whitman Women in Business, which allowed her to make memories and build stronger relationships with others at the School.

She says, "In the MBA program, there is a strong sense of camaraderie, not only among my cohort but with other students and professors as well. It's been a great experience."

Many small encounters and experiences throughout her life have repeatedly shown Akula that not only is medicine the perfect fit for her, but that being well versed in healthcare and healthcare administration from a business perspective would be a true differentiator for her. That is what drew her to the joint program at Whitman and Upstate Medical.

Students accepted into the MD/MBA program spend their first year — the fall, spring and summer sessions — completing MBA courses. Akula is moving into her summer courses, ready to take on her medical training in the fall of her second year. Next summer between her first and second year of medical school, she will complete an MBA practicum designed to provide additional work experience at the intersection of business and healthcare. In five years' time, she will graduate from the joint program ready to be placed in a residency.

"After completing my program and residency, I hope to pursue leadership roles or potentially start a practice of my own," she says. "Whitman is equipping me with a diverse skill set focused on business and management, as well as a network of peers and mentors that will help guide me through my future career. With every element added to my toolkit, I am more prepared to meet the demands of my future."
Swathi Jacob
Swathi Jacob '27 MD/MBA was initially drawn to the new joint program because of her interest in nonprofit healthcare. After a summer volunteering with the free mobile Migrant Farm Workers Clinic in Connecticut, she became interested in learning more about the business side of healthcare.

Jacob was introduced to the clinic as a teenager growing up close by in Southington, Connecticut, where she looked up to founder Dr. Bruce Gould. She dreamed of following the same path to open her own clinic, even creating a business plan for it when she was 16.

Jacob has prepared herself for medical school with a background in biomedical sciences from Rochester Institute of Technology. By enrolling in this joint program, she had a year to explore other interests within the field of business.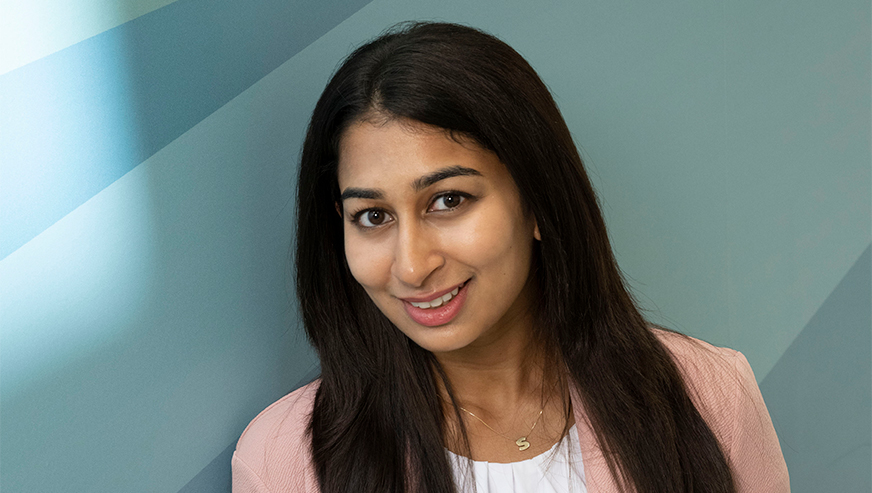 Coming to the Whitman School in the fall of 2022 for the MBA program was something she was nervous about. Jacob says, "I never took a business course, so the first semester was overwhelming. With the help of many faculty, staff and my cohort, I made it through. It has already proven to be an amazing opportunity that will open doors in the future."

One of the key experiences for Jacob this academic year was Whitman's NYC residency, where she participated in The Business of Healthcare track, along with others in her program and many students in Whitman's online MBA program who are already working professionals. The diversity of her peers has helped her learn about new concepts from different viewpoints, which she believes will help her with patients in the future.

She says, "We learned about the growth and changes in the healthcare field during the pandemic from a variety of guest speakers in the industry, many of whom were alumni. Taking a look at this topic from a business perspective, rather than a scientific one, was especially eye-opening."

As she readies to begin the first year of the medical school, Jacob is grateful she has been exposed to many elements of business at Whitman. "The MD/MBA program opens doors when it comes to combining business and healthcare," she explains.
Eric Kim
Woosuk "Eric" Kim '27 MD/MBA has always been interested in the medical field. While he was a student in high school, he found a mentor, Dr. Brian R. Smith, at the VA Long Beach Health Care System and UCI Medical Center.

"I'm going to be the first-generation healthcare provider in my family, so when I was doing research in high school, Dr. Smith was kind enough to let me shadow him," says Kim. "He advised me to apply for the MD/MBA program and believed the extra year would make me a better candidate for the residency program, as I'd have an added layer in business. He's always inspired me to do more."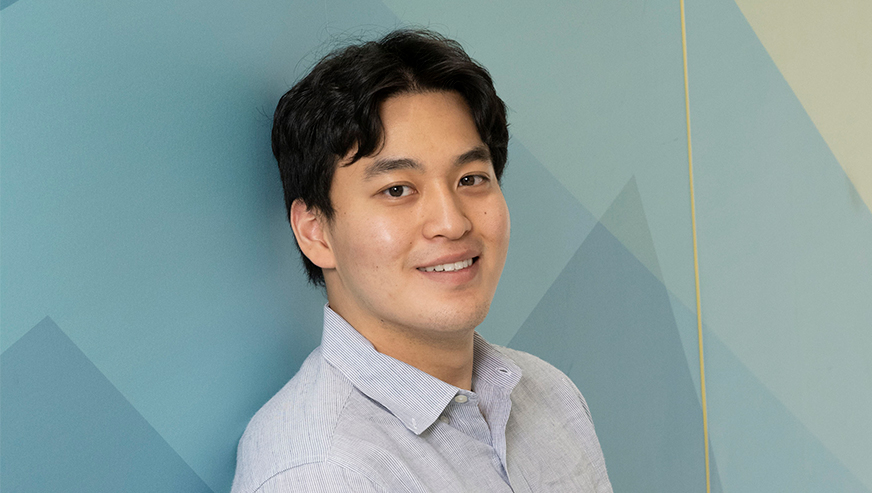 Kim's career goals include specializing in pediatric or cardiothoracic surgery and possibly opening a family medical practice with his family, some of whom are following in similar footsteps.

Growing up in Irvine, California, with entrepreneurial parents who both own businesses, Kim was instilled with a business mindset at a young age. "I was always interested in gaining leadership and management skills to help me in my career," he explains.

After completing his undergraduate degree in chemistry from SUNY Purchase College, Kim was excited for the opportunity to start his first semester of the MBA program last fall. After the core management courses, he knew he could dive deeper into electives related to healthcare policy, economy and management.

"It's a unique experience from others going into MD programs because, at Whitman, we focus on the MBA program before starting on medicine," says Kim.

Kim also appreciates how Whitman professors have personalized the education for each student by adding examples and materials that highlight individuals' backgrounds in the medical, technology, engineering and law fields.

He is looking forward to the MBA practicum he is required to complete after his first year of medical school. "Whitman and Upstate have so many resources to help us find practicums in the healthcare field; the possibilities are endless. I'm excited to complete an internship in hospital administration to further my knowledge and interest," he says.
The Goodman Leaders Academy

Kendall Blincoe
A native of Central New York, Kendall Blincoe '24 was always drawn to Syracuse University, and one of the biggest enticements was the Goodman IMPRESS Program, which provides all Whitman undergraduate students with programming to gain soft skills that can be just as critical to business success as traditional coursework.

"During my tour of Whitman, an ambassador told me all about how you can get involved in the IMPRESS program even as a first-year student. That's what sealed the deal. I wanted to develop my professional skills early on," says Blincoe.

That intense interest was why Blincoe applied to be a part of the first cohort of the newly established Goodman Leaders Academy in the fall. This leadership development program allows second-year students to take their leadership skills to the next level, as well as drill deeper into their professional development. Even though she is a sophomore, Blincoe is working on graduating in three years.

Blincoe uses her leadership skills on campus as a University orientation leader for first-year students. She says, "First-year students are nervous and need some reassurance and guidance during their early days on campus. I've learned through the Goodman Leaders Academy that building their confidence and becoming a resource for them is important."

One element of the Goodman Leadership Academy that Blincoe was impressed with this year was a workshop by Assistant Professor of Management Jamie Perry, which provided information about de-escalating conflict.

Through another leadership workshop, Blincoe met Associate Professor of Management Lynne Vincent, who shared her research on creativity and leadership. Vincent used the example of Walt Disney and how he successfully adapted his leadership style to each employee. This taught Blincoe how to adapt to others around her and use her best judgment in various situations.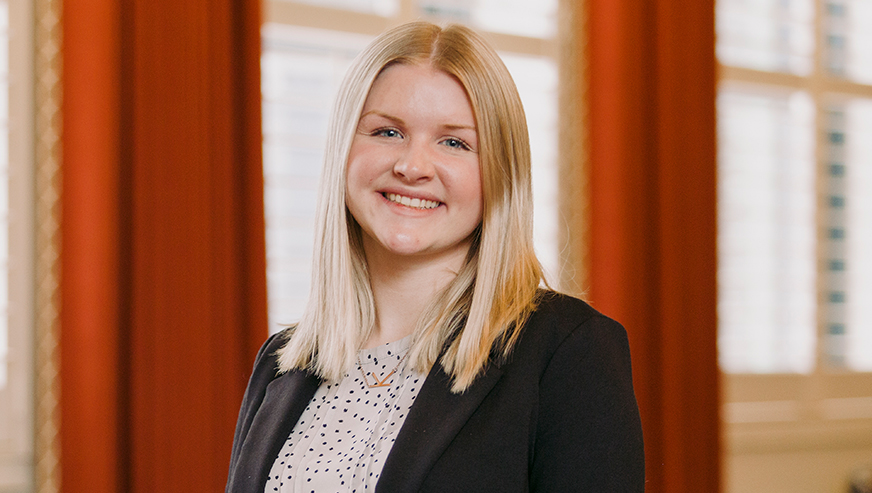 I recommend the Goodman Leaders Academy to all Whitman students interested in learning more about leadership. It's an opportunity to gain confidence, learn different leadership styles and really step out of your comfort zone.
— Kendall Blincoe '24
As a business analytics major, Blincoe is looking to explore a career in technology and analytics. She believes that one day the leadership skills she learned as part of this new program will help her and her peers stand out in the business world.

I recommend the Goodman Leaders Academy to all Whitman students interested in learning more about leadership. It's an opportunity to gain confidence, learn different leadership styles and really step out of your comfort zone," says Blincoe.
Kanye Shelton
Kayne Shelton '25 was also drawn to Syracuse University and the Whitman School because of the exciting opportunities available for students. The Orange alumni network, exploration trips to New York City and Silicon Valley and the IMPRESS program were just a few of the initiatives he wanted to learn more about.

"I've attended two career exploration trips in New York City and many of the IMPRESS programs," says Shelton, a native of Rochester, New York. "When I saw the application for the Goodman Leaders Academy, I just knew it was a great opportunity to further build my leadership skills."

The Goodman Leaders Academy provides interactive workshops and events to help students confidence, learn about their leadership style, improve their communication skills and gain practice in creative and strategic thinking. Shelton was looking for just that, to strengthen his leadership and soft skills in an in-depth, hands-on way.

He says Professor of Practice John Petosa provided valuable insight in an entrepreneur leadership workshop where he gave students a real-world business scenario and asked groups how they would handle the situations as company leaders.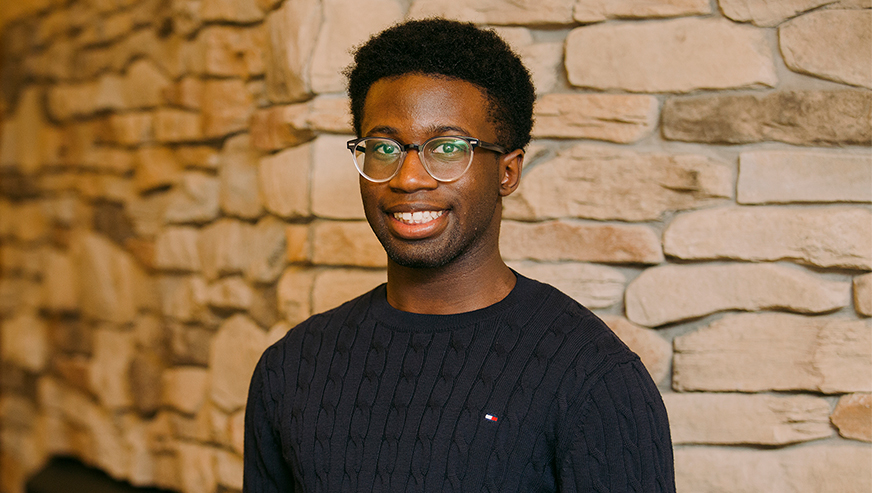 "Professor Petosa didn't tell us at first that he went through these scenarios, but he did share his thought process after we all had time to discuss in teams and share our thoughts," says Shelton.

Another key part of the leadership academy was the mentorship provided to first-year students. Shelton shares that he has spent time with his mentee to encourage the student to get involved in clubs and organizations, as well as provide tips and tricks on working well on team projects.

As a supply chain management major, Shelton wants to enter the sports field. He says the skills he's learned through the Goodman Leaders Academy will help him have a leg up after graduation.

"I want to become an adaptable leader. I work with students who need guidance, as well as those who need someone to listen," says Shelton. "But I know the Goodman Leaders Academy is preparing me to become the best leader possible."