New Leadership Structure Announced at Whitman School; J. Michael Haynie to Serve as Executive Dean, Alexander McKelvie to Continue Service as Interim Dean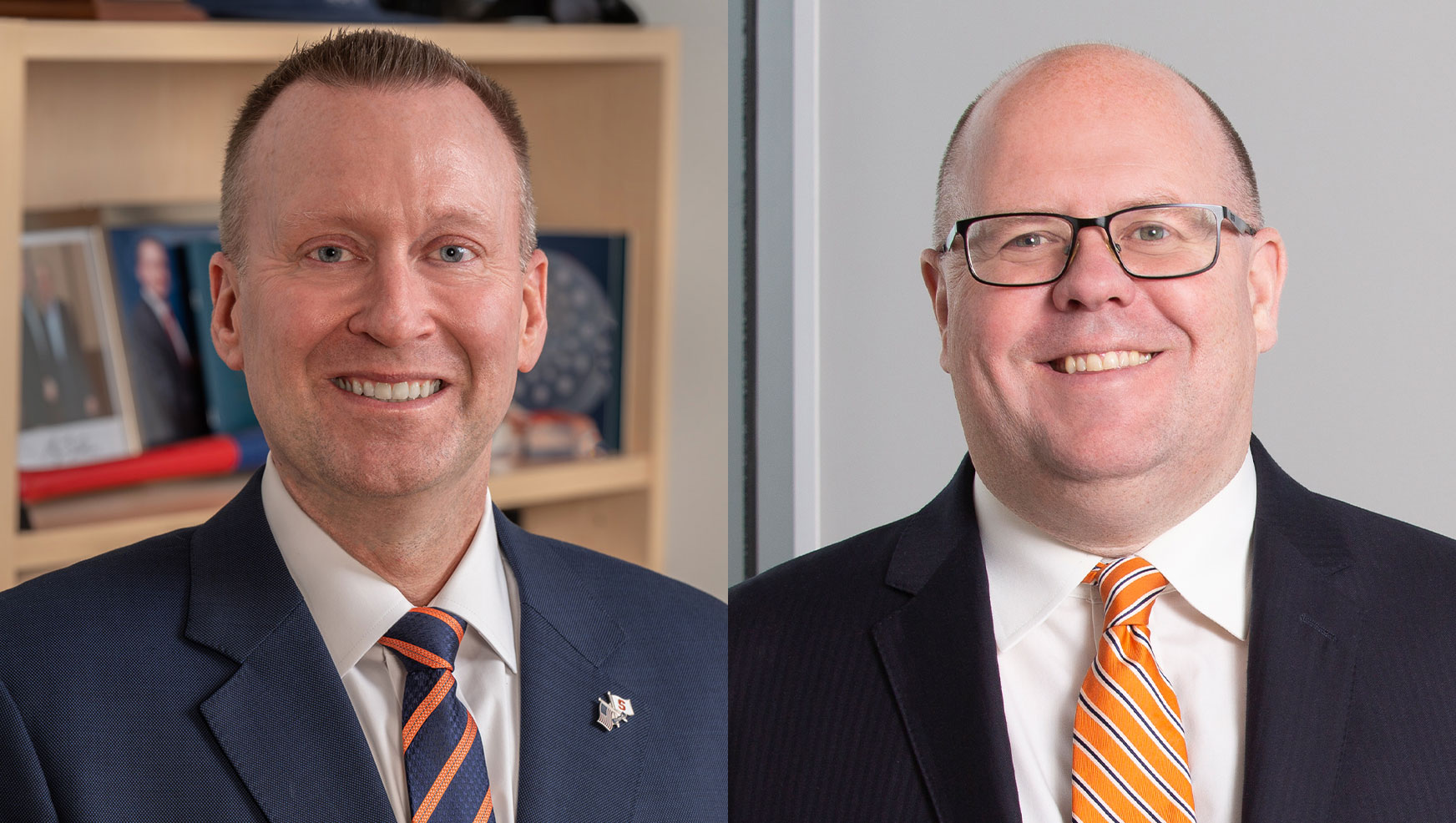 Syracuse University Chancellor Kent Syverud today announced a new leadership structure at the Martin J. Whitman School of Management—designed to advance and accelerate growth opportunities and cement the school's position as a preeminent provider of business education.
J. Michael Haynie, vice chancellor for strategic initiatives and innovation, will serve as Whitman's executive dean, while Alexander McKelvie will continue to serve as interim dean, a role he has held since July 2022. Both appointments are effective immediately. Haynie's appointment to executive dean is for two years, during which time the search for the next Whitman dean will resume.
"The Whitman School has a storied history of producing well-prepared, entrepreneurial and successful graduates," says Chancellor Syverud. "To continue building on that success and to enhance our competitiveness in business education, a new leadership structure is necessary. Under Mike's strategic direction, and with Alex's continued leadership, I am confident the Whitman School will continue to build on its legacy and create new opportunities for growth, innovation and excellence."
New Leadership Team
Haynie and McKelvie, both of whom are recognized thought leaders in entrepreneurship and emerging enterprises, will work closely with the Whitman faculty and staff, as well as the Whitman Advisory Council, to advance the school's strategic plan in alignment with the University's academic priorities. In this new role, Haynie will report directly to Chancellor Syverud and McKelvie to Haynie. The processes, norms and policies associated with shared academic governance will not change, and academic personnel issues will continue to be coordinated through the Office of Academic Affairs.
"This is a pivotal moment for the Whitman School, presenting a unique opportunity for our faculty and staff to think differently about how we deliver an innovative, best-in-class business education that prepares our students for success in a fast-evolving world," says Haynie. "The changing landscape of business education demands outside-the-box thinking and getting comfortable with the uncomfortable. Together with Alex and the Whitman community, I am excited for the work ahead and look forward to creating the conditions that will allow Whitman and our students to succeed and thrive long into the future."
In the coming days, Haynie will communicate directly with the Whitman community concerning near-term priorities, and to coordinate multiple opportunities to engage directly with faculty, staff and students.
Gretchen Ritter, vice chancellor, provost and chief academic officer, says Haynie and McKelvie bring together the experience, leadership prowess and vision to advance the Whitman School's ambitious strategic priorities.
"Together, Mike and Alex are a formidable leadership team with a passion for the Whitman School and commitment to Syracuse University," says Ritter. "They have both led the Whitman School—Mike previously as acting dean and Alex as interim dean—during moments of transition and opportunity. I appreciate their dedication to the Whitman School and have no doubt that, in partnership with the outstanding faculty and staff, the school is poised to experience great growth under their leadership."
J. Michael Haynie
In addition to his role as vice chancellor, Haynie is University Professor and the Barnes Professor of Entrepreneurship, and has been a member of the Whitman faculty for 16 years. As vice chancellor, Haynie leads a broad portfolio of responsibility centers and innovation initiatives, including the University's entrepreneurship and innovation programs and cross-campus efforts to develop and enhance academic offerings for post-traditional students.
Haynie also oversees the University's engagement with Micron Technology, its government and community engagement strategy, as well as defense- and veteran-connected programs and initiatives across the institution. Haynie will continue to lead this robust portfolio. In 2011, Haynie founded the D'Aniello Institute for Veterans and Military Families (IVMF), the nation's first interdisciplinary institute created to inform and advance the policy, economic and wellness concerns of the America's veterans and their families. Today, IVMF programs serve over 25,000 veterans annually and it is widely acknowledged as the nation's leading academic voice related to issues impacting veterans and military-connected families.
Haynie has a Ph.D. in entrepreneurship and business strategy from the University of Colorado at Boulder, an MBA from the University of Oregon and an undergraduate degree in political science from the University of Delaware. Before beginning his academic career at Syracuse University, Haynie served for 14 years as an officer in the United States Air Force, including service as a management faculty member at the U.S. Air Force Academy.
Alexander McKelvie
McKelvie joined Syracuse University more than 15 years ago. When he was tapped to lead the Whitman School last year as interim dean, he was serving as associate dean for undergraduate and master's education and professor of entrepreneurship. Previously, he chaired the Department of Entrepreneurship and Emerging Enterprises (2014-19).
McKelvie's research is focused on innovation, new firm strategic management and growth, entrepreneurial decision making and family business. McKelvie has helped design new courses and training programs for the IVMF and continuously served on the CNBC Disruptor Advisory Council. He has received multiple teaching awards and was recently recognized with the George R. Burman Award for Entrepreneurial Leadership, presented to an outstanding individual—student, faculty or staff—who supports Whitman's entrepreneurial initiatives.
McKelvie grew up in Canada and lived in Sweden for eight years where he earned a Ph.D. from Jönköping International Business School (doctor of philosophy in business administration).
The search for the next dean will resume in late 2024 while Haynie, McKelvie and the entire Whitman community continue to develop the school's strategic plan and begin implementation under this new model of leadership.