The Whitman School has a long history of working closely with our industry partners for students placement, class projects, mentorship, career exploration, experiential learning opportunities, or donating funds or equipment to be used in the classroom.
Find out all you can collaborate on!
Industry Partners Opportunities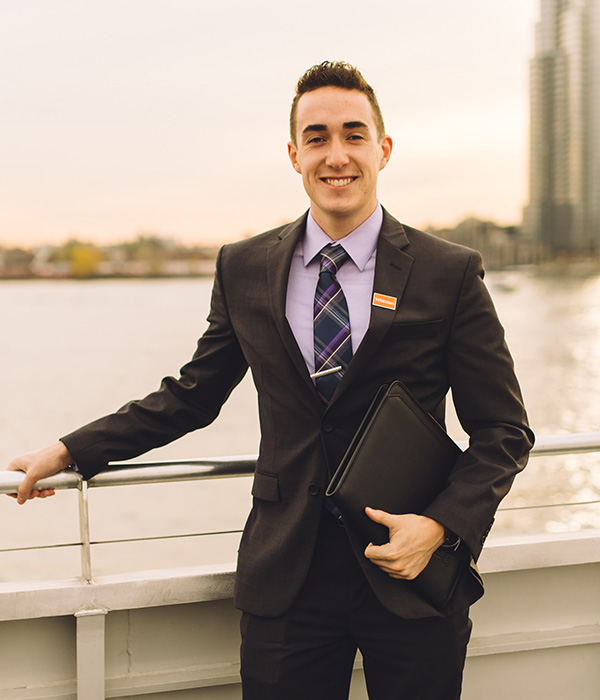 Whitman Undergraduate Majors
Students at Whitman graduate with a variety of majors. Many double major and triple major.
#57
2023 MBA Programs,
U.S. News & World Report

STEM
Designated

Many of our master's programs carry STEM designation.
#17
Entrepreneurship
Undergraduate, 2023
Princeton Review
Whitman Student Profiles and News
Whitman Student Solidifies Career Interests Through Marketing Program Opportunities
Hannah Costa
The unique offerings and notable alumni network solidified it for me. So far, my time at Whitman has allowed me to individualize my experience by providing academic perspectives that allow me to prioritize my interests.
Hannah Costa '25 (WSM) arrived at Syracuse University with a definitive plan to pursue marketing. Initially drawn to the Whitman School of Management for its outstanding academic programs and alumni network, Costa has since fallen in love with everything about the School.
Originally from Beverly, Massachusetts, the marketing management major looked for a big school with smaller class sizes. After discovering Syracuse offered the exact academic environment she was searching for, it was not long before Costa decided the Whitman School was where she'd spend the next four years.
She states, "The unique offerings and notable alumni network solidified it for me. So far, my time at Whitman has allowed me to individualize my experience by providing academic perspectives that allow me to prioritize my interests."
Inspired by notable beauty and fashion brands such as Glossier and Louis Vuitton, Costa has centered her campus involvements around professional exposure to the fashion industry. She has performed as a marketing and public relations assistant and now leads as a fashion team stylist for the student-run fashion magazine Zipped. Costa is also a member of the Concerts Executive Board for the University Union and part of the Kappa Alpha Theta sorority. Last spring, she spent three months working as a marketing intern for Danika Herrick Designs.
Costa's early enthusiasm for marketing positioned her as an accomplished Syracuse University applicant. She specifically attributes her time as an officer of her high school's Distributive Education Clubs of America (DECA) chapter to propelling her expansive marketing knowledge. Her high school involvement ultimately qualified her to receive the Whitman Leadership Scholar upon her acceptance to the University.
"When I learned I received the Whitman Leadership Scholar recognition, that sold the deal for me. It feels good to be recognized, and I believe the recognition from this honor furthered my drive as a learner," says Costa.
As a Whitman Leadership Scholar recipient, Costa was eligible to become a resident of the Whitman Leadership Living Learning Community (LLC) in Dellplain Hall. This opportunity allowed her to connect with other like-minded individuals early in her undergraduate career. Costa expanded on how the core communities she found her first-year have proven to be foundational for her second-year success.
Costa says that Whitman's team-based coursework has been pivotal in strengthening her professional skills. She notes that SOM 122: Intro to Perspectives in Management remains a perspective-changing class for her.
"That class was my first team experience in Whitman, and a lot of those team members have been in my other classes since. It's a unique experience to have to work closely with your college peers in a coordinated group setting. I think it's a super important experience and has been one of the most influential for me," she explains.
Costa continuously seeks opportunities to maximize her industry knowledge. This past December, she was selected as one of 16 students to take part in the Whitman Career Center's Marketing in NYC experiential learning trip.
She says, "The trip was extremely cool and eye-opening. We visited Tommy Hilfiger, and I was obsessed. These are truly the kind of opportunities that make it clear to me that attending Whitman was the right choice."
Costa's passion for marketing has propelled her involvement in every way. In the future, she anticipates her affinity for fashion and beauty to continue to drive her career and occupational pursuits.
"I feel like I'm just getting started," she says. "I love everything I've been a part of at Syracuse University and the Whitman School so far, and I'm super excited to see what comes next!"
By Kari Kelly '25 (WSM/MAX)
Have Any
Questions?
Want to partner with Whitman! Take your next step to incredible opportunities.