Ninth Annual Orange Tank Recognizes Whitman's Entrepreneurial Success Through Generous Alumni Support
From a platform to connect athletes with marketing partnerships to a delicious sauce designed to introduce the flavors of the Middle East and Northern Africa, the business ventures presented at the ninth annual Orange Tank pitch competition showcased the true entrepreneurial spirit running through the Whitman School of Management.
Held Sept. 29 at the Whitman School, this "Shark Tank"-like competition showcased the ideas of Whitman students and alumni as they competed for cash prizes and valuable feedback from alumni entrepreneurs and business professionals judging the event.
Forty-one ventures were submitted for initial consideration this year with five selected to pitch at the competition based on a variety of criteria that ranged from market potential and sound execution strategy to the ability to protect the intellectual property and the scalability of the business.
Thanks to the continued generosity of Whitman Advisory Council (WAC) member and Syracuse University Life Trustee John Couri '63 (A&S), H'08, $35,000 in cash prizes for first, second and third place were awarded at the competition.
New this year was the inaugural Scrub Daddy Jumpstart Innovation Award of $10,000 presented by Aaron Krause '92 (A&S), founder, president and CEO of Scrub Daddy, who also served as one of the Orange Tank judges at this year's competition.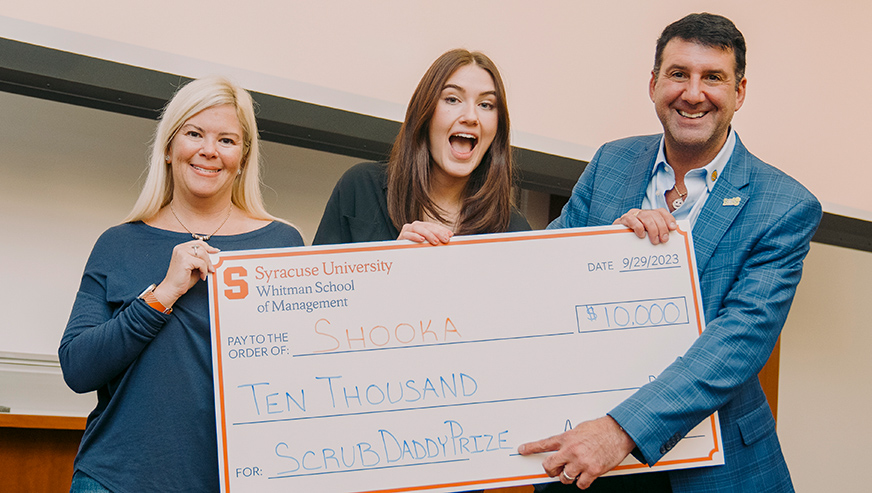 The five finalists presented a 5-minute pitch followed by a Q&A from the judges, who, along with Krause, included Blake Brossman '98 (VPA), founder of PetCareRx; Molly Fisher '08,'12 M.S., head of finance for Skiptown and a member of the Young Whitman Advisory Council; and Keir Weimer '11, founder and CEO of Weekender Hotels.
While the judges deliberated behind closed doors, Maria Minniti, chair of Whitman's Department of Entrepreneurship and Emerging Enterprises (EEE), thanked the competition's sponsors and gave the audience an overview of the outstanding work going on within the EEE department. Event emcee and former Syracuse University and NFL football player Derrell Smith '10 (IST), G'13 (NEW), now an entrepreneur, executive producer and host of Mad Good Food on Tastemade and CEO of 99EATS, then had a Q&A with Sam Hollander '21 (WSM/NEW), one of last year's Orange Tank winners with ShareClub, an entrepreneurial venture that enhances the ownership experience for the everyday investor by providing the tools and resources to achieve their financial goals.
After much anticipation, the judges announced their decision with Jack Adler '23, '24 M.S., walking away with a $25,000 first-place prize for Out2Win sports, a platform designed to streamline the way brands connect with athletes for marketing partnerships. Eric Marcarian '06 received a $7,500 second place prize for Mission Focused Ethos, a digital solution designed for the military that offers a modernized method of aircraft inspection, resulting in more on-time flights; and Xheneta Sopjani '24 M.S., was awarded third place and $2,500 for Revive by Deinde, an at-home anti-aging device using science-based, non-invasive technology.
"I was honored to come away with the grand prize from among such a competitive pool of startups," says Adler. "The winning prize money is legitimately going to help me take Out2Win Sports to the next level."
Krause presented the Scrub Daddy Jumpstart Innovation Award to Natasha Brao '22 (VPA), '23 M.S., '24 MBA, for Shooka, a spicy tomato sauce based on the classic North African and Middle Eastern dish Shakshuka. According to Krause, he selected Brao and her distinctive product because he "saw the potential to get the product to market quickly."
"Once again this year, the Orange Tank pitch competition was an opportunity to witness the level of innovative thinkers and amazing ideas coming out of the Whitman School," says Minniti. "It is to the credit of the Whitman School's EEE department faculty, our students, the judges and our generous donors that Orange Tank continues to be so successful. It's exciting to see those with such an enthusiastic entrepreneurial mindset take yet another step forward into turning good ideas into great ones."
###