The Whitman School has a long history of working closely with our industry partners for students placement, class projects, mentorship, career exploration, experiential learning opportunities, or donating funds or equipment to be used in the classroom.
Find out all you can collaborate on!
Industry Partners Opportunities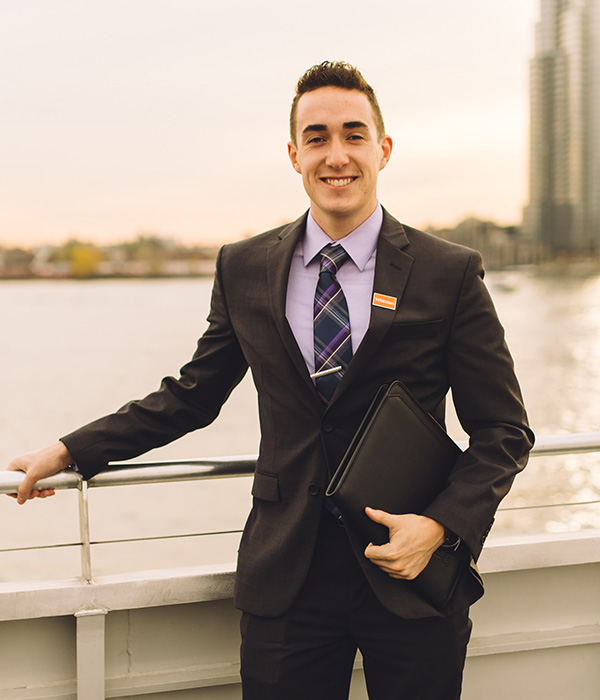 Whitman Undergraduate Majors
Students at Whitman graduate with a variety of majors. Many double major and triple major.
#57
2023 MBA Programs,
U.S. News & World Report

STEM
Designated

Many of our master's programs carry STEM designation.
#17
Entrepreneurship
Undergraduate, 2023
Princeton Review
Whitman Student Profiles and News
NBMBAA Scholarship Recipient Pursues MBA, Learns U.S. Business Culture at Whitman School
Joshua Agbomedarho
I'm so grateful that I received the NBMBAA Scholarship, and now I'm trying to be the best I can be.
Before Joshua Agbomedarho '24 MBA came to the Whitman School this past fall, he had never been to the U.S., in fact, he hadn't even heard of Syracuse University. But, he was determined to come to this country for an MBA to further his interest in venture investment in Africa. After doing some online research, Agbomedarho was impressed by what he saw of the University's large campus, including the JMA Wireless Dome, so he reached out to the admissions office at the Whitman School for more information. It was then, he found out about resources like the Couri Hatchery, the Ballentine Investment Center and the Blackstone Launchpad. "I knew Whitman would be a perfect fit for me," he says.
But, to make it happen, he needed financial support. That came in the form of a National Black MBA Association (NBMBAA) Scholarship. NBMBAA is dedicated to helping the Black community reach the highest possible level of education in order to increase lifetime earning potential and reduce unemployment. The University is part of the NBMBAA's Collegiate Partnership Program to increase placement of Black students and provide scholarships and other resources to those pursuing a full-time education on campus.
"The NBMBAA Scholarship is, for me, a rare opportunity that allowed me to become part of the unique Whitman School of Management and the Orange Family in the United States," he says. "It's been an amazing opportunity. When I received the scholarship, my dad said, 'Go study abroad, and make the most of it.'"
Joshua received his undergraduate degree in agriculture economics at the University of Port Harcourt in Nigeria. For six years he was co-founder and chief operating officer of startup Honey Flow Africa, a company attempting to digitize the process of beekeeping. The company made strides as finalists at TechCrunch Battlefield Africa – the biggest tech conference in Africa, as well as finalist at Startup Nigeria. Agbomedarho also believes that the idea behind Honey Flow Africa was too early for the African market, he decided to take a step forward to pursue an MBA in the U.S.
Arriving in the city of Syracuse last fall seemed like "the adventure of a lifetime," but before long he was able to see even more of the United States. In November, he traveled to Silicon Valley with the Whitman School to visit places like Google, LinkedIn and Lux Capital. "It was amazing to actually be in these great companies and meet some of the Syracuse alumni who worked there," he says.
One of the highlights of this trip was a video call he made to his mother from San Francisco. "When she saw me there, she had a face of pure joy that her son was in the United States," Agbomedarho says.
Over spring break in March, he had the opportunity to travel to New York City on another Whitman trip, where he toured the city, visited NASDAQ and saw Times Square and the Empire State Building. "I got to feel the hustle and bustle of New York City, and it was so amazing," he says.
Agbomedarho is thankful for those at Whitman who helped him adapt during his first year of the MBA program, particularly Diane Crawford, executive director for institutional culture, whom he calls a "huge blessing."
When he graduates, Joshua Agbomedarho hopes to work in the U.S. to experience the international corporate culture here. "How business works here is different from the rest of the world, so it only makes sense to experience the business culture here for a while," he says. "Down the line, I would like to be an investor in funding start-ups in Nigeria. There are investment opportunities in my country, and eventually I'd like to be a major player investing in these innovative companies in Nigeria and across Africa."
In the meantime, he is working hard in his classes, using the resources on campus, networking and soaking in all that the U.S. has to offer. He says, "I'm so grateful that I received the NBMBAA Scholarship, and now I'm trying to be the best I can be."
By Caroline K. Reff
Have Any
Questions?
Want to partner with Whitman! Take your next step to incredible opportunities.